While Café 1in1jan has always been a popular spot in the beautiful Eunpyeong Hanok Village, which has been around since the village's early days, there are now even more fantastic coffee places in the spotlight, offering visitors more choices! In this post, we'll introduce you to one of these awesome cafes: Cafe Space Helena. Let's check out what they've got to offer!
Why Space Helena Shines: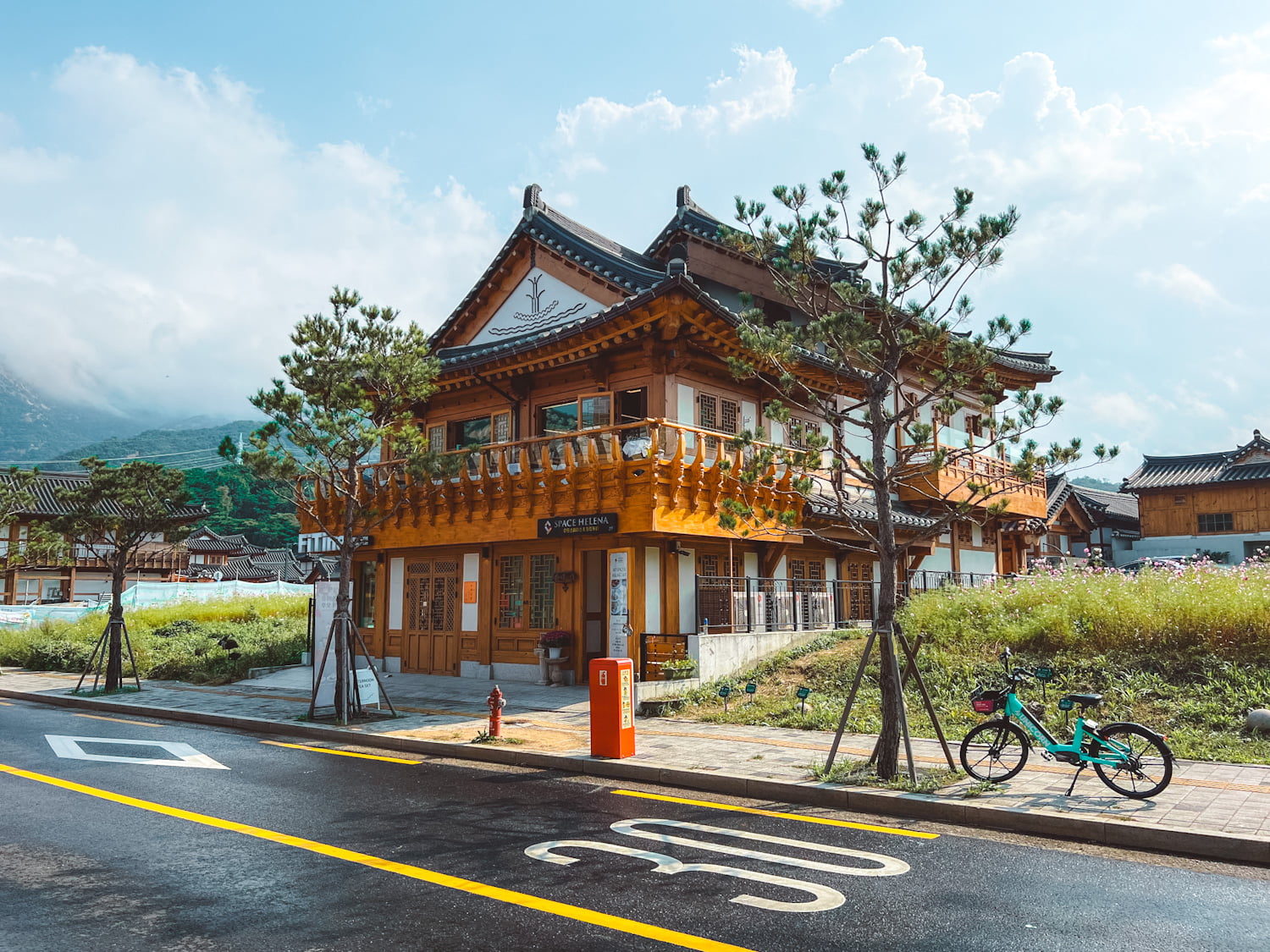 Nestled on the second floor of a traditional Hanok building at the main entrance of Eunpyeong Hanok Village, along Jingwan Road (진관길), Space Helena (스페이스헬레나) stands out as an emotionally uplifting cafe that lets you soak in the breathtaking beauty of Bukhansan Mountain throughout every season – spring, summer, fall, and winter.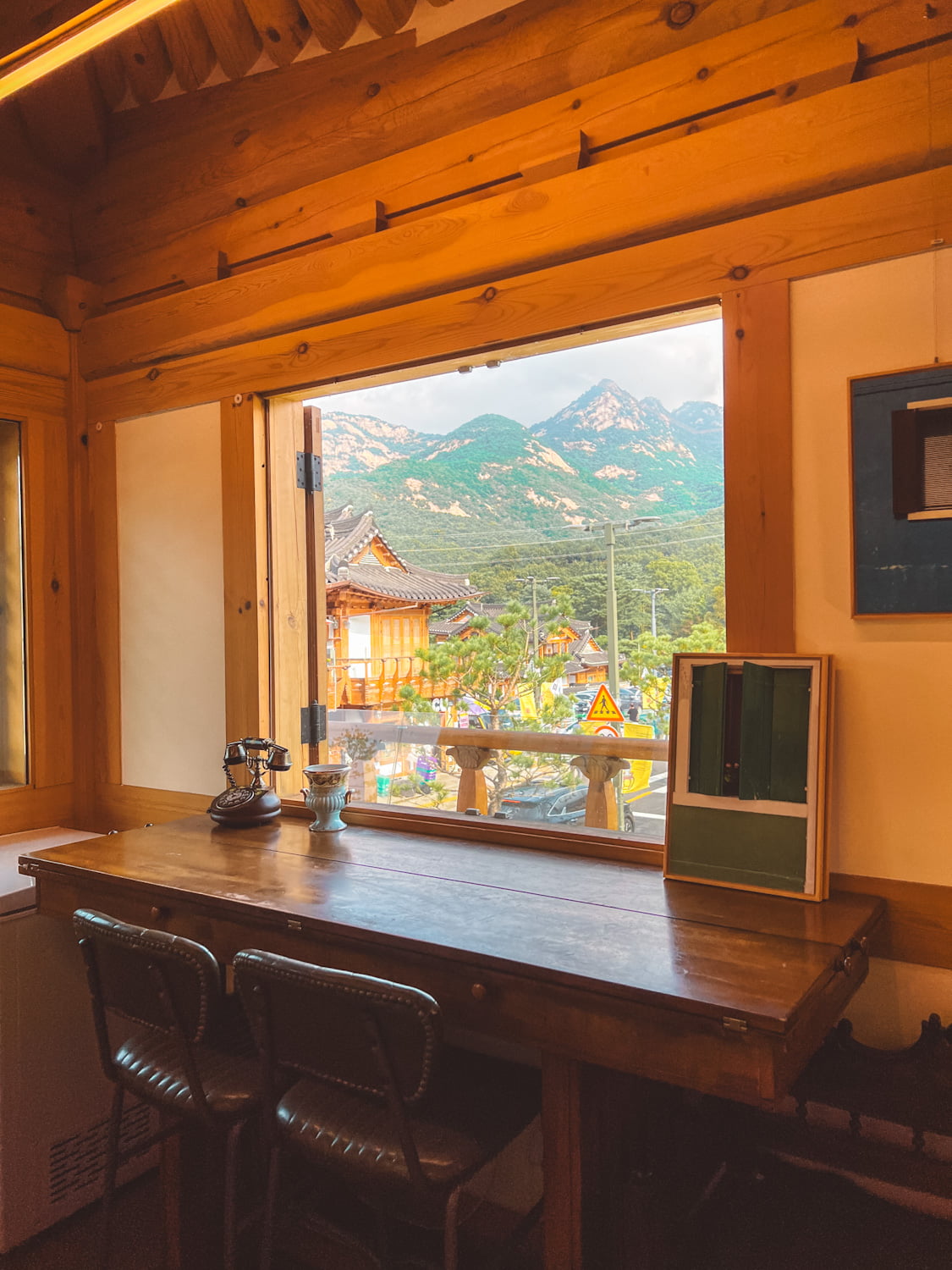 What distinguishes this cafe from others in the village is its unique fusion of exquisite Hanok interior design and opulent antique decor. At Cafe Space Hellena, you'll discover an array of delectable treats and refreshing beverages served in exquisite porcelain sets, adding a touch of elegance to your experience. And as if these features weren't enough, Space Hellena proudly wears the badge of being the only pet-friendly cafe in the village, making it a must-visit for pet owners!
Preparing for Your Trip to Space Helena:
If you're considering including this cafe on your list of must-visit places in Seoul, here are a few things to expect and take note of:
Top Seating Choices: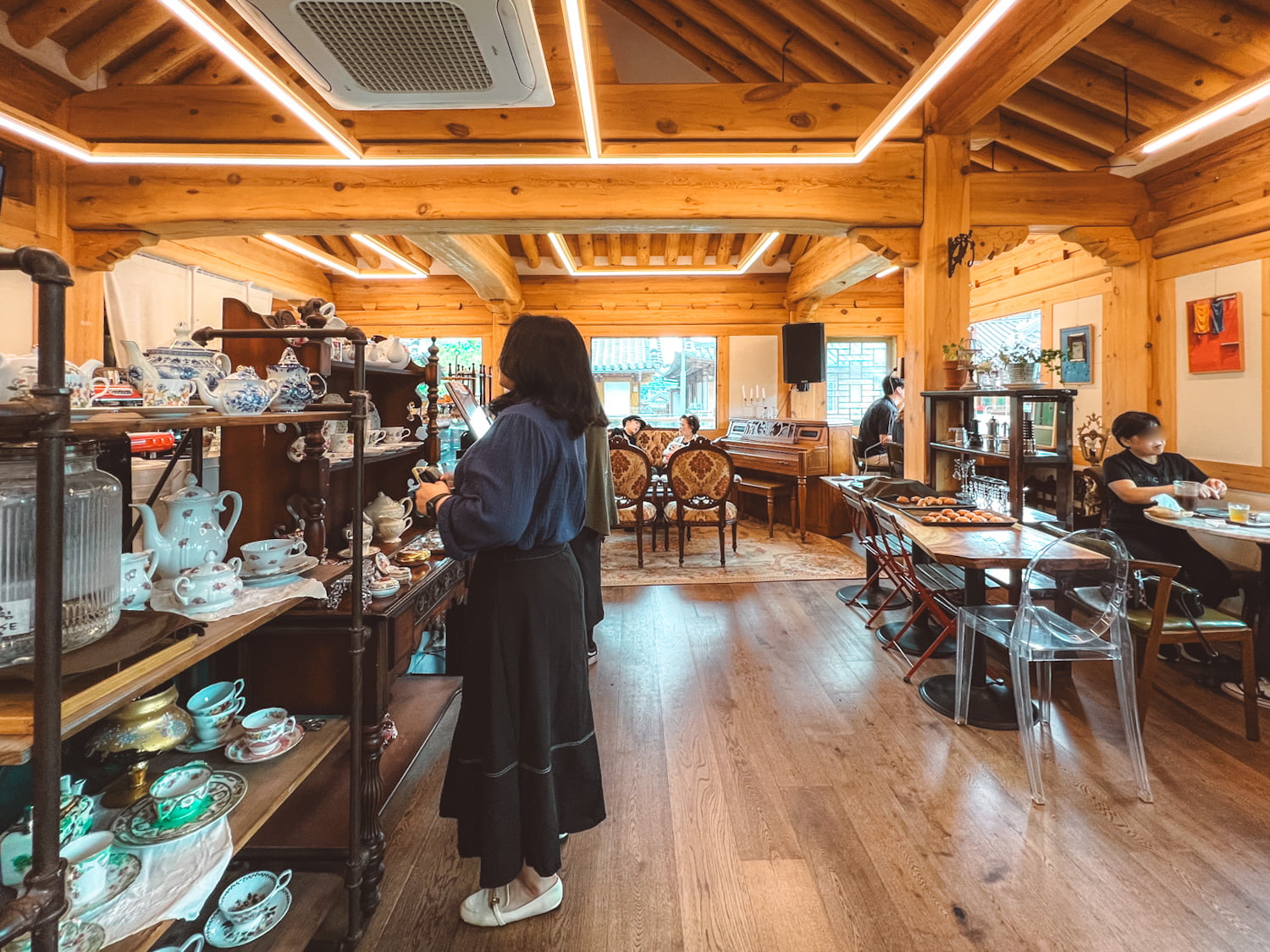 Seating Zone Before the Counter
Space Helena offers two primary seating sections: one right near the order counter and another a few steps up from it. Despite the cafe's charming Korean traditional house decor, the most coveted feature here is undoubtedly the view. Consequently, tables by the windows in both areas tend to fill up first.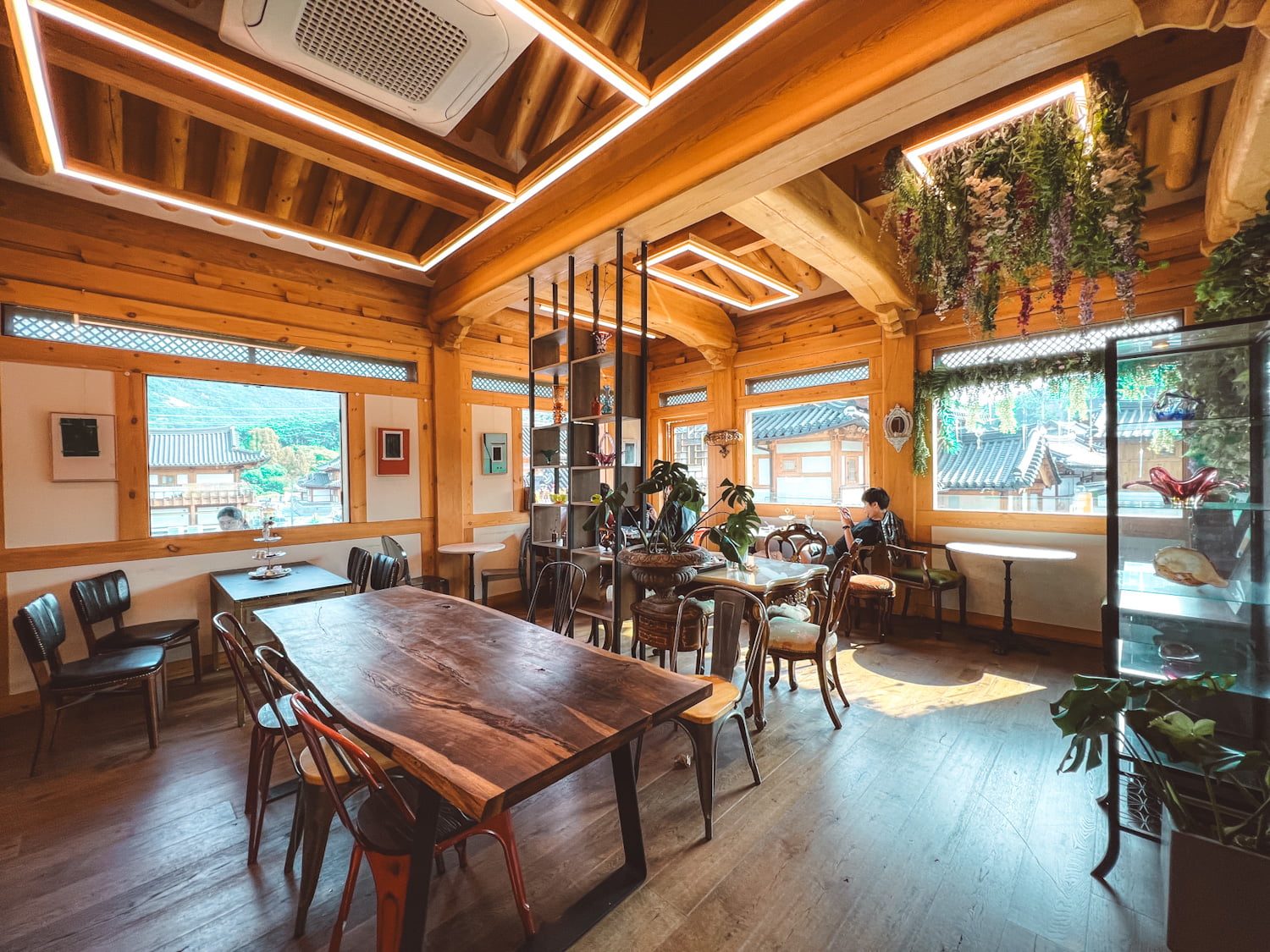 Second Main Seating Area
In addition to these window seats, Space Helena boasts outdoor terraces! As you might guess, the terrace seating offers the best opportunities for Instagram-worthy shots. Each seating area has two terraces, accessible through two separate doors: one conveniently located near the order counter and the other tucked in the corner of the upper seating area.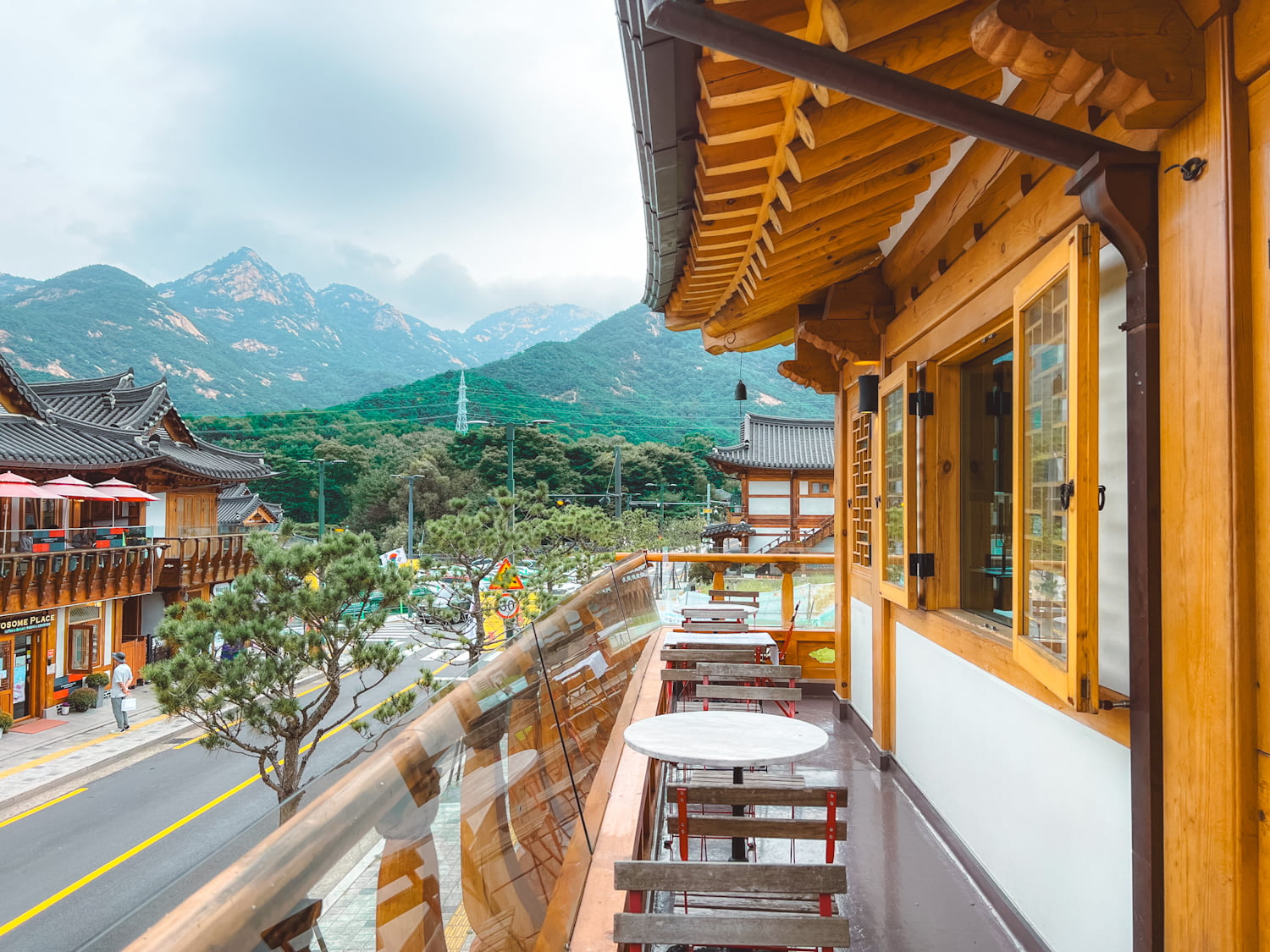 The vistas from these terraces are equally captivating. One provides a picturesque view of Jingwan Road leading up to the base of Bukhansan Mountain, while the other offers a panoramic scene of the cluster of Hanok houses.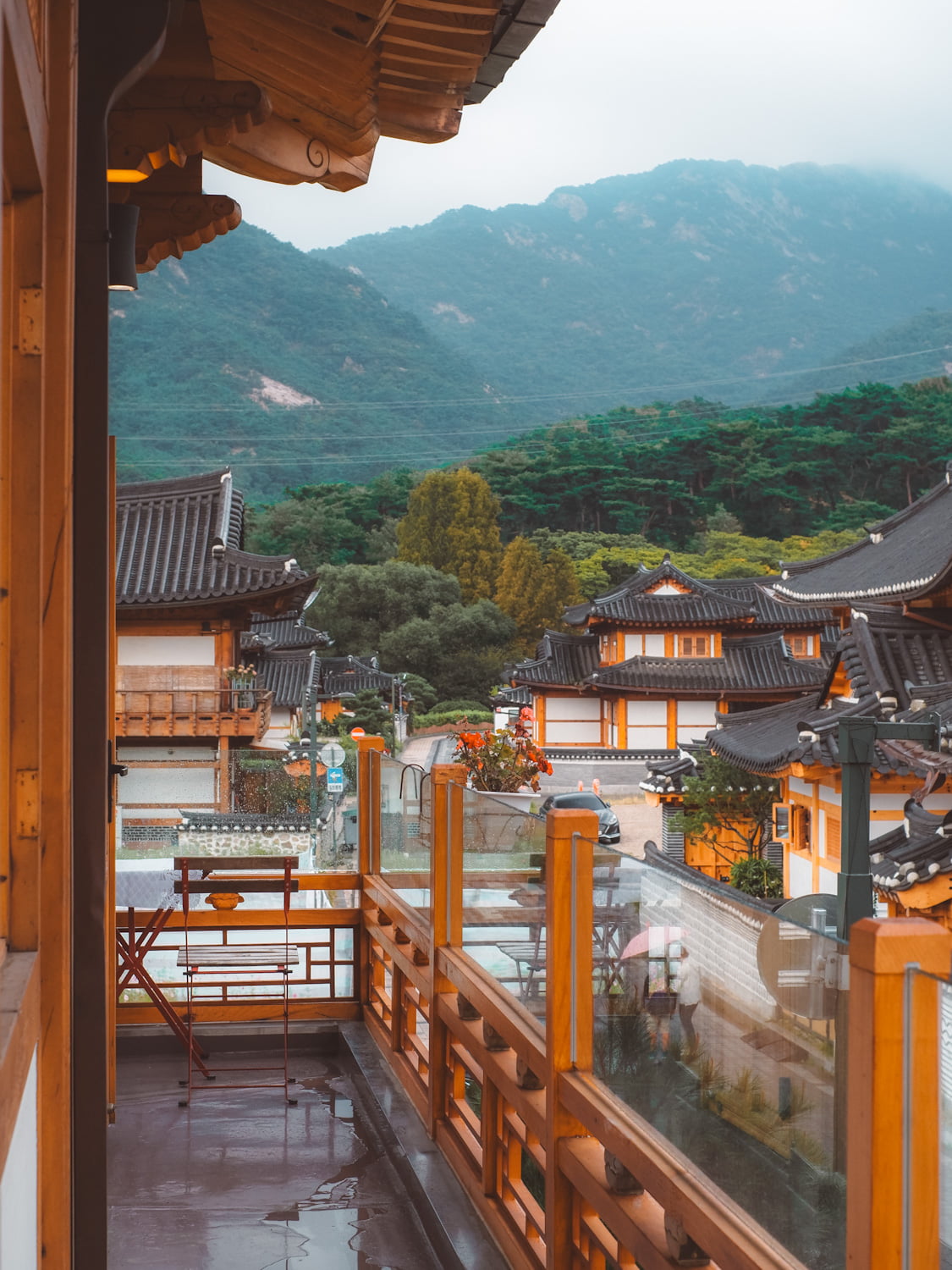 During spring and early autumn, these terraces tend to get crowded quickly. To snag one of these coveted spots at Space Hellena, it's a good idea to visit before lunch or during the weekdays!
Menu and Pricing:
While Space Hellena offers a range of beverages, their forte lies in serving delectable desserts, evident from the extensive options available, which can be ordered individually or as part of a brunch or tea set.
When it comes to drinks, they cater to various tastes with an assortment of coffee, tea, lattes, and smoothies. Here's a breakdown of some drink prices at Space Helena:
Espresso: 5,000KW
Americano: 5,000KW (hot) / 5,500KW (iced)
Vanilla Latte: 6,000KW (hot) / 6,500KW (iced)
Chocolate Latte: 6,000KW (hot) / 6,500KW (iced)
Specialty Hand Drip: 6,500KW
Assorted Teas: 6,000KW (hot) / 6,500KW (iced)
Smoothies: 6,500KW
Now, if you have a sweet tooth, you're in for a real treat! Cafe Space Helena offers an array of desserts, including various Bingsu options (Korean milk-based shaved ice dessert), tantalizing pastries such as brownies, croissants, homemade cakes, and biscuits. You can order these treats individually or have them topped with sweet delights like ice cream and condensed milk. Here's a brief list of dessert prices at Space Hellena:
Green Tea Bingsu: 31,500KW
Fresh Watermelon Bingsu: 32,600KW (seasonal)
Brownie Ice Cream: 14,500KW
Apple Cinnamon Croissant: 13,500KW (winter only)
Hanok's Black Tea Cake: 9,800KW
Melting Basque Cheesecake: 9,800KW
Additionally, as mentioned earlier, Cafe Space Hellena offers a unique experience with their exquisite brunch and tea porcelain sets. Let's delve into what these sets entail. According to their Naver Smart Place page, Space Hellena offers at least three brunch tea sets, each presented on a charming 3-tier porcelain cupcake stand, accompanied by drinks and a selection of desserts or brunch items. However, during my recent visit, they also had a smaller set with a petite porcelain cupcake stand. Here's a quick overview of the pricing for these brunch tea sets at Space Hellena:
Hanok Brunch Tea Set (한옥의 브런치 티 세트 3단대표):
Price: 40,000KW/person
Includes: Basil pasta, assorted pastries, sandwiches, and non-alcoholic champagne (substitutable).
Hanok Romance Fondue Tea Set (한옥의 로맨스 – 퐁듀 티 세트 3단대표):
Price: 40,000KW/person
Includes: Seasonal fruit fondue, assorted pastries, open sandwiches, and non-alcoholic champagne (substitutable).
Hanok Afternoon Tea Set (한옥의 오후 티 세트 3단):
Price: 27,500KW/person
Includes: Assorted pastries and tea.
Smaller Brunch Set:
Price: 45,000KW/set
Includes: Assorted pastries, sandwiches, and 2 drinks.
How to Place Your Order:
You'll find a convenient kiosk machine right in front of the counter for placing your orders. This makes ordering easy, especially because most of the menu items are available in English. However, it's worth noting that the subsequent steps after selecting your items can be a bit tricky, as English instructions might not be available (if I'm not mistaken). Don't hesitate to ask the staff for assistance if you encounter any difficulties.
Drink and Dessert Experience:
During our visit, we opted for the smaller brunch set, which originally costs 45,000KW. You have the option to customize your set by adding more items or changing your beverage choices during the ordering process, with the additional prices clearly displayed. In our case, we upgraded the sandwich to include salmon and selected an iced vanilla latte, which brought the total cost to 48,000KW.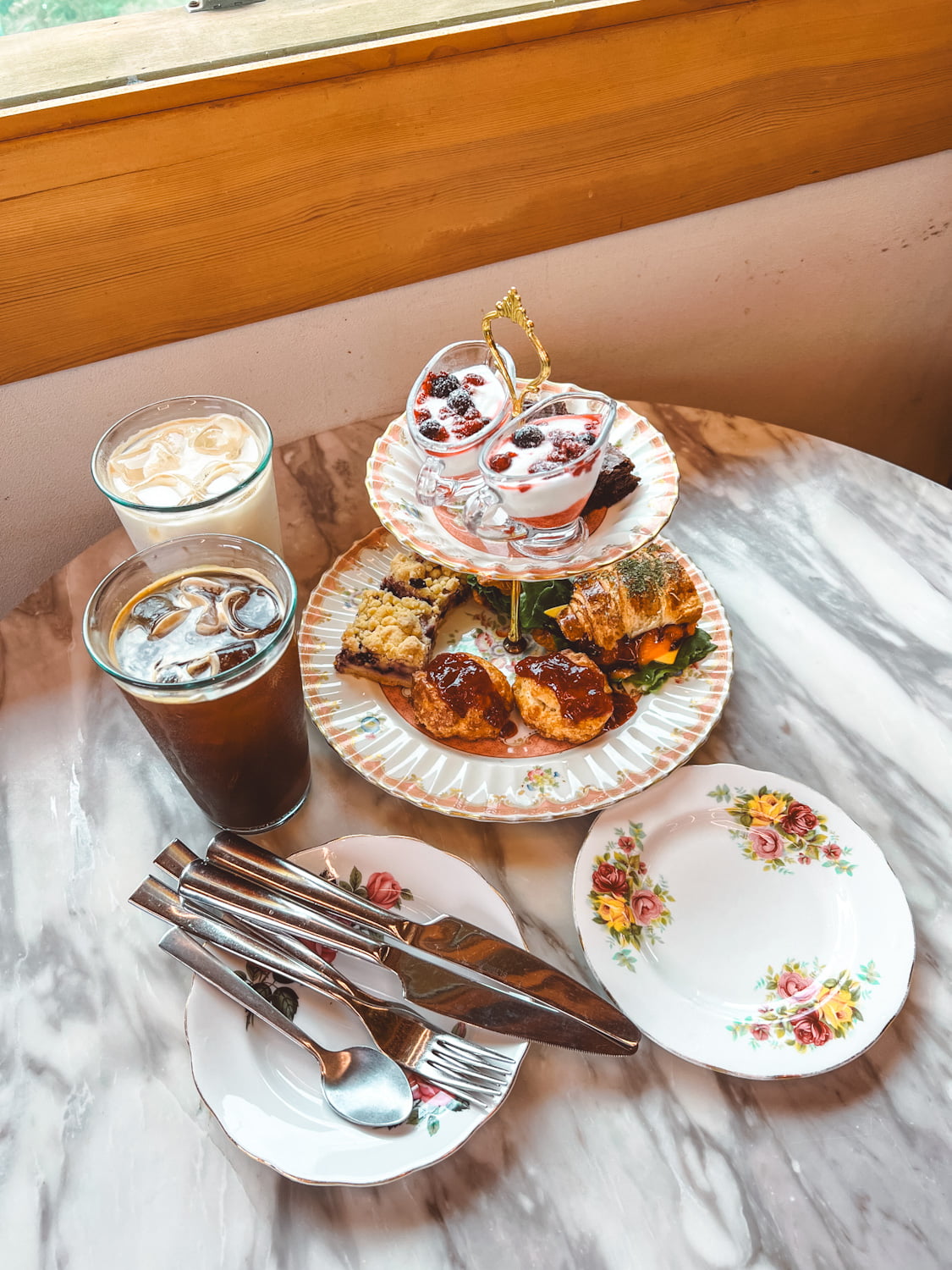 Now, let's get to the honest review. Everything except the drinks was on the petite side, especially the sandwich. We had anticipated a hearty first meal of the day, but the portion size left us wanting more. Furthermore, the taste and quality of the items left much to be desired. The two bites of brownie were overly sweet and had a somewhat soggy texture. The biscuits were the biggest letdown, as they had an extremely hard and tough texture. As for the sandwich, it left our taste buds a bit puzzled, as it seemed to straddle the line between dessert and savory food due to the overly sweet sauce paired with the salmon. All in all, both the portion sizes and the taste of the treats didn't justify the price tag in our opinion.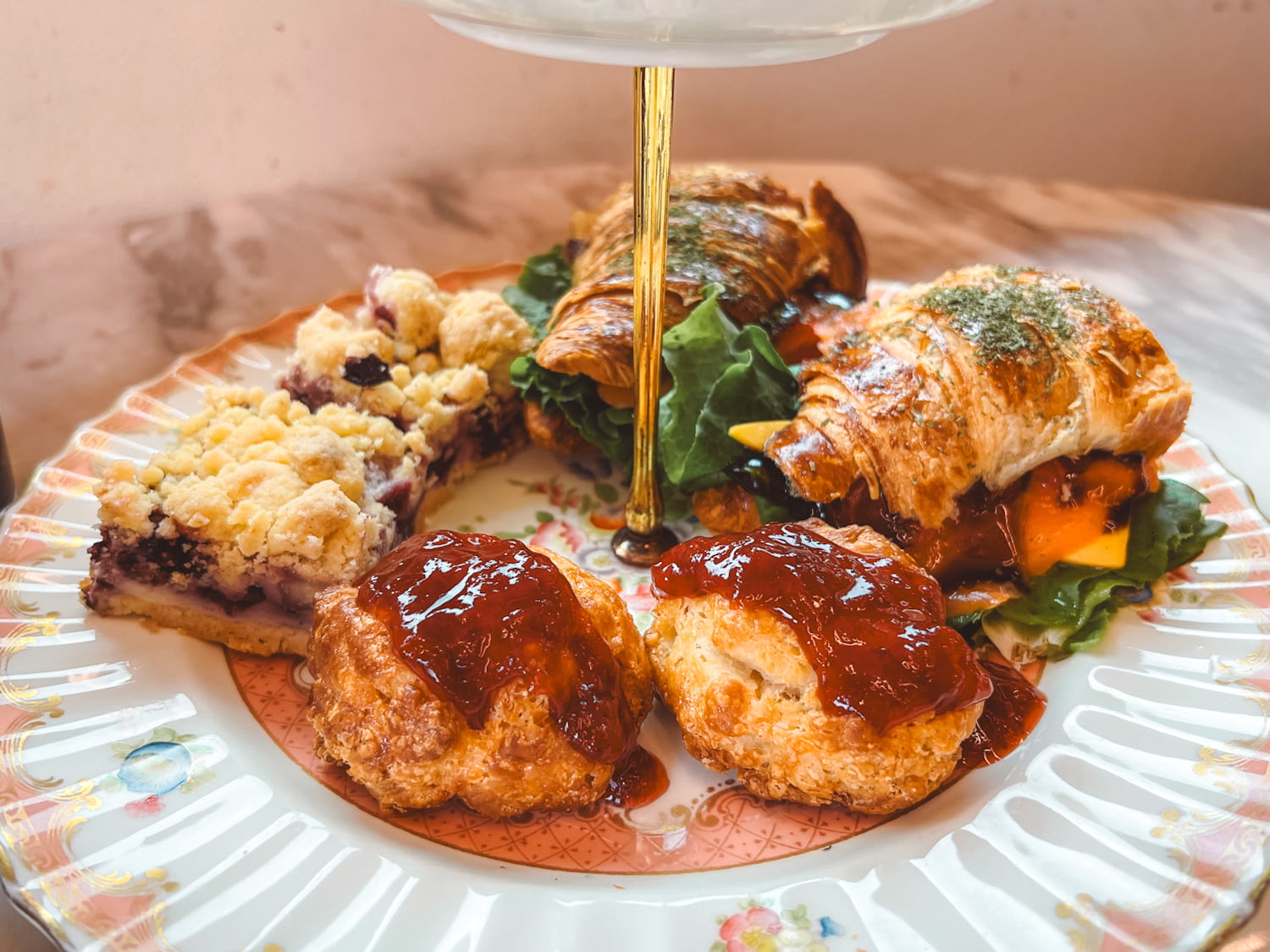 Should You Try the Brunch/Tea Set?
If you're looking to add a touch of elegance to your photos, then absolutely, go for it! It's a visual delight. However, if you're hoping for a substantial and filling meal, it may not be the best value for your money. I'd suggest visiting for some light indulgence with their individual desserts or beverages instead.
For those interested in reserving one of their brunch tea sets, you can click here for more information.
Additional Tips/Considerations:
Be aware that Space Helena is a top choice for pet owners, particularly those with dogs. You can expect to share the space with these furry companions, so if you're not a fan or feel uncomfortable around dogs, it might be best to skip this cafe.
Keep in mind that the terrace spaces are somewhat limited: they're on the smaller side and can be a bit narrow. If you opt for terrace seating, you might find it challenging to navigate in and out due to other patrons.
If you visit Space Hellena in September, you'll have the opportunity to enjoy the early hints of autumn with the cosmos flowers in full bloom nearby, adding an extra layer of charm to your experience.
It's worth noting that Space Hellena remains open every day, even during national holidays, which should ease any concerns about finding it closed!
Now, you've reached the conclusion of my in-depth guide to Space Helena. Armed with this insider information, you're all set to plan your visit to this charming café. I sincerely hope that my candid review hasn't dampened your enthusiasm. The stunning views, inviting ambiance, and attentive service truly make up for the higher prices. Our own experience at the café was delightful, and we had a wonderful time. We're optimistic that you will too!
Gallery: Captured Moments at Space Helena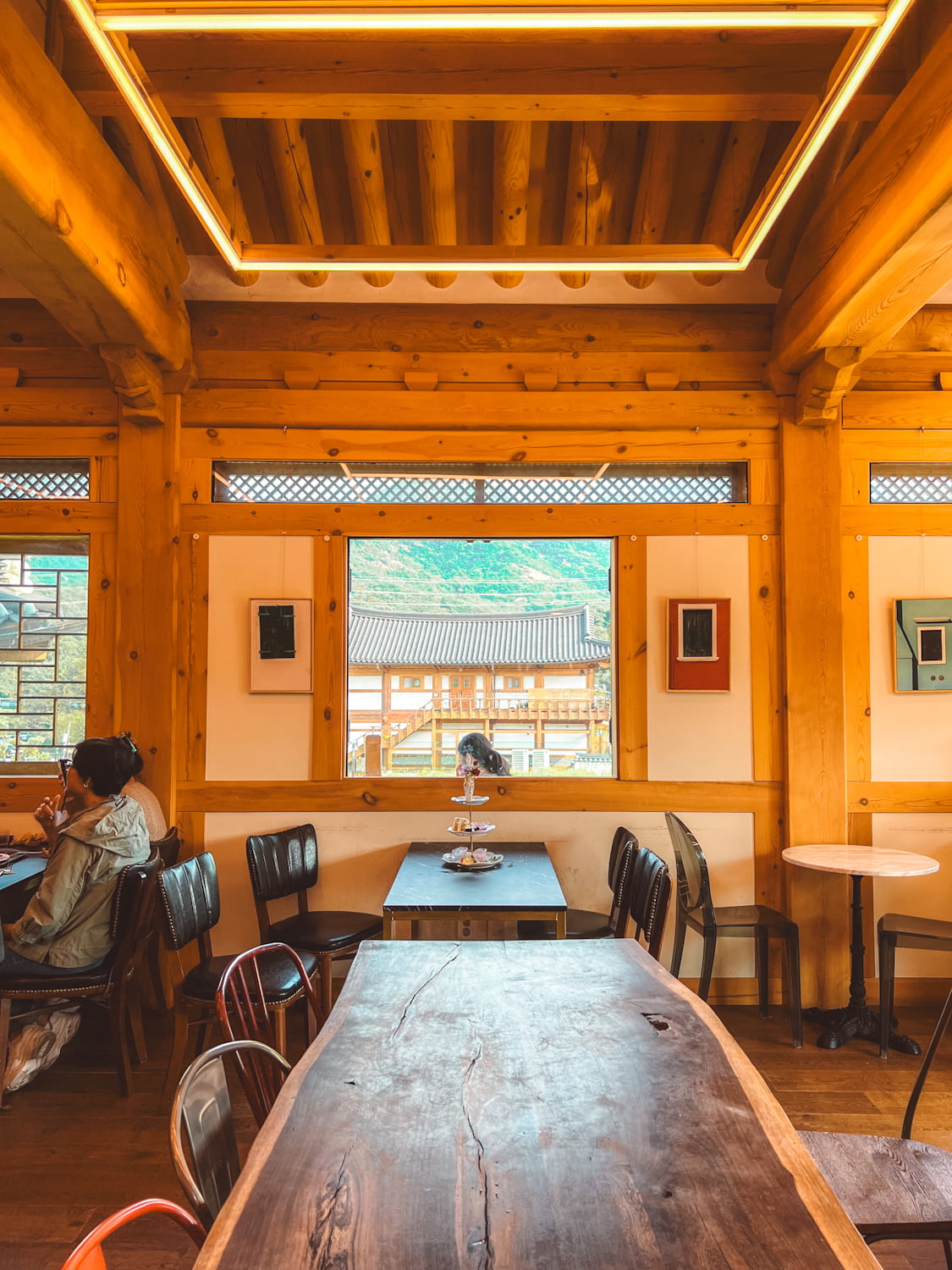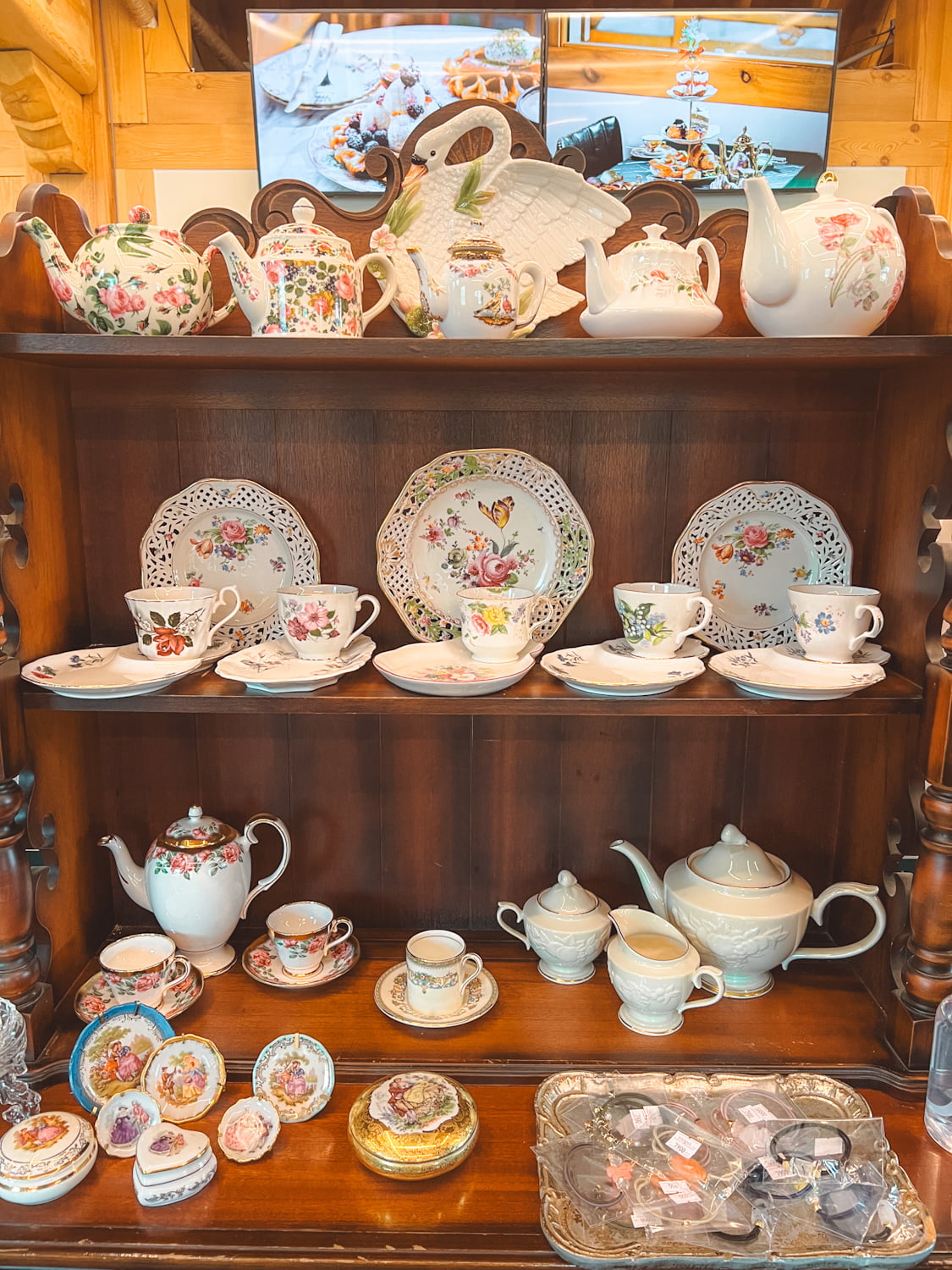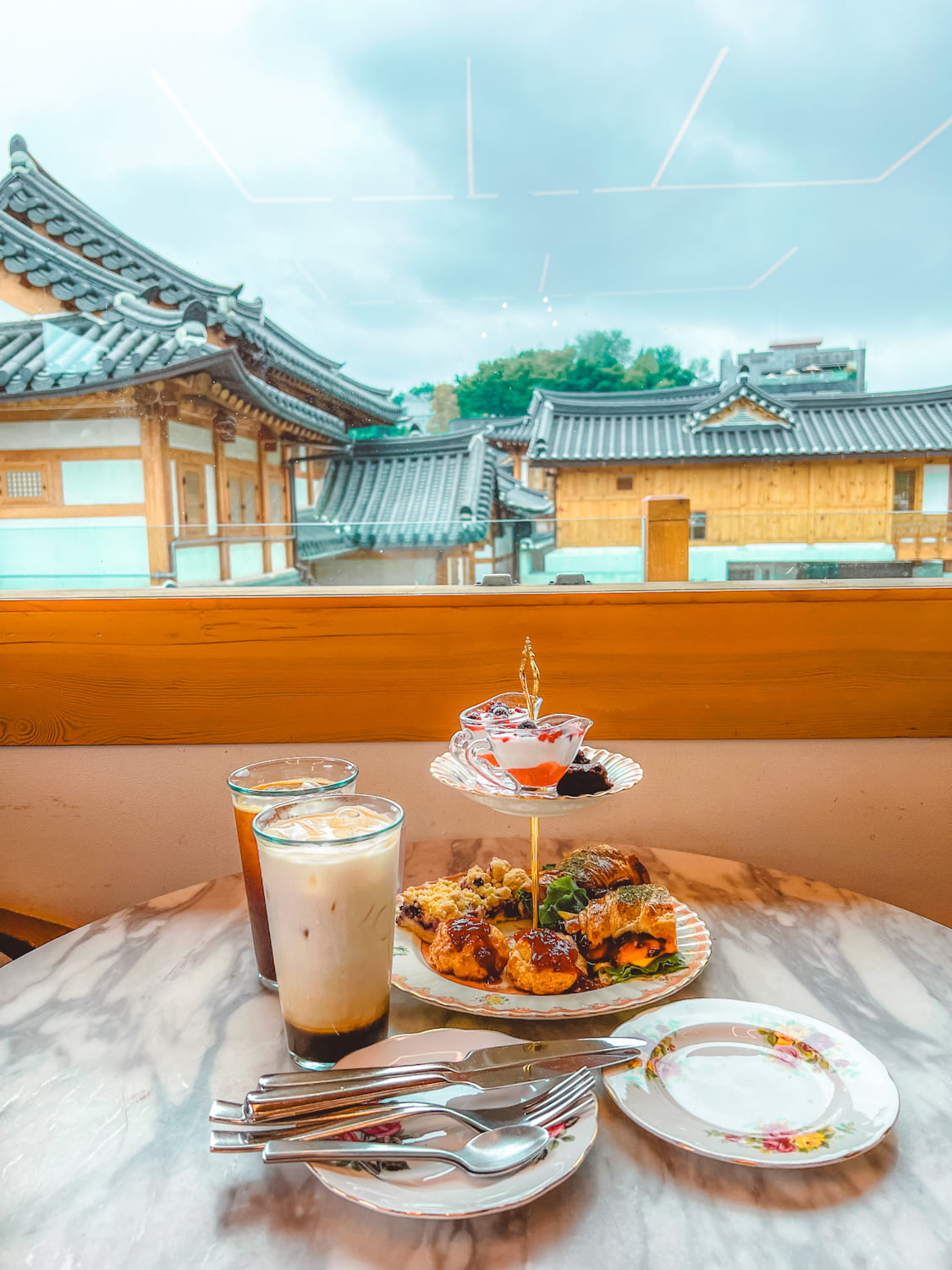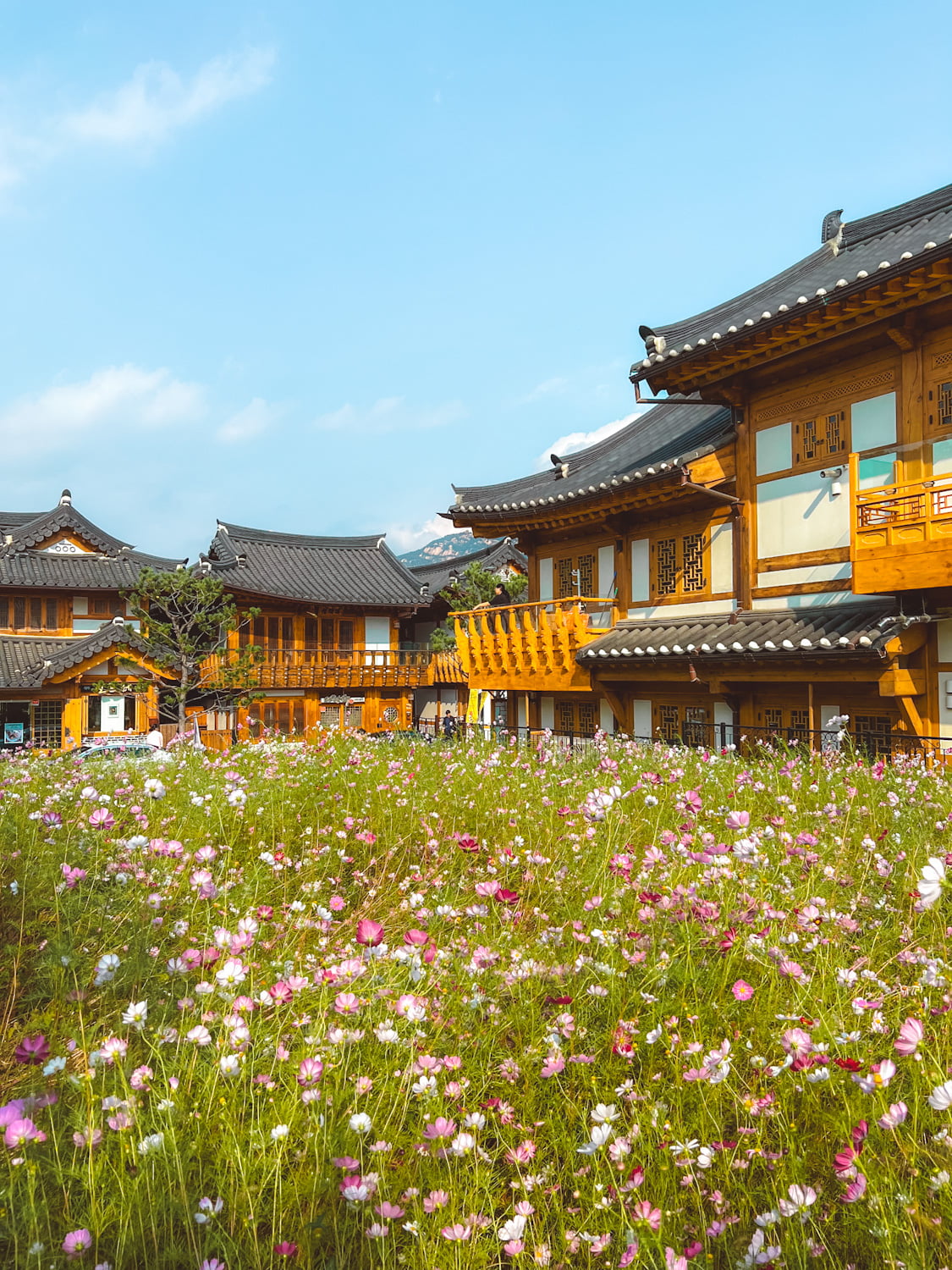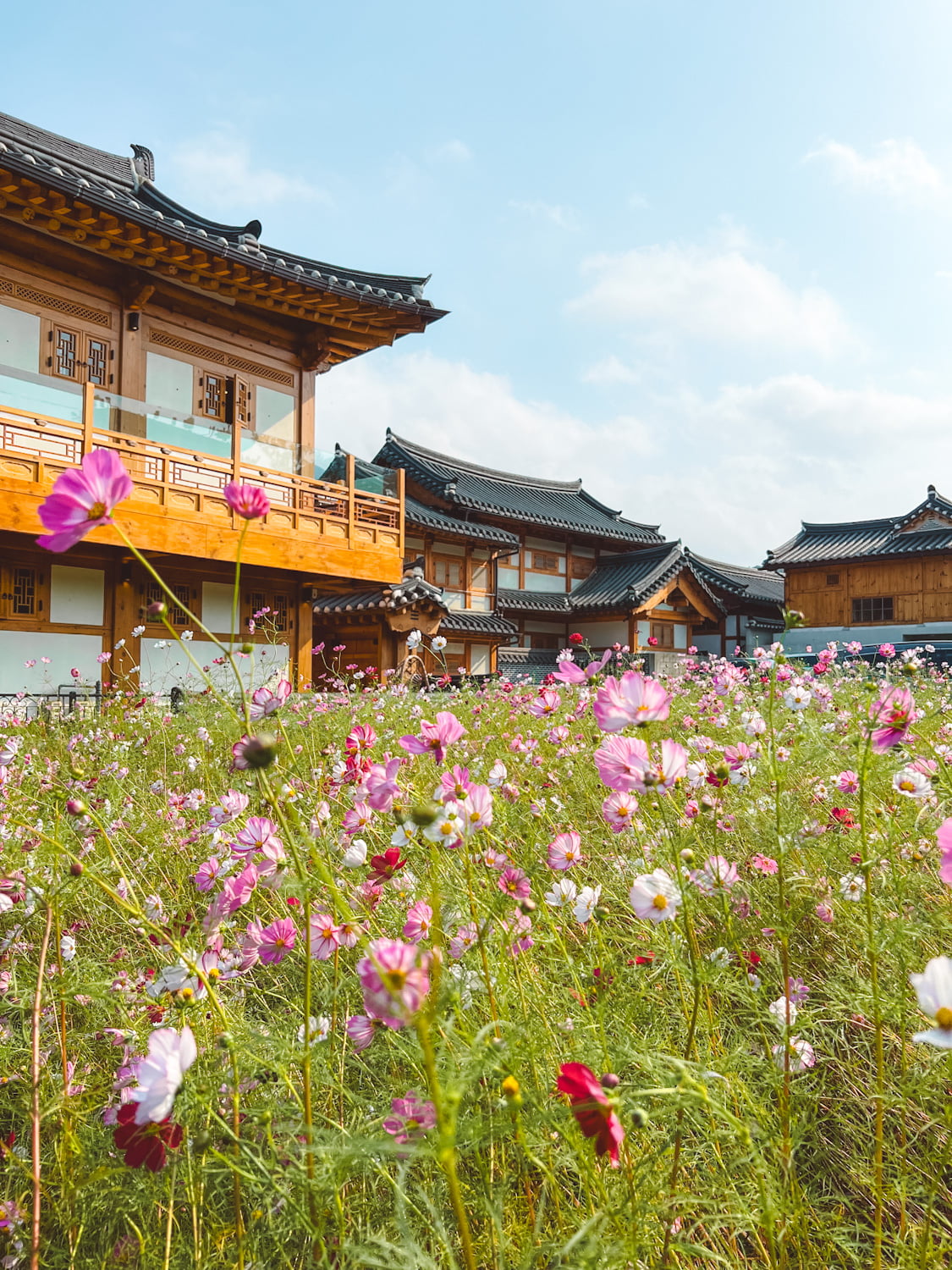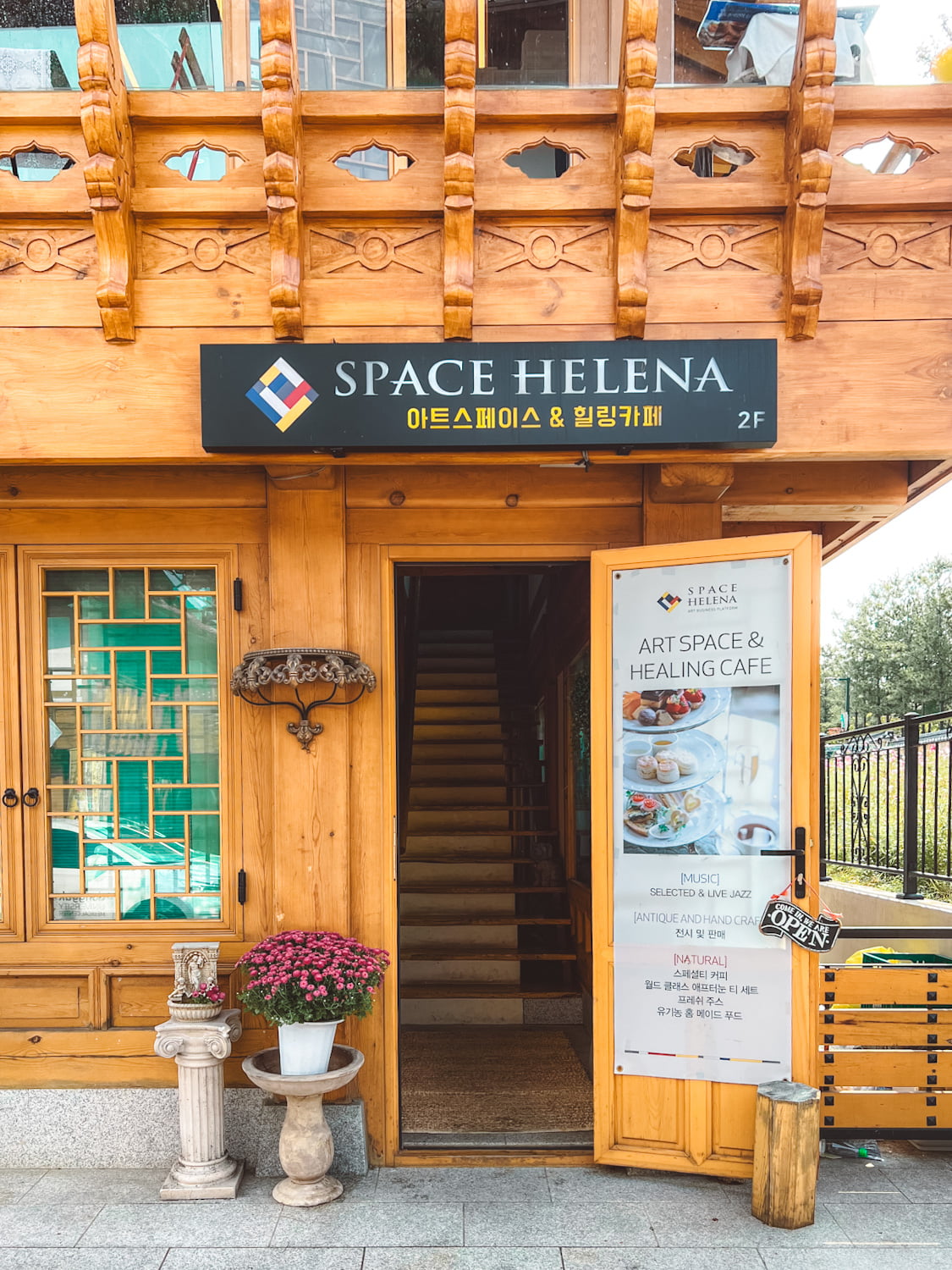 Access Map:
Quick Info About Space Helena:
Address: 서울 은평구 진관길 4 2층
Naver Map:

 Link


Hours: 11:00AM~9:00PM (Everyday)
Website: 

http://space_helena.jalib.site/
Other Seoul Café Post You Might Like:
Did this entry help you? Or Did you enjoy my photos? Help support my small blog by giving a little cup of joe. I am always grateful when readers reach out wanting to support 🙂
p.s. This post is independently created. However, when you book or purchase something through the retail links, I may earn an affiliate commission to help keep Ploy's Little Atlas running. Thank you very much for your support!
p.p.s All images used (unless specified) are owned by the author of the blog and permission is required for a repost. Please, reach out via social media channels to ask beforehand if you'd like to use them.