Samcheongdong-gil (삼청동길) is renowned as one of Seoul's prime locations for viewing autumn foliage, thanks to its long road flanked by beautiful mature ginkgo trees. Visiting this neighborhood during the peak of the fall season can be considered the ultimate achievement of a trip to the city. To ensure you make the most of your visit, let me guide you through the spots where you can capture stunning photos of the neighborhood's captivating charm and eye-catching autumn leaves. Consider this guide your go-to resource to save time and fully enjoy the season in Samcheongdong.
First and foremost, it's important to note that you don't need to start your exploration at the deepest point of the Samcheongdong neighborhood as I will describe. You can simply visit the specific location from where you'd like to capture your favorite photo. I will always provide a Naver map link to each spot for your convenience. However, if you wish to cover all the spots mentioned in this article, I suggest starting at Cafe Slow Park, which was my starting point during my last visit in the previous fall season.
Where to Capture Beautiful Fall Foliages on Samcheongdong-gil?
Following the location of Samcheongdong-gil on Naver Map will lead you to Samcheong Park (삼청공원), which is deeper into the Samcheong neighborhood and further away from the trendy area known as Culture Street (삼청동문화거리), the most illuminated part of the neighborhood. However, I assure you that the deeper you venture, the more fascinating things you'll discover.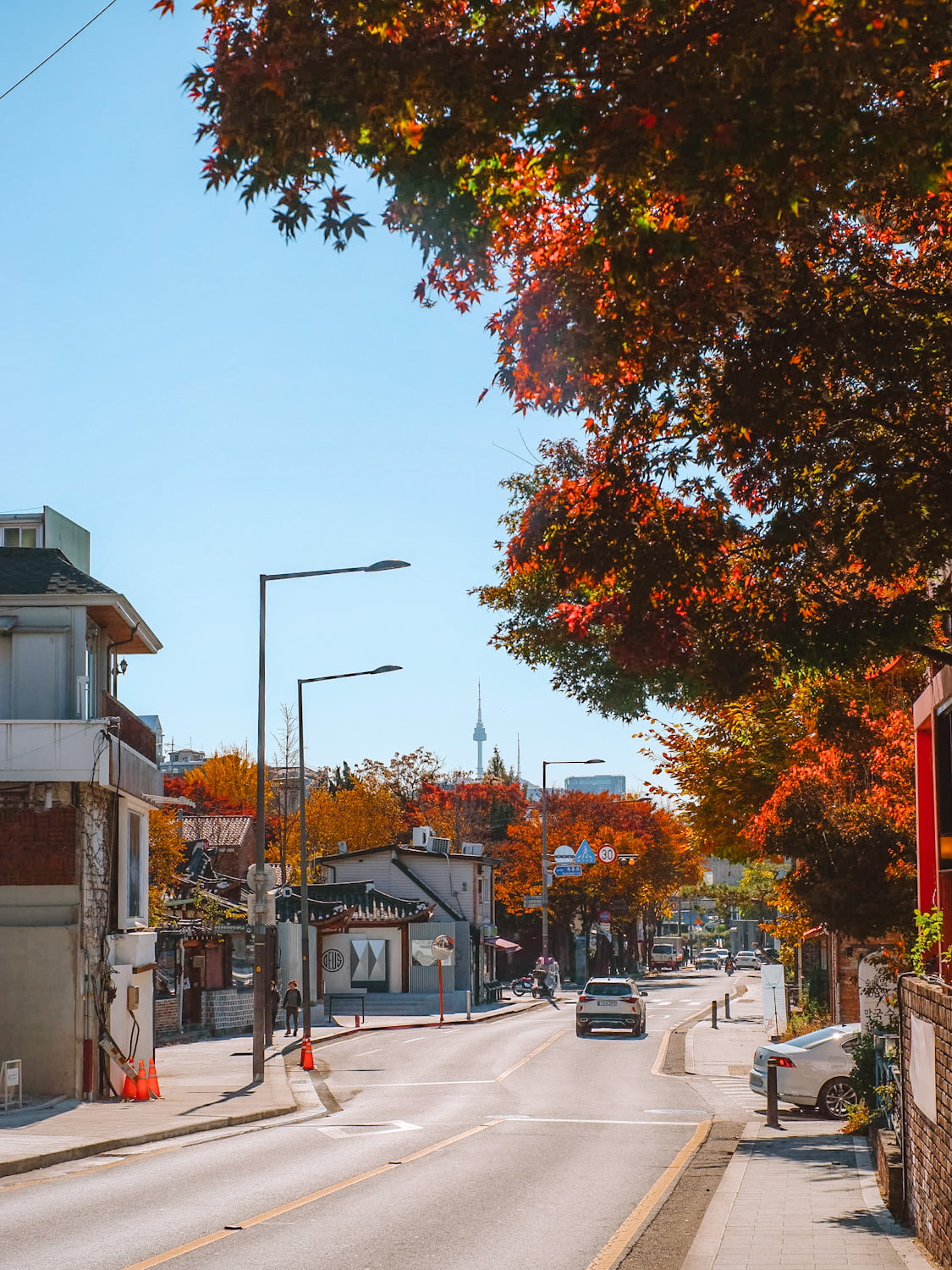 Located near Samcheong Park, Cafe Slow Park is a great place to begin your day in Samcheong-dong. Firstly, they serve excellent brunch selections. Secondly, the surrounding area of the cafe offers a soothing and quieter atmosphere. At this point, it is less crowded since most people tend to linger only at the beginning of Culture Street. Lastly, the best reason to visit Cafe Slow Park is the beautiful view of Seoul Tower featuring the stunning backdrop of red and golden autumn foliage in the neighborhood.
Cafe Slow Park: Naver Map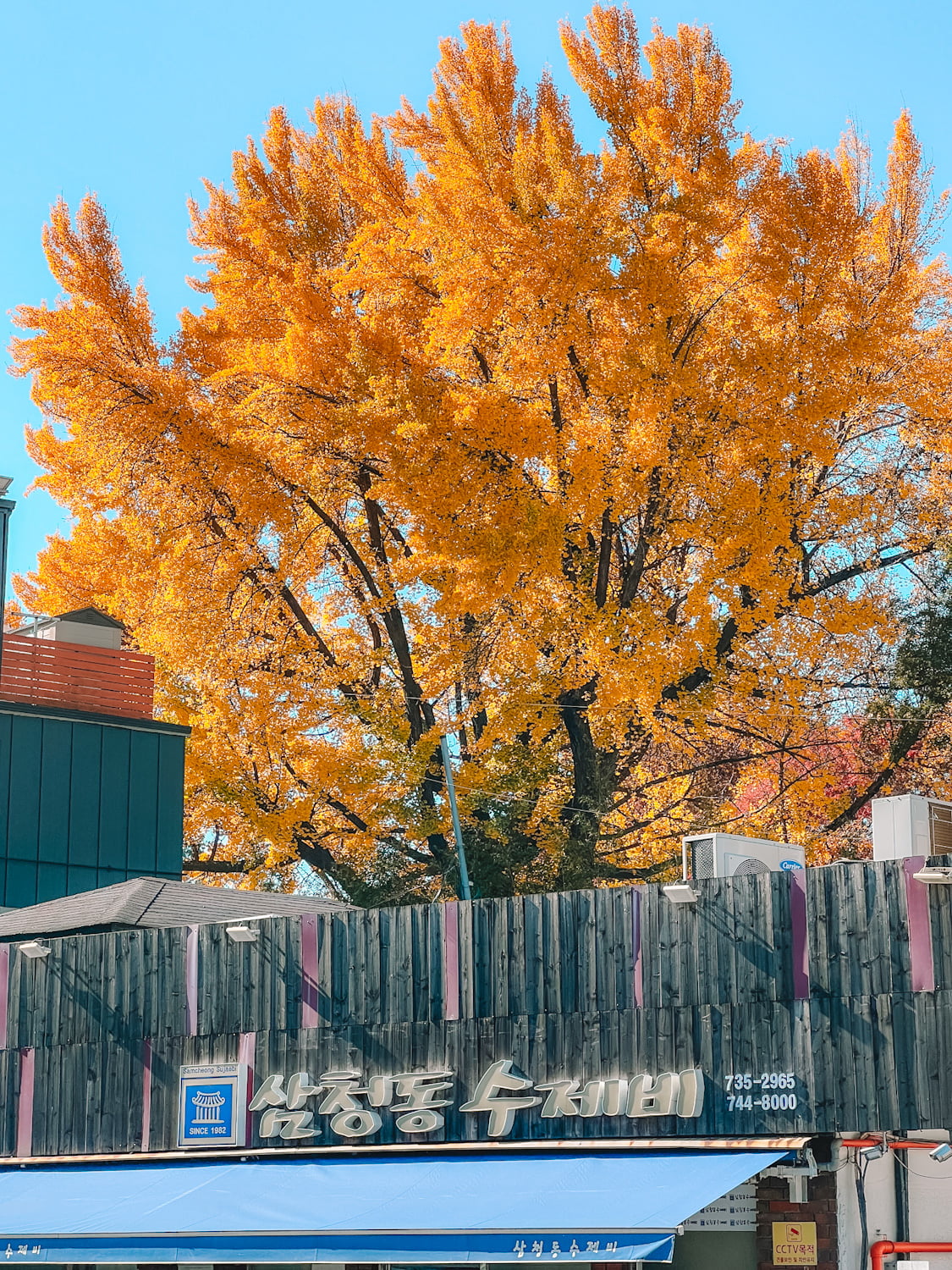 Continuing along Culture Street downhill from Cafe Slow Park, you'll soon reach Samcheongdong Sujebi, just a 5-minute walk away. Situated right in front of the Prime Minister's Office (국무총리공관), Samcheongdong Sujebi is one of the most popular restaurants specializing in serving sujebi, a traditional Korean delicacy featuring tender dough dumplings immersed in a savory broth teeming with an array of vegetables. It has even been listed by the Michelin Guide. However, I won't elaborate on this spot as a must-visit for its food. I mention it here because it offers a fantastic view of autumn. Thanks to a gigantic ginkgo tree peeking from behind the restaurant, this spot provides a splendid photo opportunity during the autumn months.
Samcheongdong Sujebi: Naver Map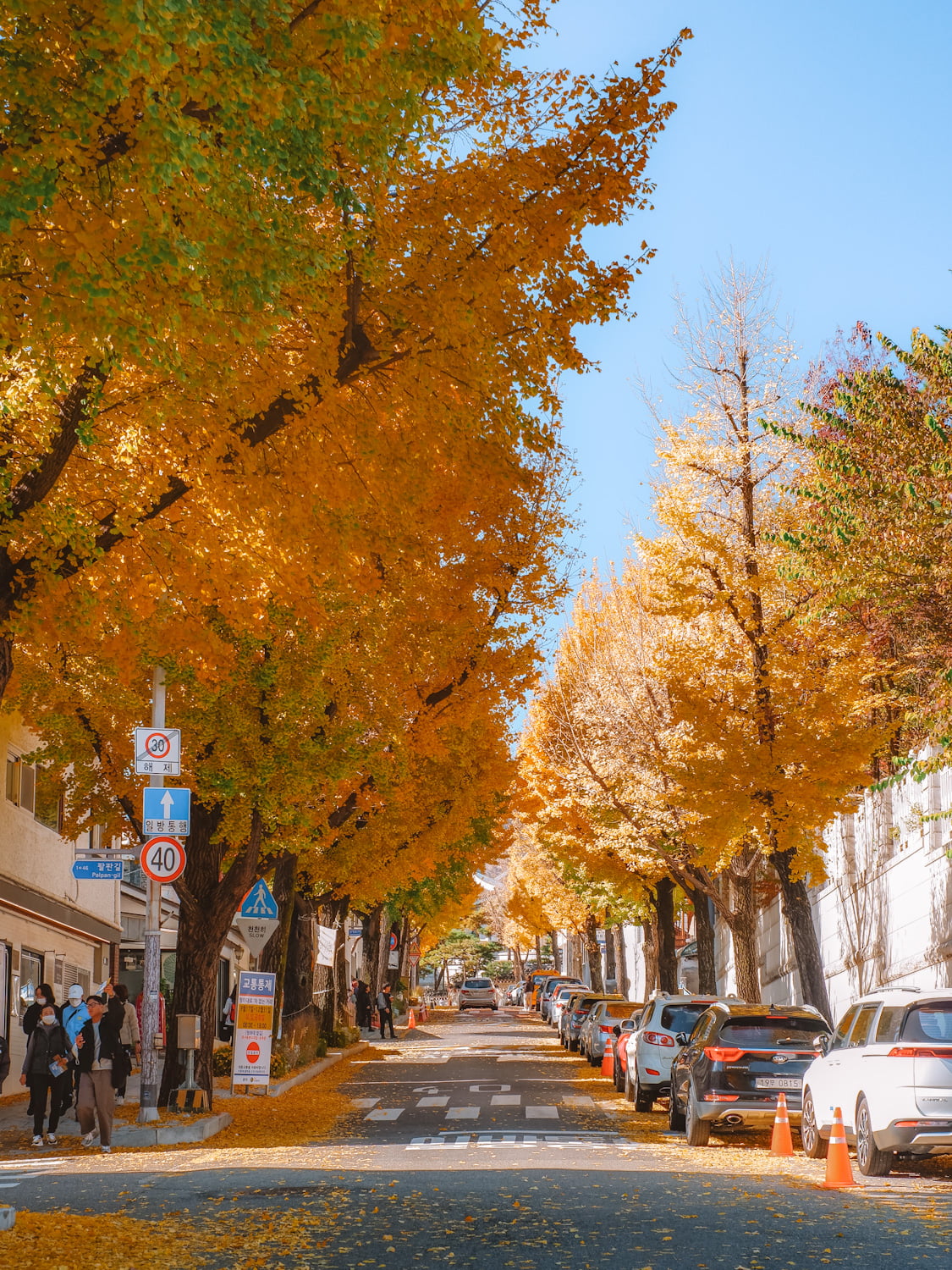 As a bonus, if you venture slightly off the main street, you'll discover Samcheong-ro 7-gil, a smaller road branching off from Culture Street. It stretches westward from the main entrance of the Prime Minister's Office. Not only will you find an array of trendy boutiques and restaurants in the area, but you'll also encounter a stunning cluster of ginkgo trees. When they reach their peak foliage, the sight is captivating and hard to ignore.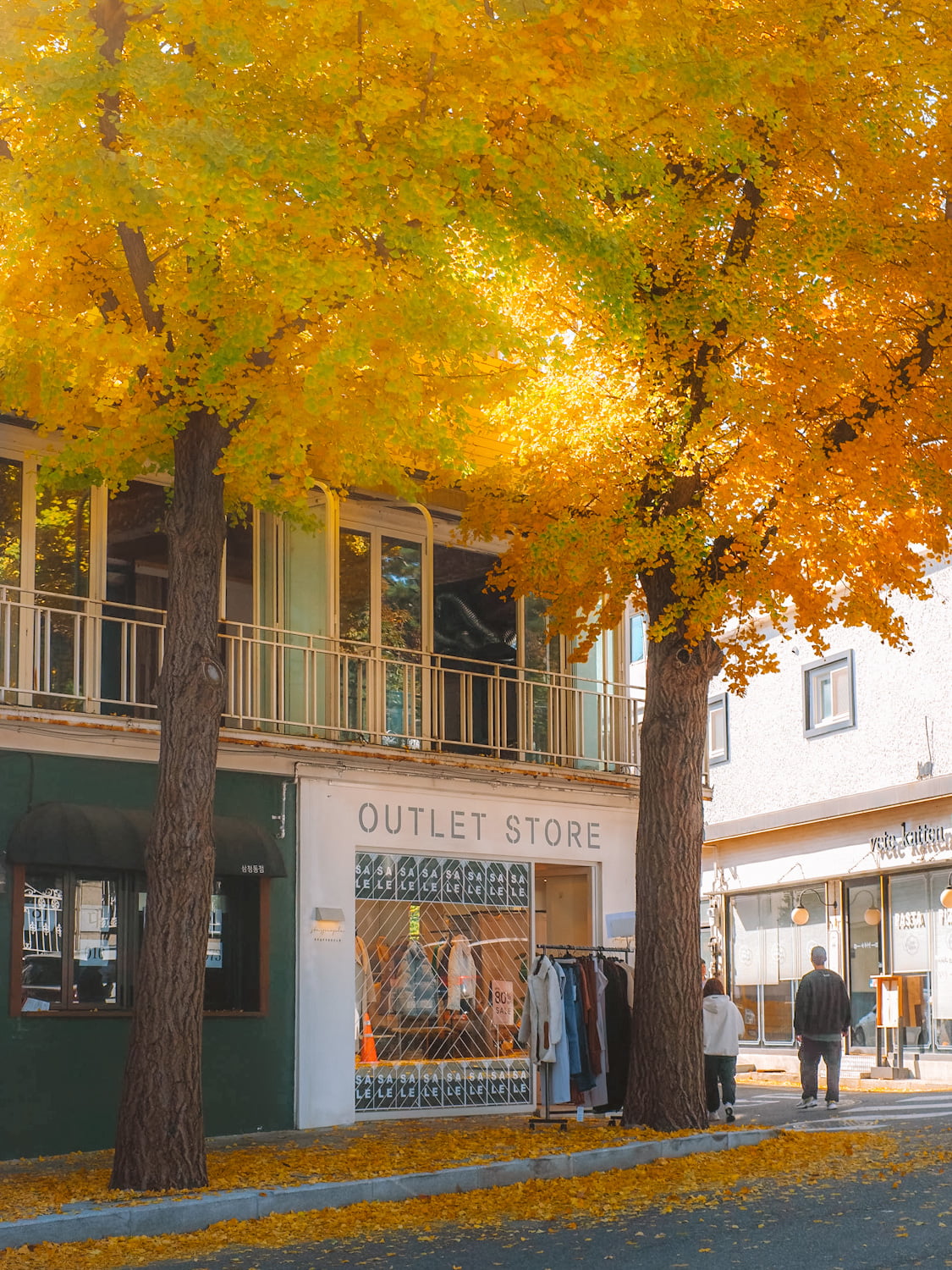 Samcheong-ro 7-gil: Naver Map
The Samcheongdong Ginkgo Street is the pinnacle of the autumn season in the Samcheong area. As the cozy autumn breeze sweeps over the city in early November, this street becomes the go-to destination for everyone seeking the beauty of the season. It is rightly called Autumn Foliage Road (가을단풍길) due to its reputation for offering one of the most prominent and breathtaking views of fall in Korea.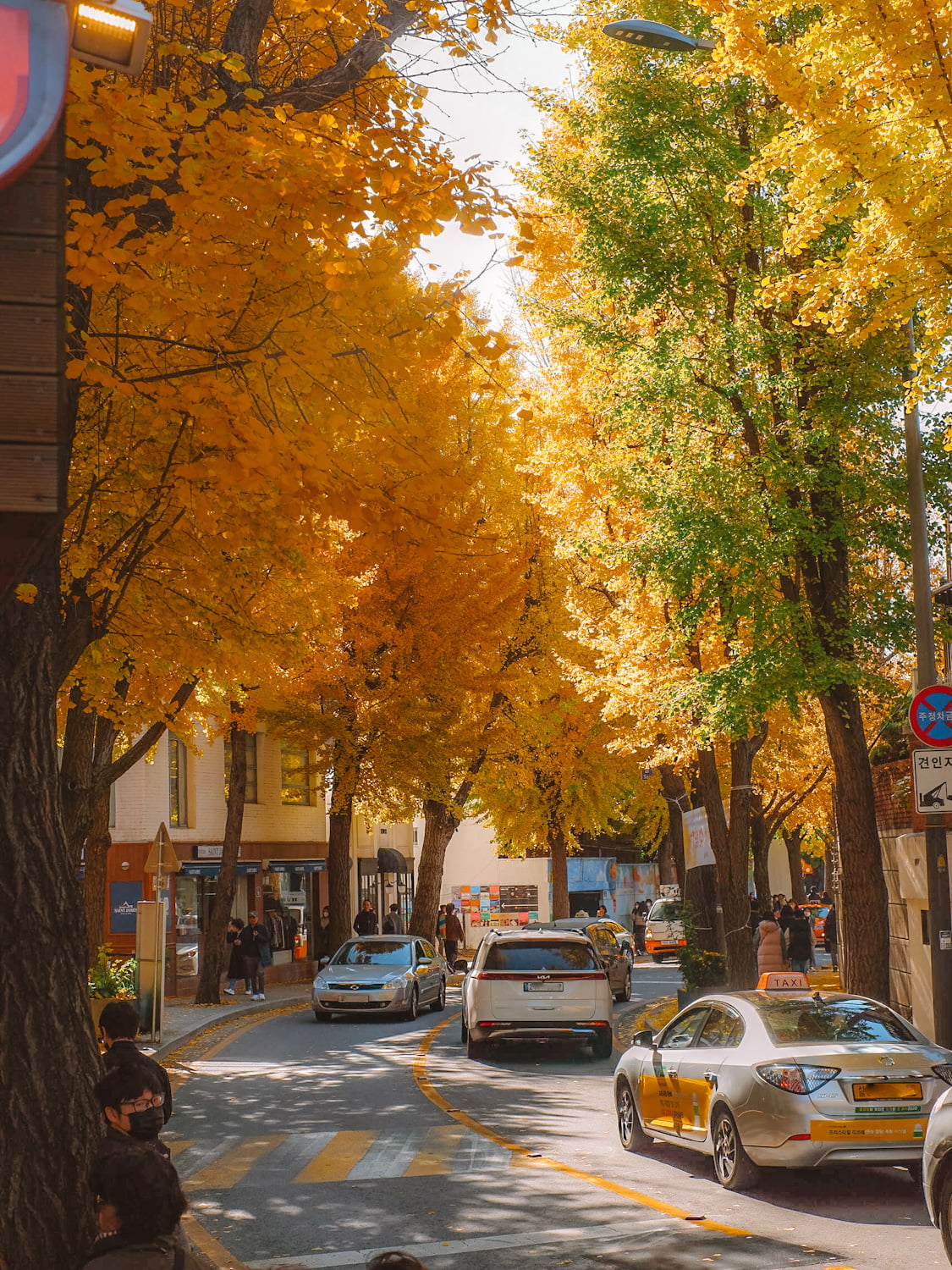 Stretching nearly 300 meters in length, this section of the street is adorned with majestic, mature ginkgo trees. Their vibrant foliage creates a spectacle that yields some of the most stunning images in the city.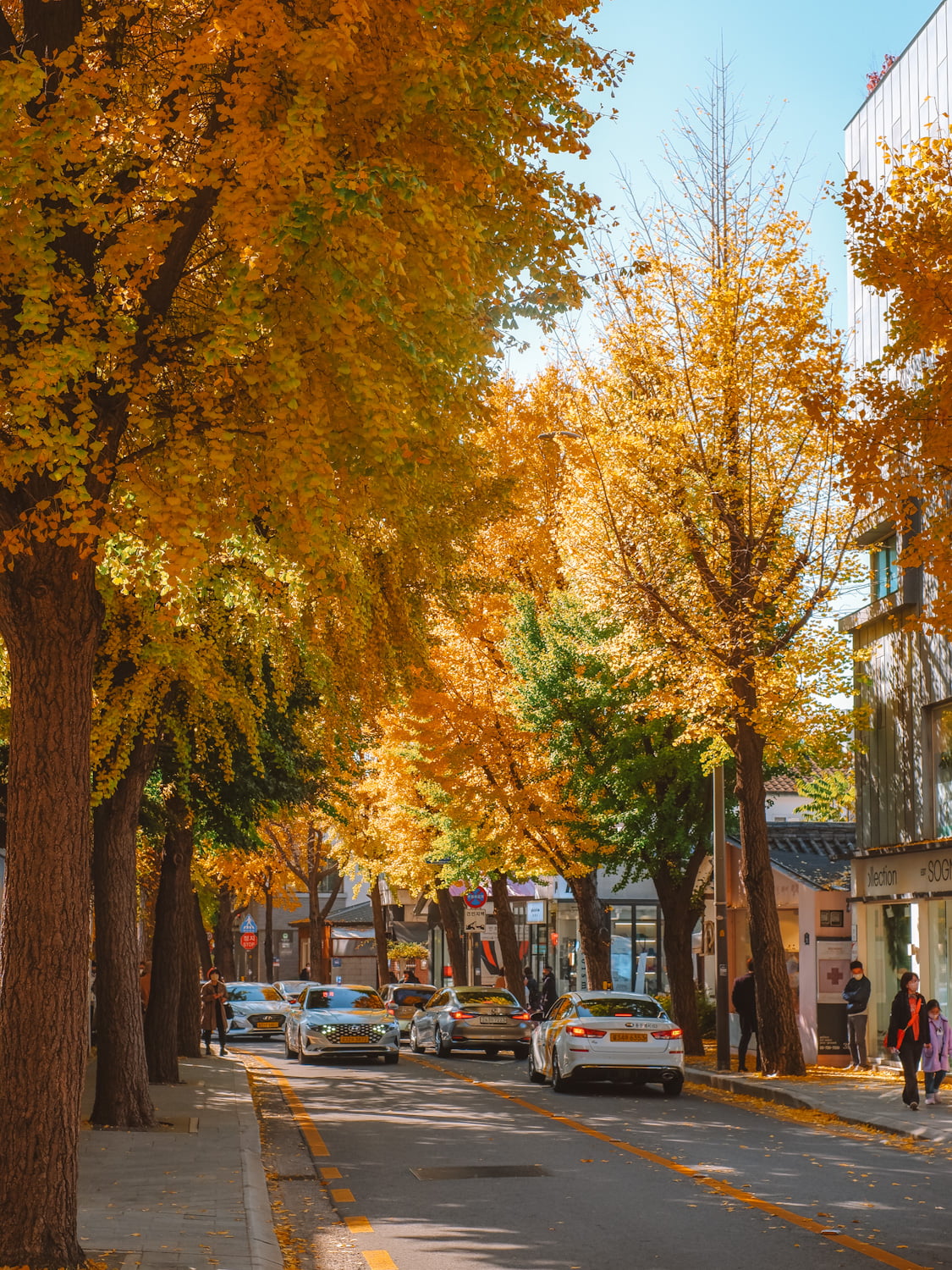 When planning your visit, consider exploring Samcheongdong Ginkgo Street during weekdays or early mornings to avoid the crowds. This will allow you to fully appreciate the tranquility and serenity of the surroundings, enabling you to bask in the full glory of the autumn foliage.
Samcheongdong Ginkgo Street: Naver Map 
Best Time to See Autumn Foliage at Samcheongdong-gil:
The ideal time to witness the mesmerizing autumn foliage at Samcheongdong Street is typically from mid-October to early November. During this period, the ginkgo trees proudly display their radiant hues of gold and crimson, creating a breathtaking panorama that truly captures the essence of fall.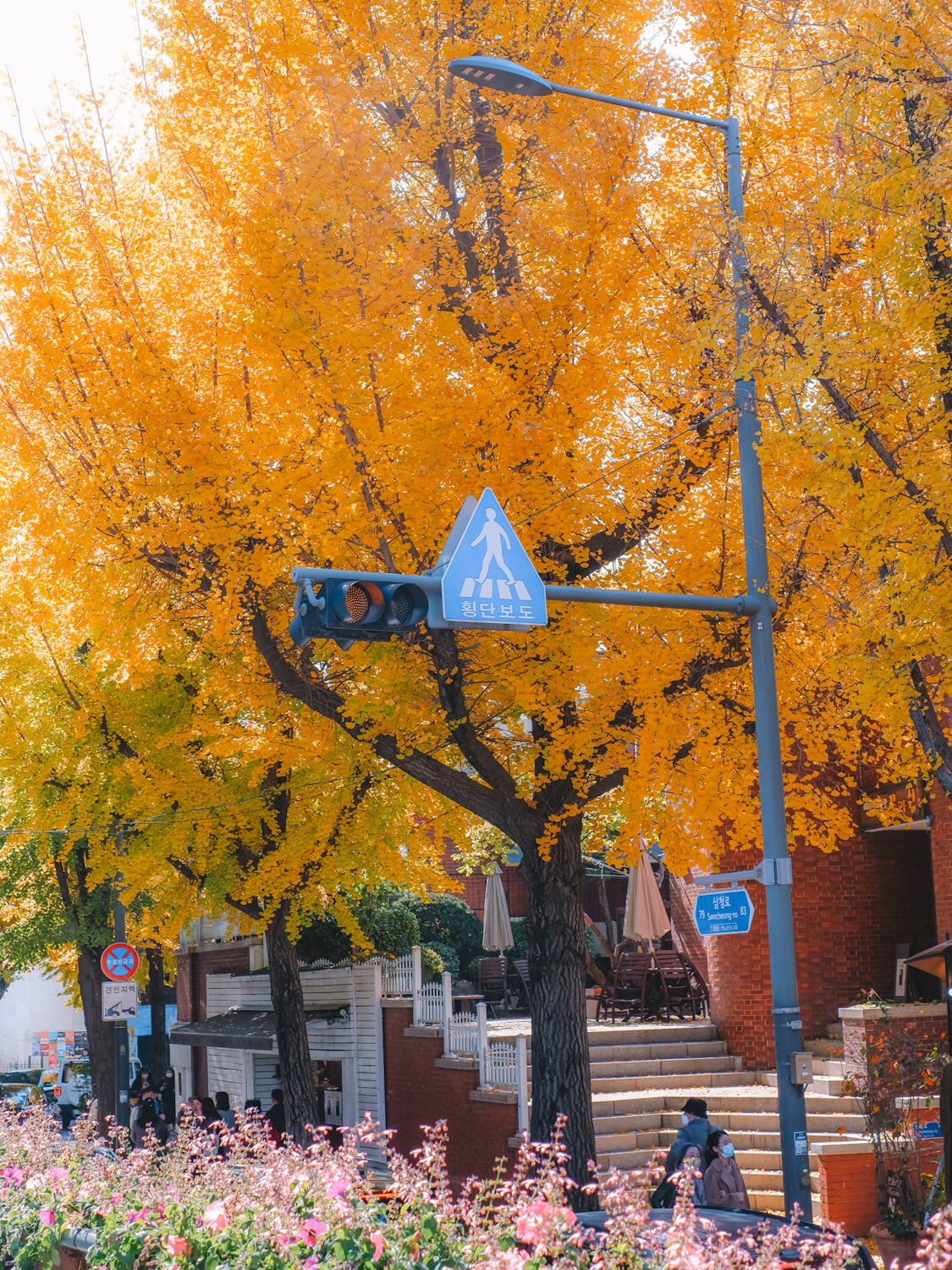 Now, as you come to the end of this guide, I have no doubt that you are now well-equipped to make the most of your visit to Samcheongdong during the enchanting fall season. May your time in Seoul and Korea be filled with unforgettable moments, vibrant foliage, and wonderful memories!
Gallery: More Autumn Photos Captured at Samcheongdong-gil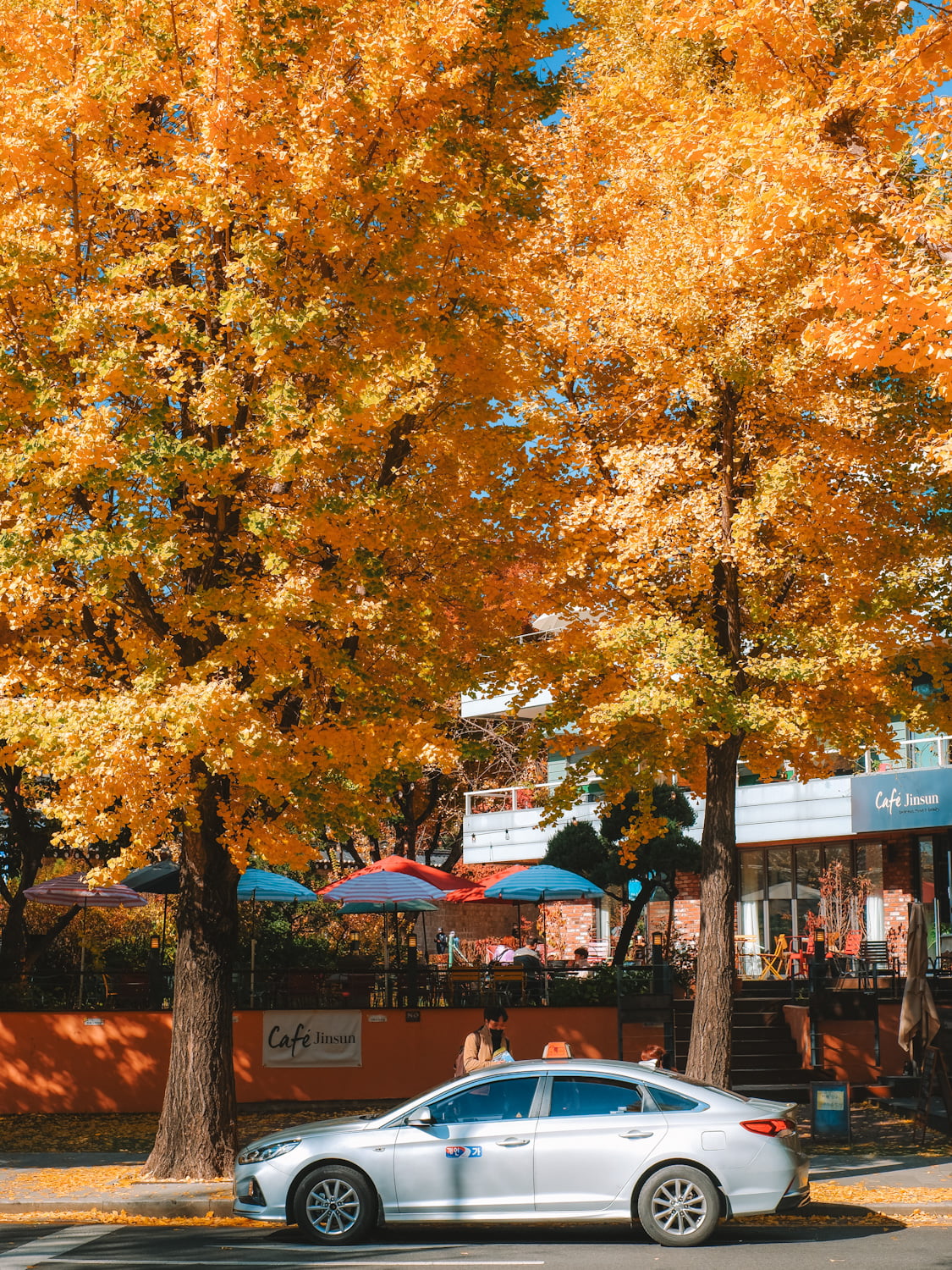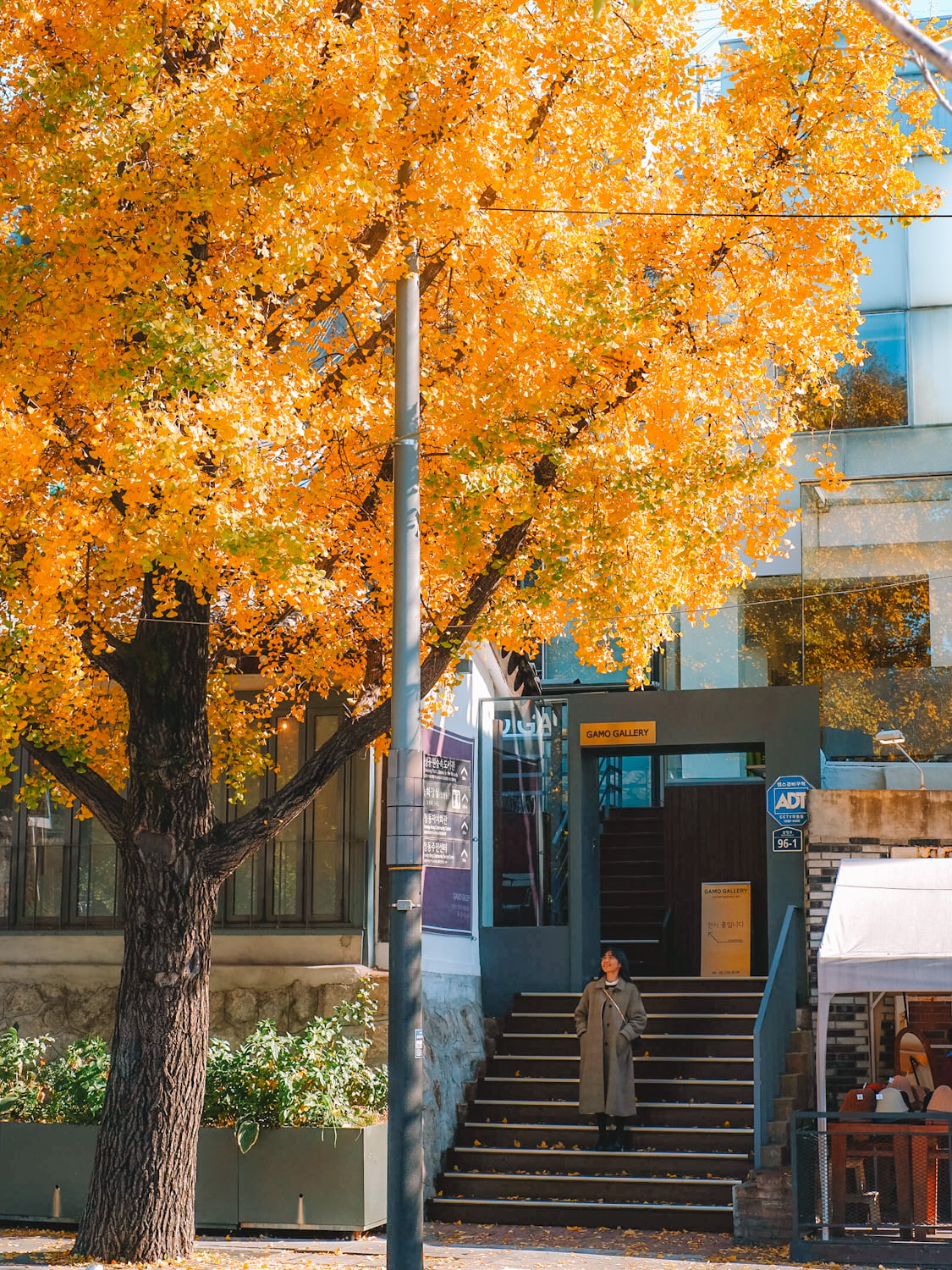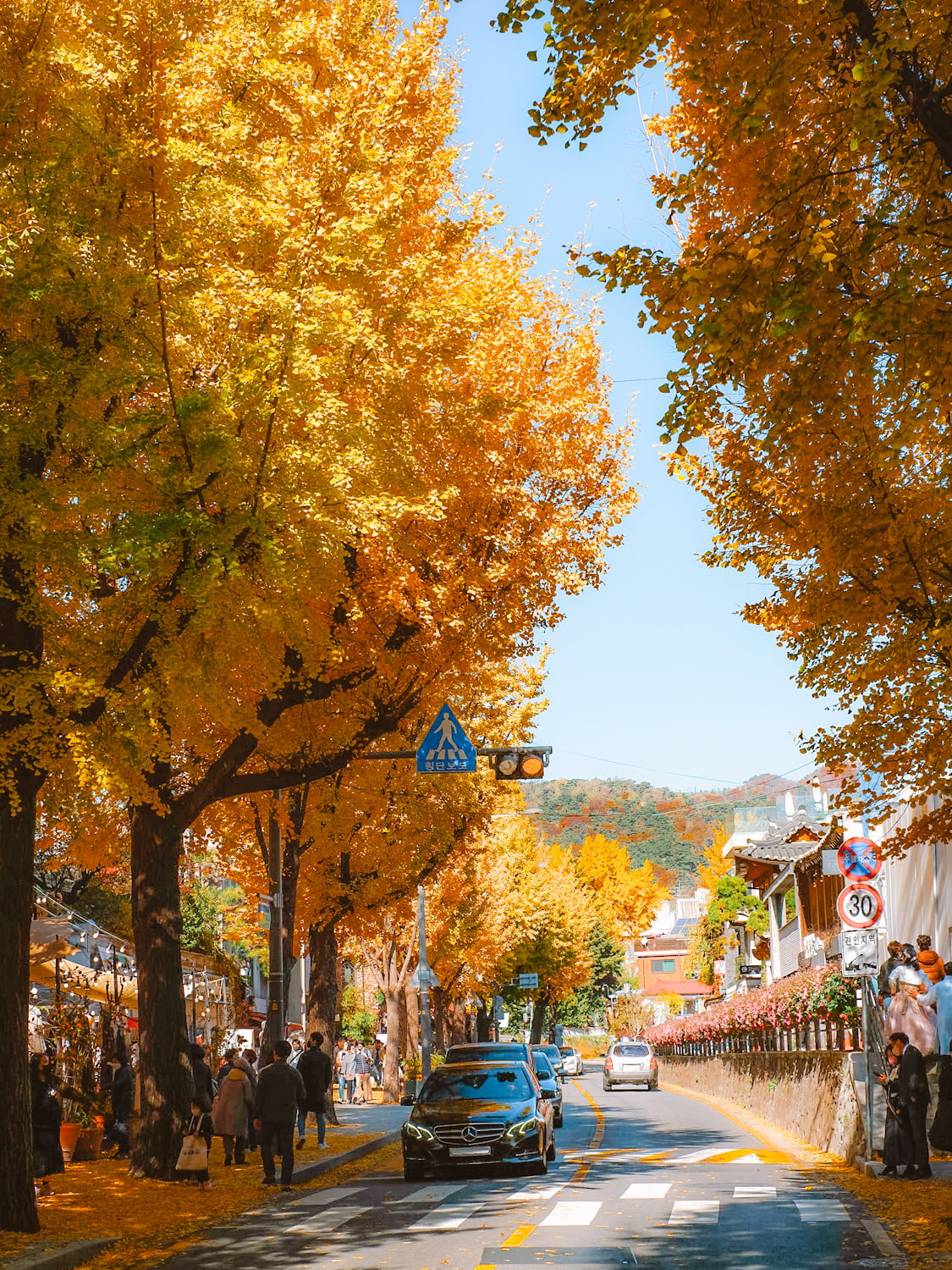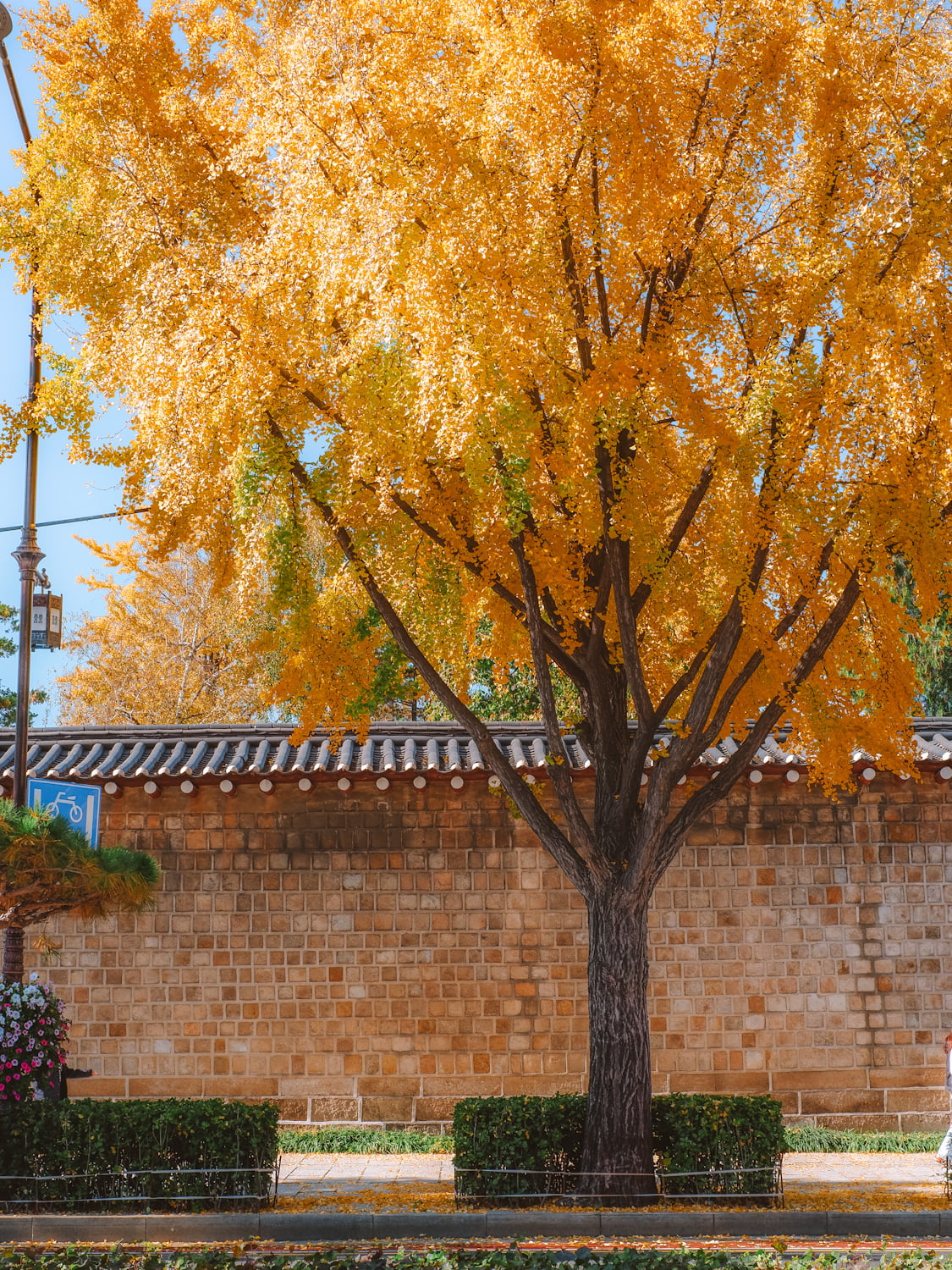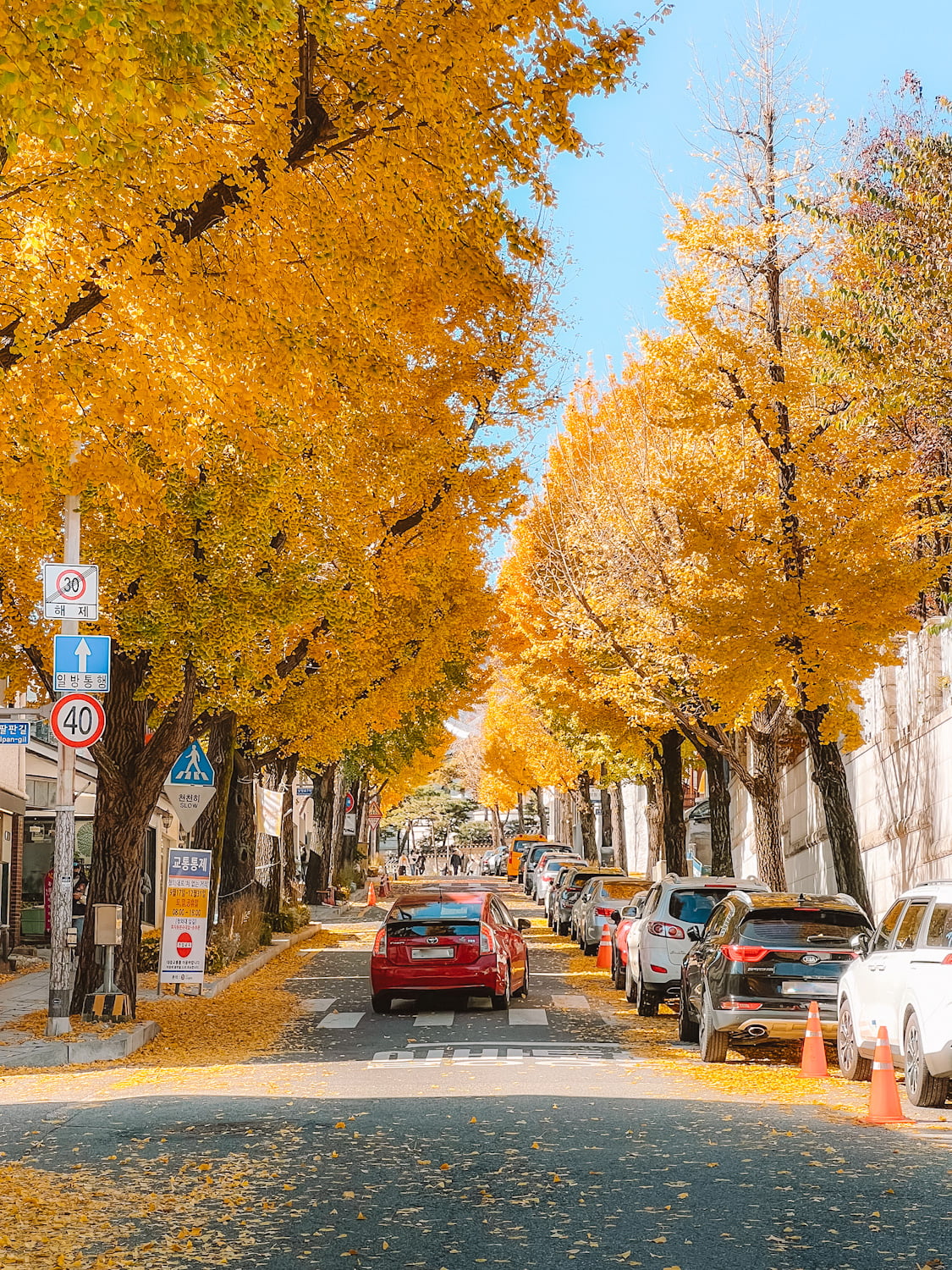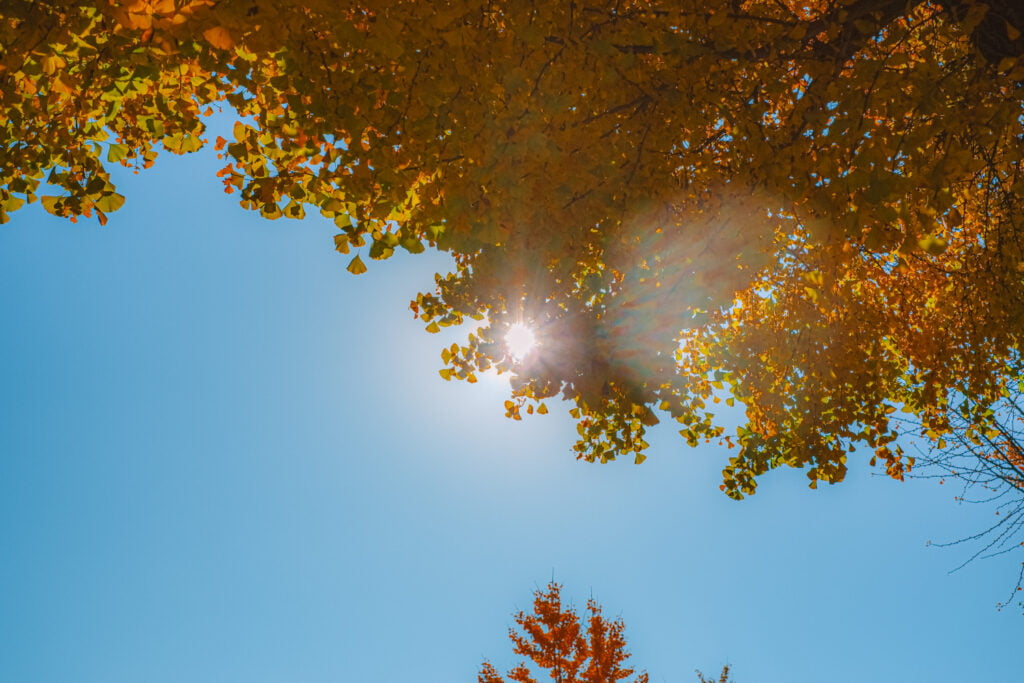 Access Map:
Did this entry help you? Or Did you enjoy my photos? Help support my small blog by giving a little cup of joe. I am always grateful when readers reach out wanting to support 🙂
p.s. This post is independently created. However, when you book or purchase something through the retail links, I may earn an affiliate commission to help keep Ploy's Little Atlas running. Thank you very much for your support!
p.p.s All images used (unless specified) are owned by the author of the blog and permission is required for a repost. Please, reach out via social media channels to ask beforehand if you'd like to use them.