November is an excellent time to visit Seoul, as the weather is pleasant, the cityscape is painted with stunning autumn foliage, and a plethora of exciting events and festivals take place. In this comprehensive guide, we will explore the weather conditions in November, what to wear, and some of the best things to do during this magical time of the year.
Weather in Seoul in November:
November marks the transition from autumn to winter in Seoul. The weather is relatively mild at the beginning of the month but gradually becomes cooler as the days progress. The average temperature during November ranges from around 5°C (41°F) to 13°C (55°F). Nights can be chilly, with temperatures dropping to 0°C (32°F) or below, so it's essential to pack accordingly.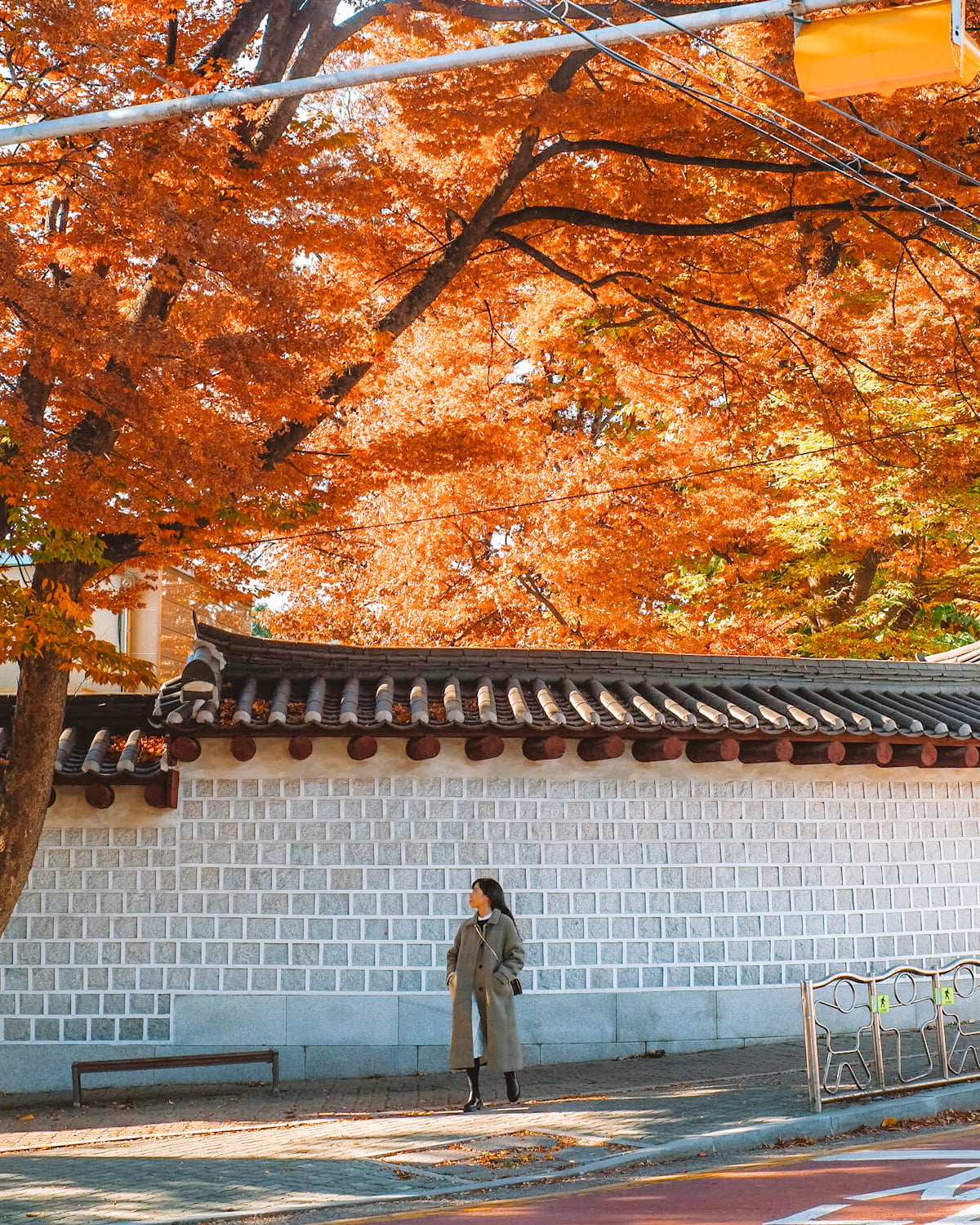 While November is not typically considered the rainy season in Seoul, occasional showers are possible. It is advisable to check the weather forecast and bring an umbrella or raincoat just in case. The silver lining to the occasional rain is the enhanced beauty of the autumn foliage, creating a mesmerizing landscape.
What to Wear:
Considering the fluctuating temperatures and the possibility of rain, it's crucial to pack a versatile wardrobe when visiting Seoul in November. Here's a suggested packing list:
Layered Clothing: Start with light layers that you can add or remove as needed. Long-sleeved shirts, sweaters, and a medium-weight jacket are ideal for the daytime, while a thicker coat or a down jacket will keep you warm during chilly evenings.
Warm Accessories: Don't forget to pack a scarf, gloves, and a cozy hat to keep yourself comfortable during the cooler nights.
Waterproof Gear: An umbrella or a compact raincoat is essential to shield yourself from unexpected rain showers.
Comfortable Footwear: Bring comfortable walking shoes or boots, as you'll likely be exploring various attractions on foot. It's also wise to pack a pair of waterproof shoes in case of rain.
Things to Do in Seoul:
November in Seoul unfolds a tapestry of captivating activities and events to suit diverse interests. Immerse yourself in the following essential attractions and events that define this unique time of the year (2023 edition):
The Autumn Foliage Extravaganza Continues: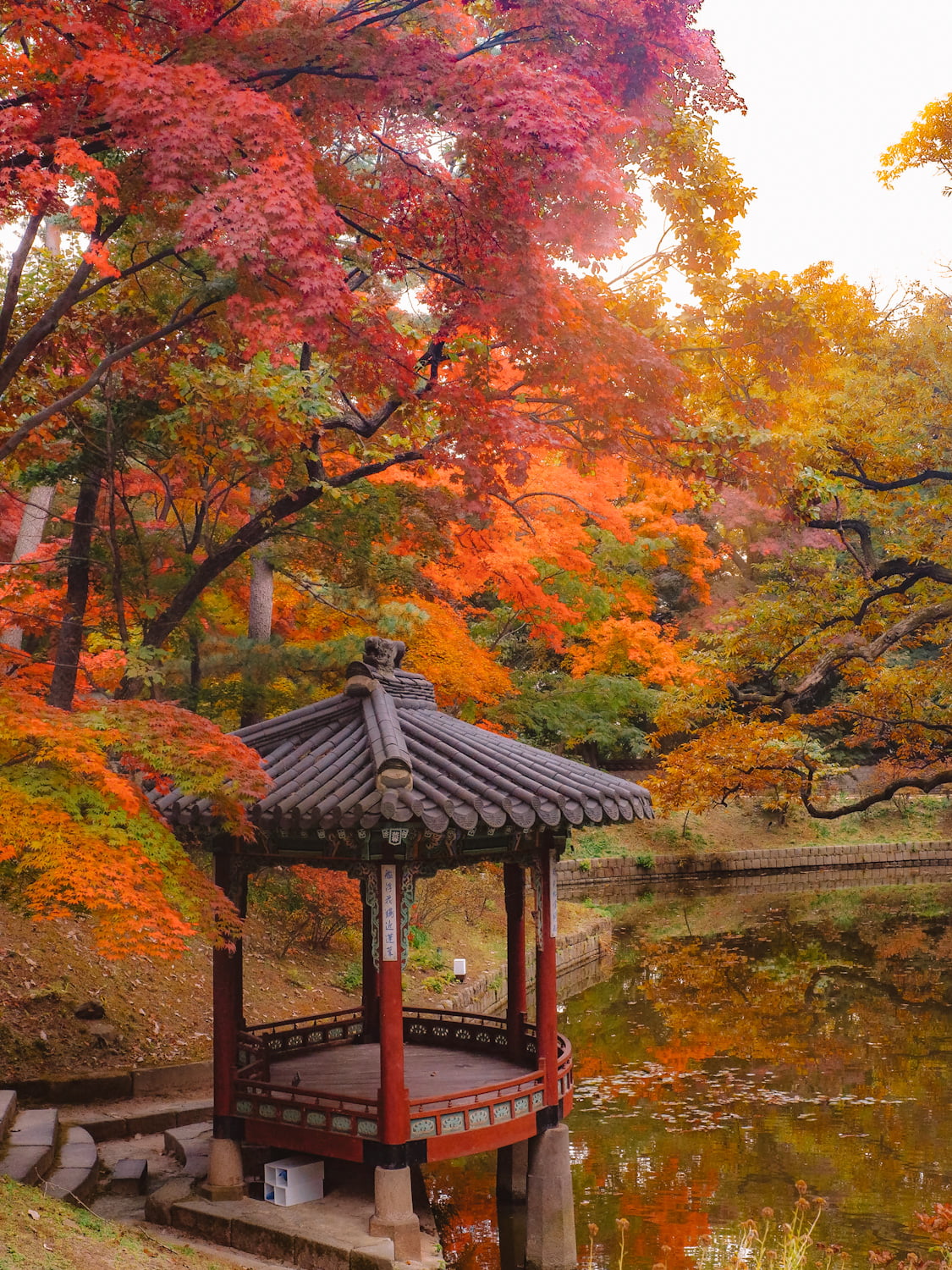 While October is often hailed as the pinnacle of autumn's beauty in Korea, November's first half offers a delightful extension of this colorful season. In fact, it's within the initial week of this month that you can bask in the most resplendent spectacle of autumn foliage, as it reaches its zenith during this period!
Period: 1st November 2023 to 14th November 2023
Venue: To make the most of your autumn adventure, I invite you to explore my ultimate selections for the finest Seoul autumn spots "here".
The Silver Grass Splendor Endures: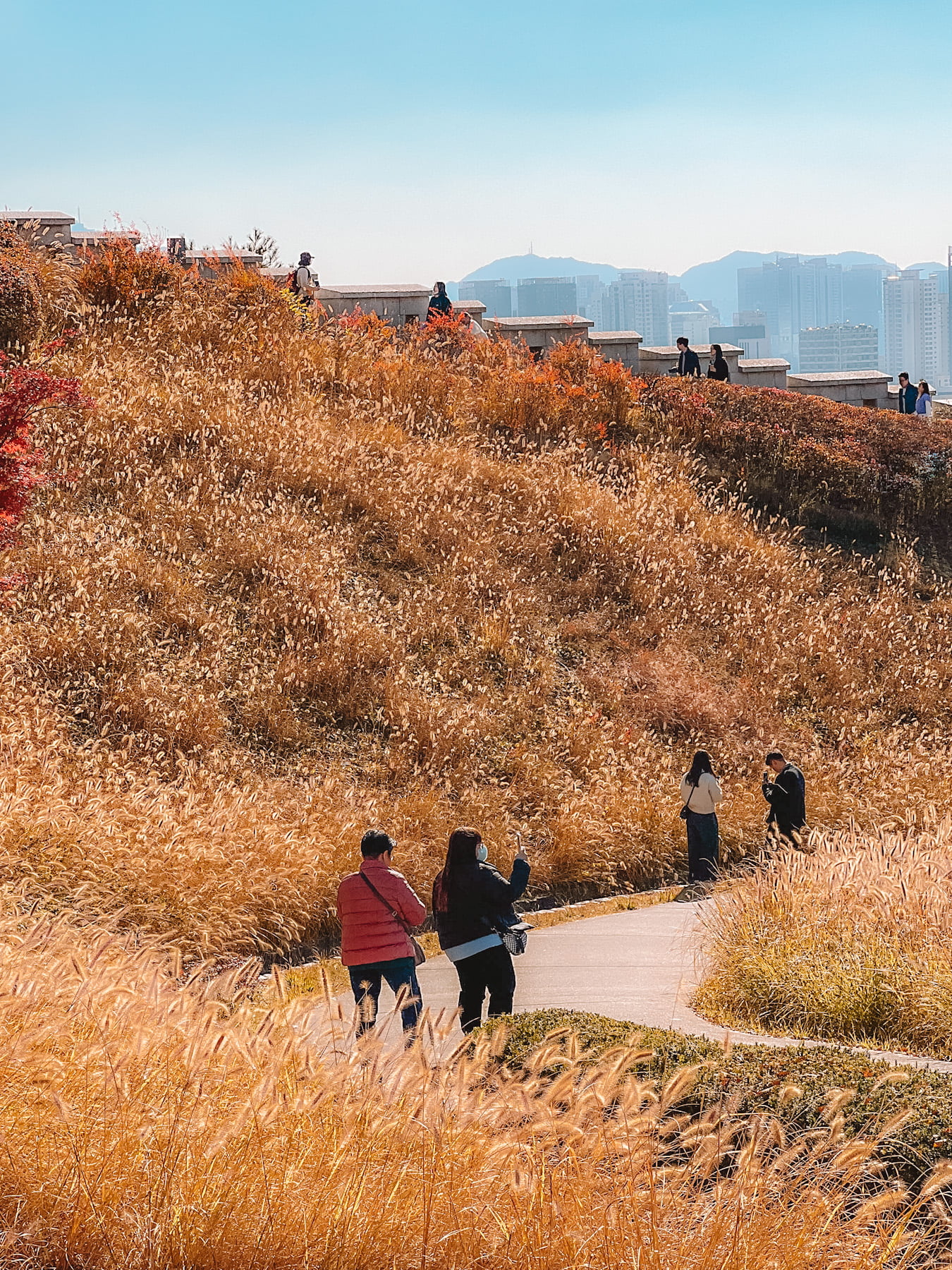 Just as October ushers in a remarkable display of golden-hued silver grasses, this breathtaking spectacle often persists into November. These enchanting landscapes extend their allure to several picturesque spots within the city, promising a visual feast for the senses. For those fortunate enough to explore Seoul during this period, a world of wonder awaits at the following entrancing locations:
Peak Time for Silver Grass Viewing: 1st November 2023 to 14th November 2023
Premier Silver Grass Destinations in Seoul:
Beyond these captivating autumn delights, November unveils a multitude of thrilling events in Seoul:
Korean Liquor Festival:
The Korean Liquor Festival stands as the largest traditional liquor event in Korea, dedicated to showcasing the rich value and excellence of Korean spirits. This festival provides a unique opportunity to discover an array of Korean liquors sourced from across the nation, all conveniently gathered in one location. Engaging with various consumer experience programs annually, attendees can delve into the vibrant world of Korean spirits.
Gwanak Starlight Walk:
The preceding year witnessed the grand commencement of the 2nd Gwanak Starlight Walk, marked by a sprawling three-day illumination ceremony in November. This spectacle featured resplendent lighting and a mesmerizing display of vivid light sculptures. Crafted around three distinct themes encapsulating the ethereal allure of 'Sinsa-ri,' the starlight turned fairy, the event portrayed the inception of starlight, its exhilarating charm, and the enduring companionship shared by Silrimgyo and Bongrimgyo.
Hangul: 관악 별빛 산책
Period: The date for the 2023 event will soon be revealed.
Venue: Dorimcheon Stream (봉림교 ~ 신림교 일대), Gwanak-gu
Website: To stay updated, visit https://www.gwanak.go.kr/
Seoul Live Street Performances:
This captivating event showcases street performances set against the backdrop of prominent locations in downtown Seoul. Comprising 150 artist teams meticulously chosen through open auditions, the event encompasses diverse venues across the city until the end of November.
Culture Streaming Art Festival:
Spanning an impressive 8 months from April to November, the Cultural Streaming Art Festival unfolds its charm at Gwanghwamun Square and Nodeul Island Lawn. This vibrant event serves as a platform for savoring live performances across diverse genres, set right in the heart of the bustling city. Gwanghwamun Square hosts the shows on weekdays, offering an urban backdrop, while the weekends shift the scene to Nodeul Island, a sanctuary of natural beauty.
Hangul: 문화가 흐르는 예술마당
Period: Ongoing until 29th November 2023
Venue: Nodeul Island Yard/Gwanghwamun Square (노들섬 잔디마당/광화문광장 놀이마당)
Website: For comprehensive information, visit https://cultureseoul.co.kr/2023
Venturing Outside Seoul:
While Seoul is filled with fun things to do, there's a whole world of beautiful spots to explore and exciting festivals to attend across Korea in November. Going on a trip to experience these magical events is a fantastic idea. Here are some awesome places to consider for a fun adventure during this enchanting month:
Exploring Autumn's Beauty Beyond Seoul: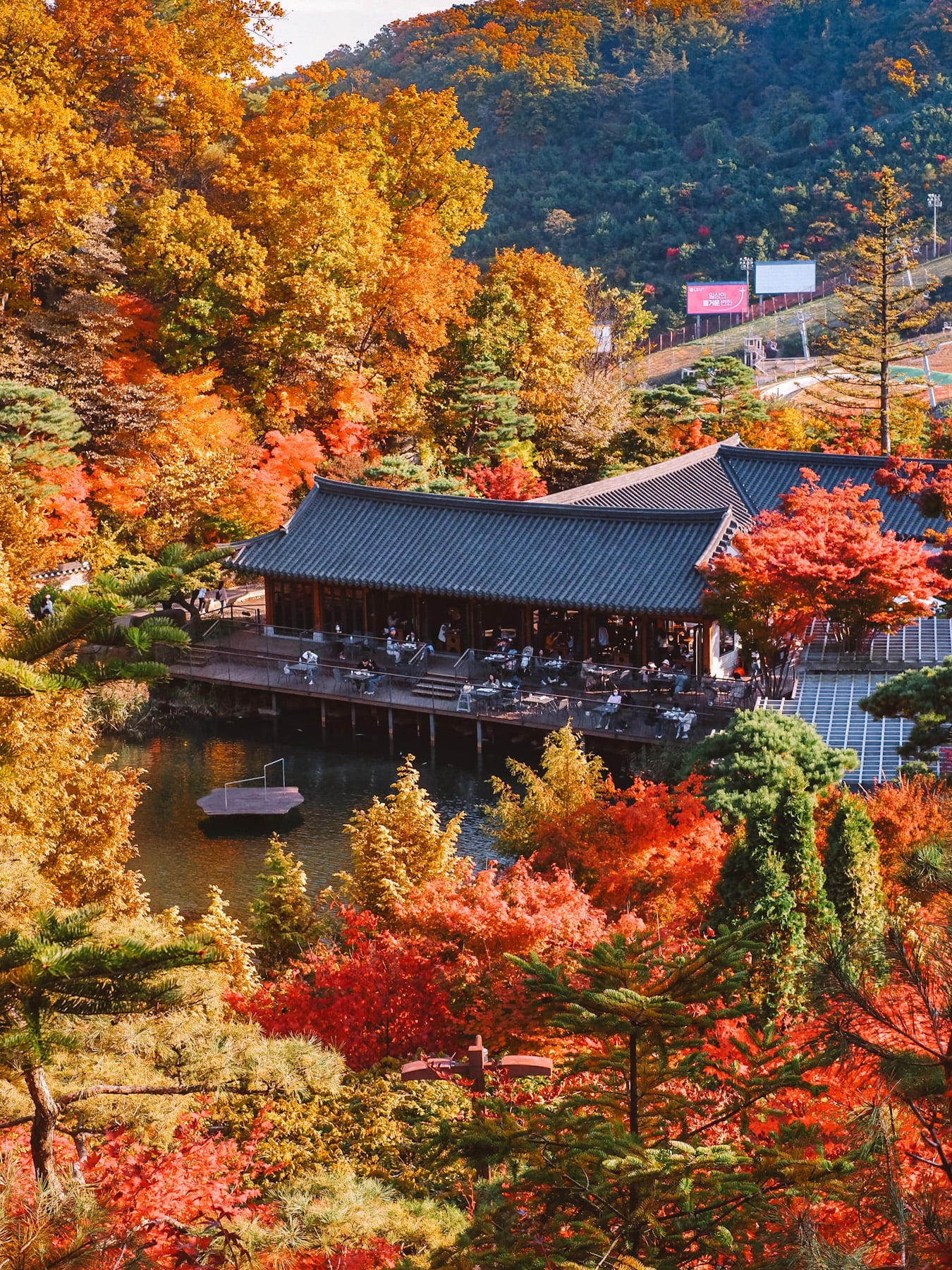 While Seoul offers a splendid array of autumn landscapes, there are even more enchanting places waiting to be discovered. Embrace the opportunity to venture beyond the city and immerse yourself in the following breathtaking destinations. To enhance your journey's ease, specially curated hassle-free services are at your disposal, designed to cater to this special time of year:
Beyond the enchanting autumn scenes, November unveils intriguing events that are a must-see. Make sure to include these engaging occurrences in your schedule for a truly enriching and diverse experience during your visit.
Cheongsong Apple Festival:
Cheongsong City in Gyeongsangbuk-do has earned its reputation for being a prime locale for cultivating apples in Korea. Each autumn, the Cheongsong Apple Festival is joyfully celebrated, sharing the abundance of the harvest along with the delightful flavors and nutritional benefits of Cheongsong apples.
18th Busan Fireworks Festival:
The Busan International Fireworks Festival, an annual extravaganza held at the vibrant Gwangalli Beach area in Busan, stands as a preeminent fireworks display in Asia. Enveloped by the sea and set against the magnificent backdrop of the Gwangan Bridge, this event sees tens of thousands of fireworks and cutting-edge lasers painting the night sky in perfect harmony with the festival's theme song.
Hangul: 부산불꽃축제
Period: 4th November 2023
Venue: Gwangalli Beach area
Website: Find more details at visitbusan
Busan Gwangalli Beach Chrysanthemum Flower Festival: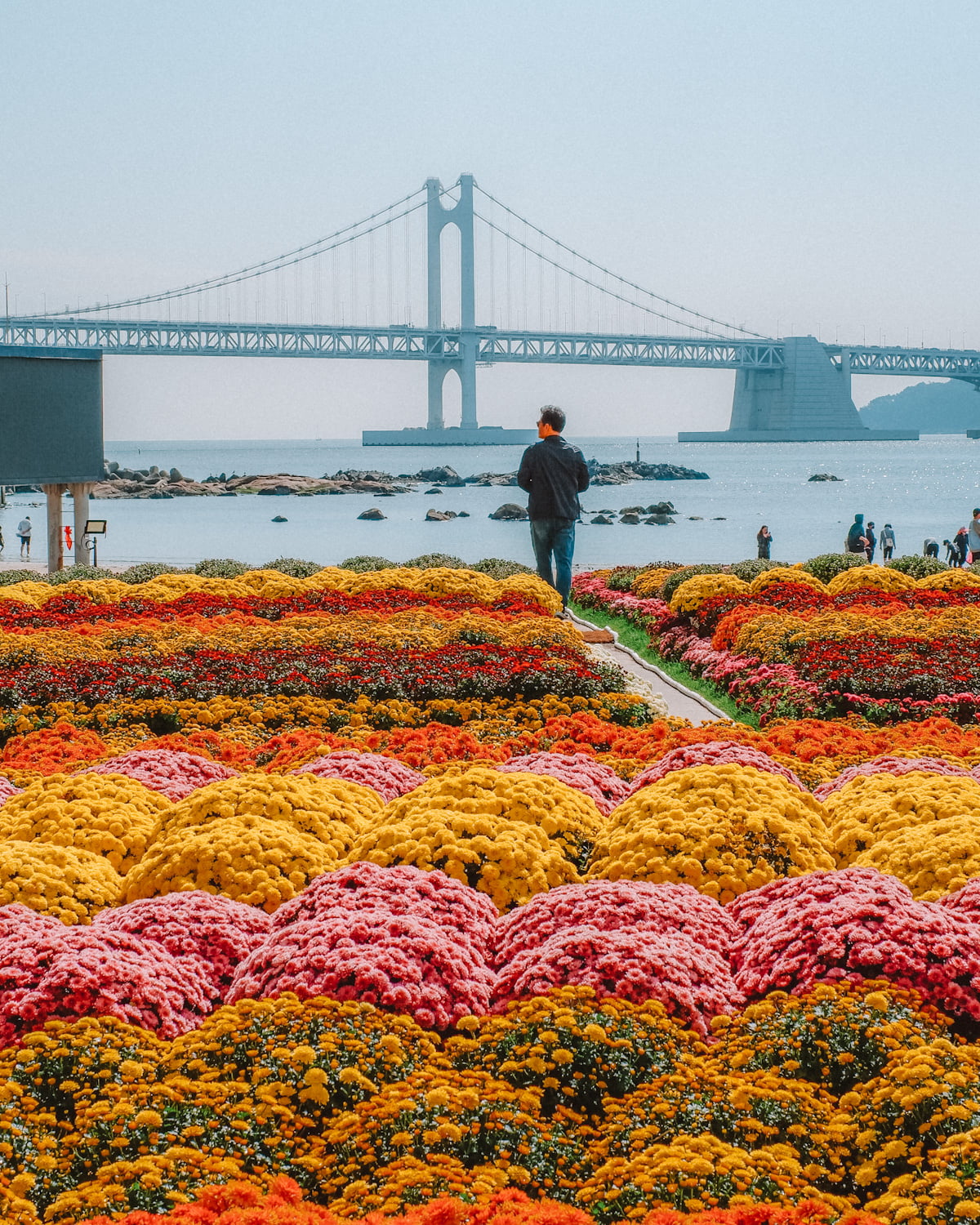 Seemingly inaugurated in 2021, the Gwangalli Beach Chrysanthemum Flower Festival delights in heralding autumn's advent in Busan. In the previous year, the project adorned the entirety of Millak Beach Park's square with over 20,000 resplendent chrysanthemum flowers. A picturesque walking trail and a captivating photo zone within the floral expanse were introduced, allowing visitors to savor both the beauty of Gwangalli's beaches and the fragrant essence of chrysanthemums in unison.
Hangul: 부산 광안리 해수욕장 국화꽃축제
Period: 15th October to 10th November
Venue: Millak Beach Park (민락해변공원)
Bravo! You've reached the conclusion of this post. With the wealth of insights you've acquired, your upcoming adventure to Seoul in the lively month of November is poised for excitement. I wholeheartedly hope your journey exudes the same enchantment and vibrancy as the mesmerizing autumn landscapes that Korea has to share. Wishing you safe travels and a joyous exploration!
Did this entry help you? Or Did you enjoy my photos? Help support my small blog by giving a little cup of joe. I am always grateful when readers reach out wanting to support 🙂
p.s. This post is independently created. However, when you book or purchase something through the retail links, I may earn an affiliate commission to help keep Ploy's Little Atlas running. Thank you very much for your support!
p.p.s All images used (unless specified) are owned by the author of the blog and permission is required for a repost. Please, reach out via social media channels to ask beforehand if you'd like to use them.