During the autumn months in Korea (October and November), countless visitors flock to renowned destinations like Nami Island, Seoraksan National Park, and Naejangsan National Park to capture the breathtaking beauty of fall foliage. However, if you're seeking closer alternatives without enduring long car rides, Seoul and its surrounding areas offer plenty of opportunities to immerse yourself in the vibrant colors of the season.
In this article, I will be sharing my selection of the top spots to witness the mesmerizing autumn foliage in and around Seoul. I have also included approximate peak timings (subject to weather conditions) to help you plan your visits accordingly. Explore these recommendations to discover the beauty of the season and immerse yourself in the vibrant colors of autumn. Enjoy reading and happy exploring!
1. Myeongryundang
Hangul: 성균관 명륜당
Peak Season: Early November
Naver Map: Link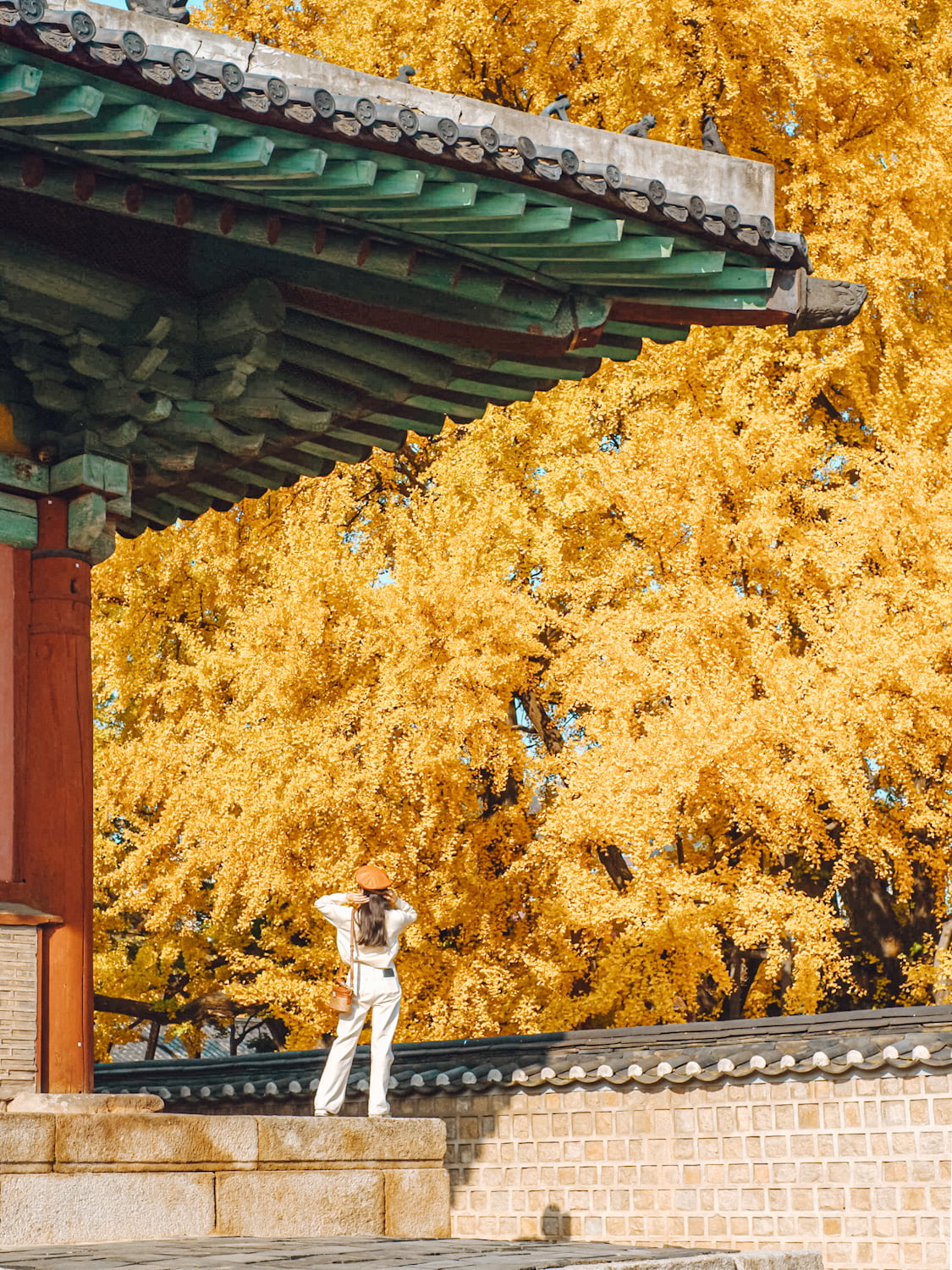 Situated within the Seoul campus of Sungkyunkwan University, one of Korea's most prestigious and oldest educational institutions, lies Myeongryundang. This charming auditorium is surrounded by the campus' serene atmosphere. In the yard in front of Myeongryundang, you'll find two magnificent ginkgo trees that transform the ground into a marvelous golden yellow carpet during the fall season. As you explore this picturesque location, make sure to visit the foot of Daeseongjeon, the largest hall nearby, for the perfect photo opportunity. With the two autumn stars as a stunning backdrop, you'll find yourself immersed in the beauty of the season while surrounded by the well-preserved traditional Korean architecture.
2. The Secret Garden
Hangul: 창덕궁후원
Peak Season: Early November
Naver Map: Link
Nestled deep within the renowned Changdeokgung Palace lies a garden that was once shrouded in secrecy. Today, it is known as the Secret Garden of the Changdeok Palace. This hidden gem boasts several pond areas adorned with a variety of deciduous trees, creating a haven of tranquility and beauty. While the Secret Garden is a popular spot to escape the summer heat, it truly comes alive during autumn when the leafy trees transform into a mesmerizing display of colors that captivate the eyes and awaken the senses.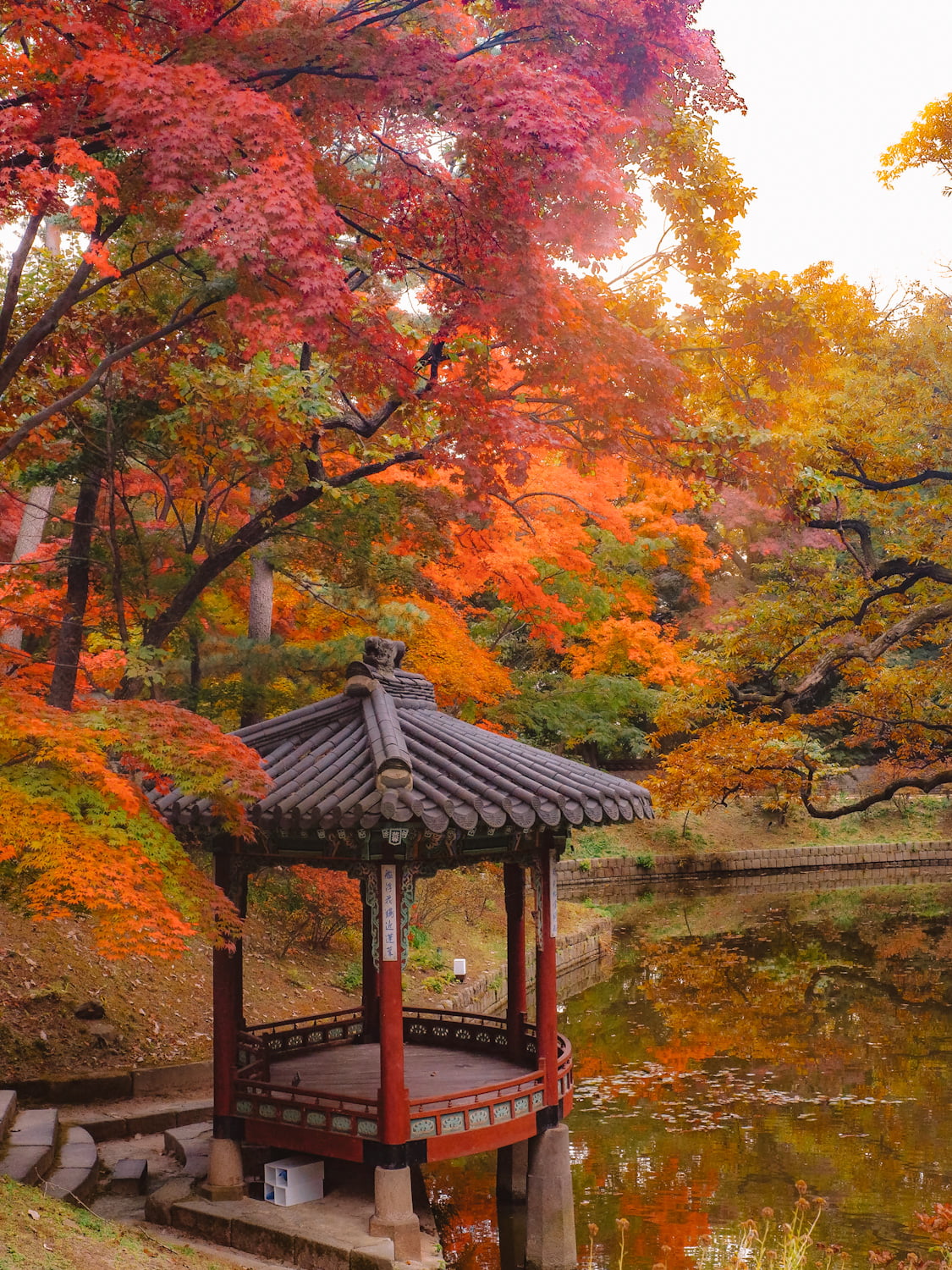 Please note that accessing the Secret Garden requires a separate admission pass and participation in an arranged tour. Due to its popularity during the fall season, guided tour tickets are in high demand and often sell out from early October. To ensure you have the opportunity to explore the Secret Garden at its peak, plan your trip accordingly and secure your guided tour tickets in advance.
3. The Street of Jeongdong
Hangul: 정동길
Peak Season: Mid-November
Naver Map: Link
Located just across the street from Seoul City Hall in downtown Seoul, the small yet enchanting neighborhood of Jeongdong is a treasure trove of historical landmarks. From palaces and the first all-girl school to religious and arts establishments, as well as envoy offices, Jeongdong boasts a rich heritage. However, what truly captures the hearts of many visitors is its iconic street, Jeongdong-gil, adorned with picturesque ginkgo trees.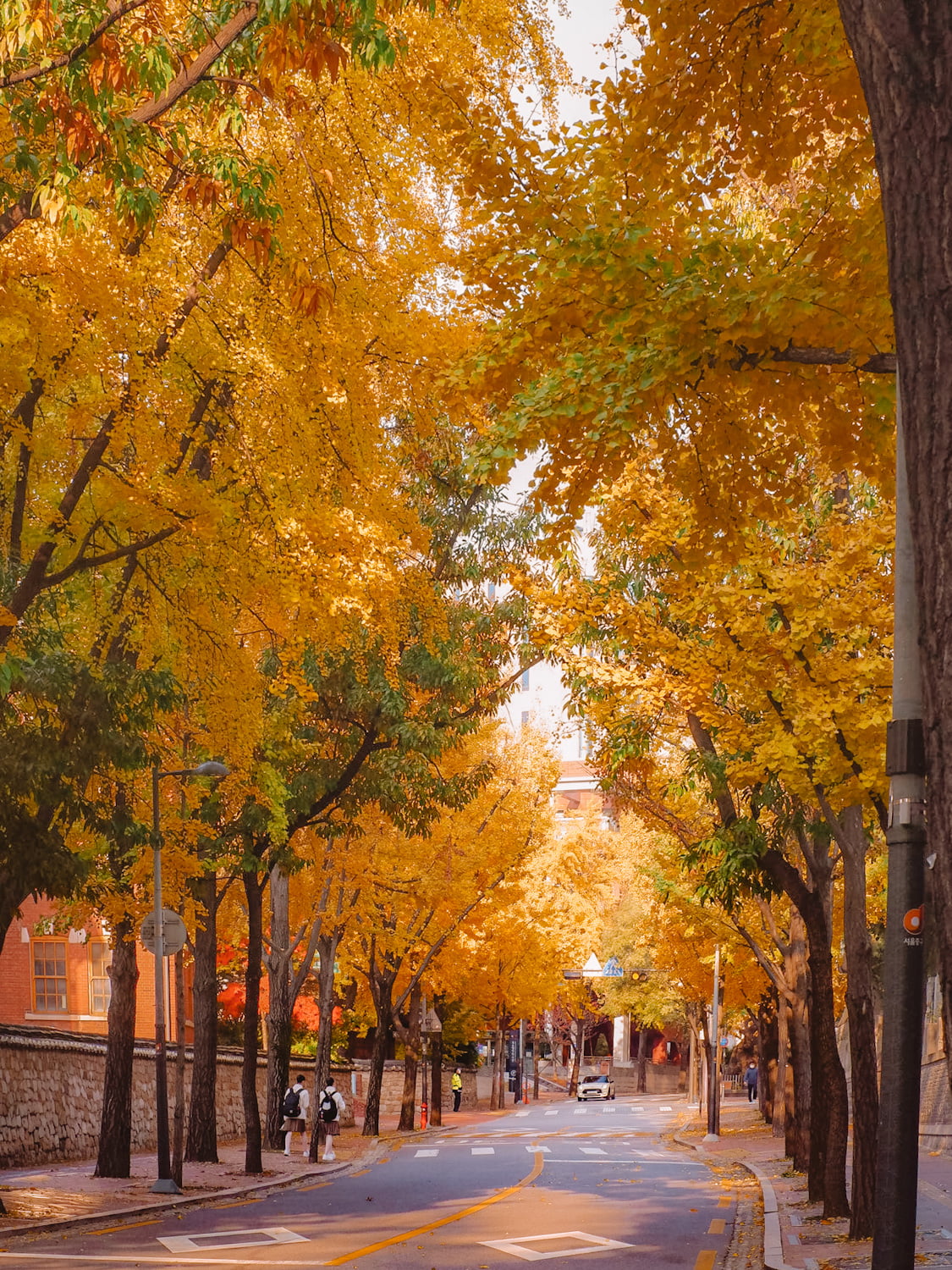 Renowned as one of the most romantic roads in Seoul, Jeongdong-gil exudes an irresistible charm, especially during mid to late November. It is during this time that the entire avenue transforms into a magnificent golden tunnel, inviting everyone to immerse themselves in its enchanting beauty. Prepare to be captivated as you stroll along this breathtaking street, basking in the golden hues of autumn that adorn every corner.
4. Unhyeongung
Hangul: 운현궁
Peak Season: Late October
Naver Map: Link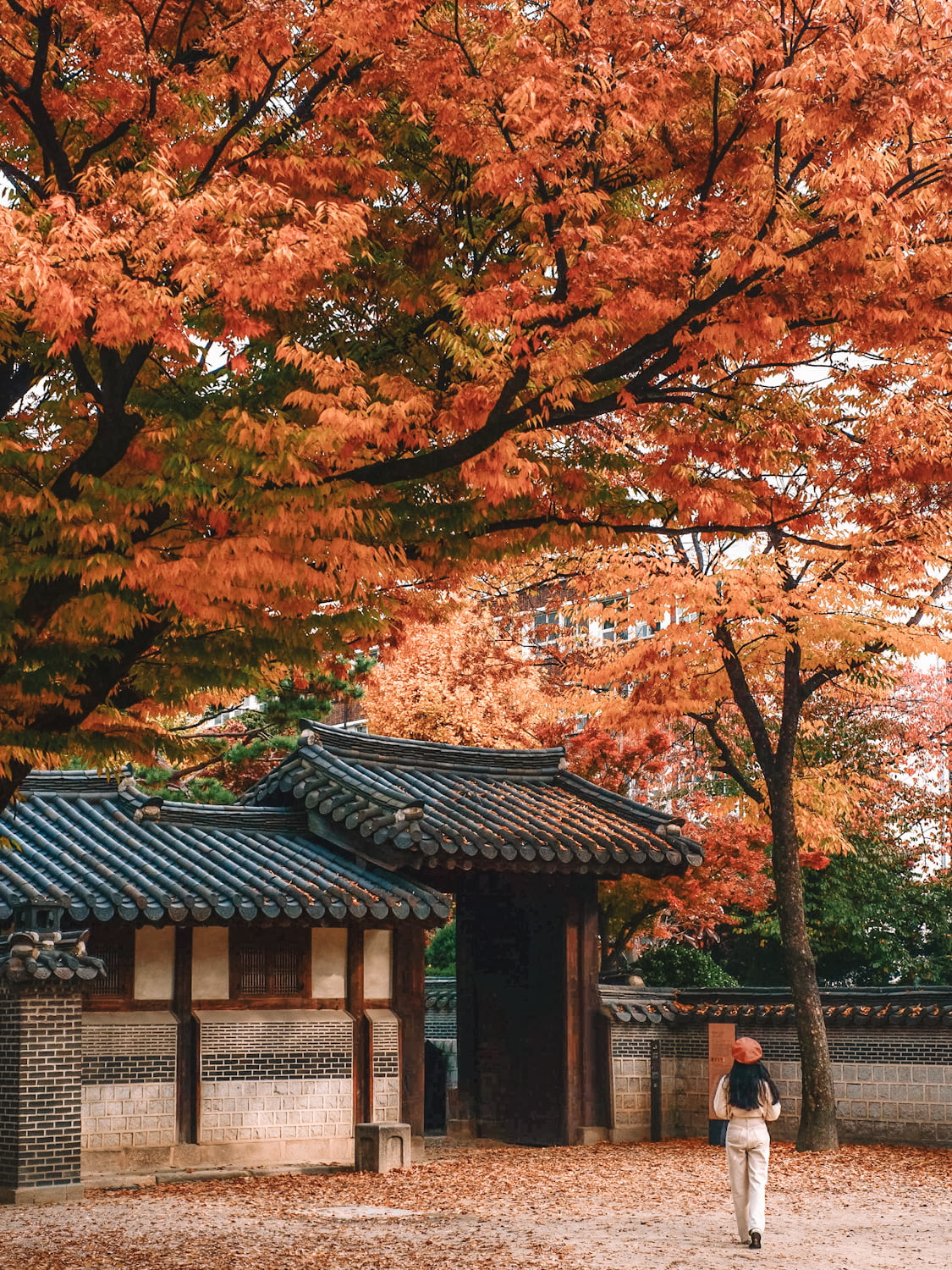 Unhyeongung, also known as Unhyeon Palace, is a lesser-known historical gem located in Jongno, easily accessible via the Seoul subway. While it may not possess the grandeur of some of the larger palaces in the area, Unhyeongung has never failed to capture the imagination of its visitors. The resplendent scenery of Joseon-era architecture provides an enticing glimpse into the past, particularly during the autumn months when the palace is adorned in brilliant shades of red, orange, and vivid yellow. As you explore Unhyeongung, immerse yourself in the beauty of the season and appreciate the rich history that unfolds within its grounds.
5. Sinteuri Park
Hangul: 양천구 신트리공원
Peak Season: Late October
Naver Map: Link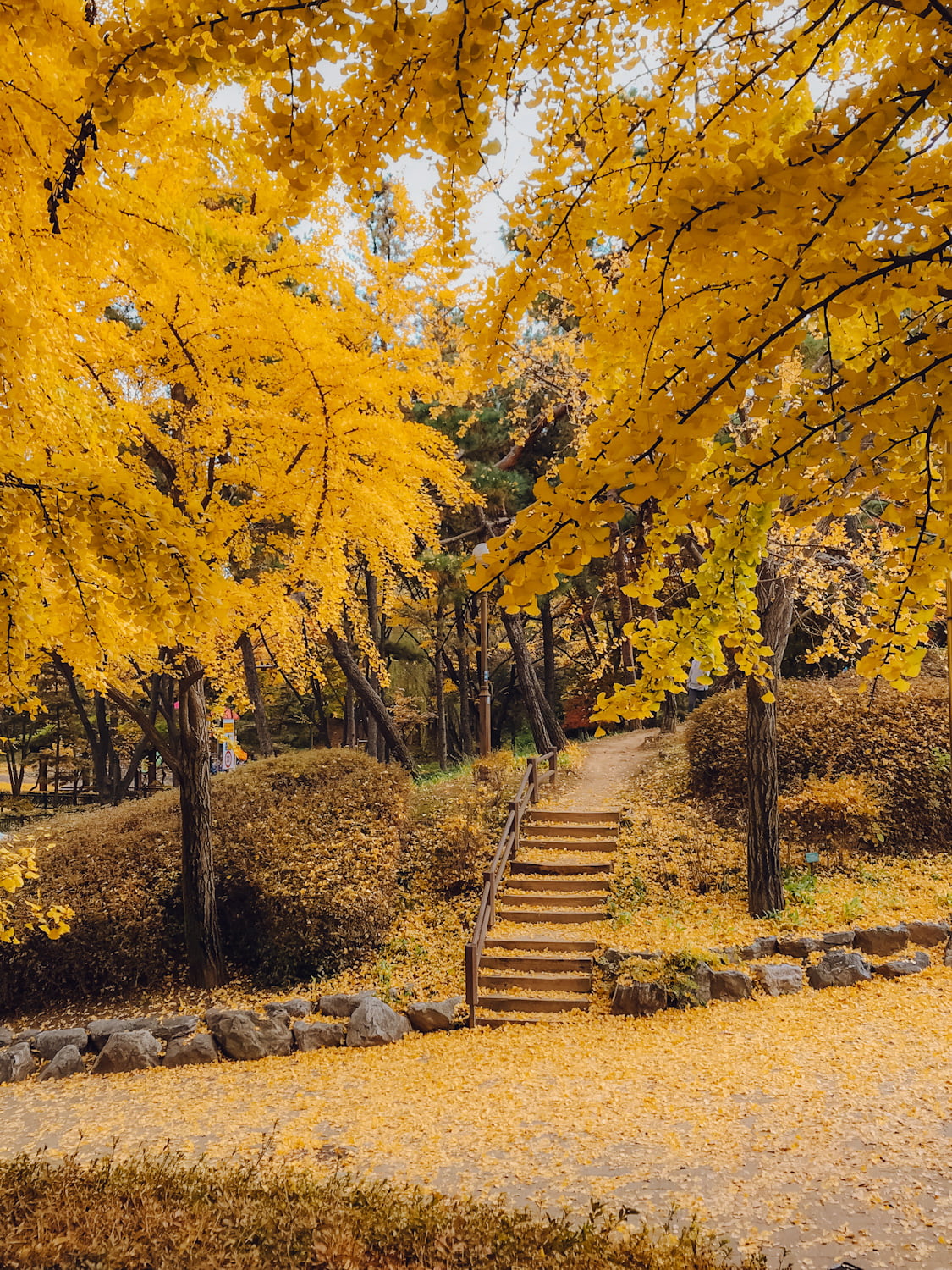 Situated in Sinjeong-3-dong, a southwest unit of Yangcheon-gu, Sinteuri Park is a charming community park that may be small in size but big on beauty. The park is nestled on a long, narrow hilltop adorned with a variety of deciduous trees, including red maple and ginkgo. Despite its modest reputation as a minor public space, Sinteuri Park is thoughtfully designed to provide a perfect place of respite. During the enchanting autumn season, the park transforms into a picturesque haven, rivaling the larger public parks nearby. What sets it apart is its serene and uncrowded atmosphere, offering ample space for capturing stunning shots of the vibrant fall colors for your Instagram feed.
6. Haneul Park Metasequoia Path
Hangul: 하늘공원 메타세콰이어길
Peak Season: Late November
Naver Map: Link
Located in Mapo-gu, Haneul Park stands as one of the most prominent ecological parks in the area. Within its vast expanse of 58,000 pyeong (around 192,000 sqm), a hidden gem awaits—the Metasequoia Path. Often overshadowed by the fame of the magnificent fields of silver grasses atop the hill, this path offers a delightful surprise.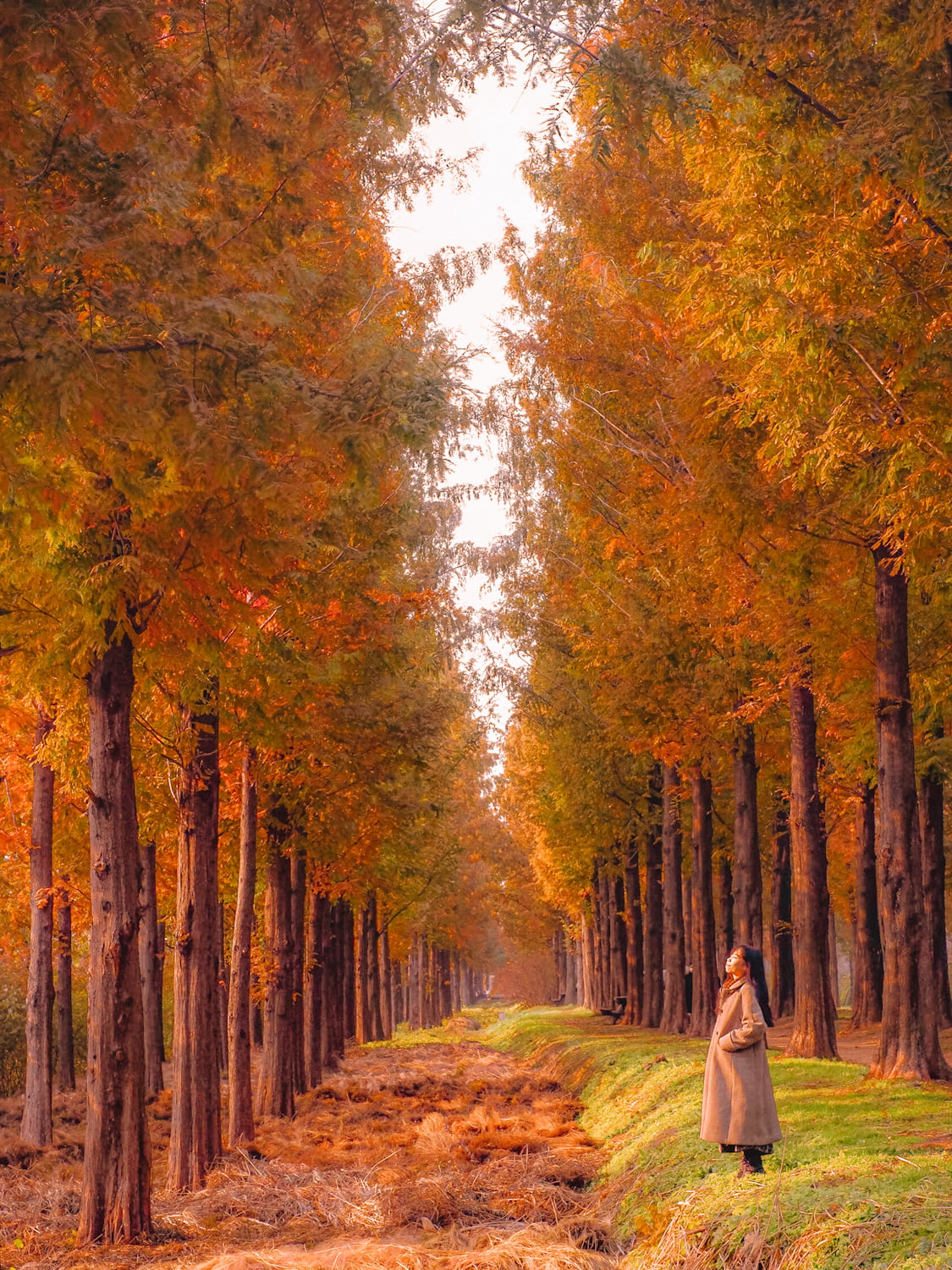 Stretching over 2 kilometers, the Metasequoia Path comes alive during the fall season. The deciduous coniferous metasequoia trees showcase their finest display, with delicate flat sprays of emerald green leaves gradually transitioning into a rich shade of copper. This distinctive feature of the metasequoia trees adds to the allure of autumn, providing a captivating sight. While October delights us with early color transformations, it is a joy to know that another autumn spectacle awaits until late November in this tranquil corner of Haneul Park.
7. Cafe Relax
Hangul: 옥류헌릴렉스
Peak Season: Late October
Naver Map: Link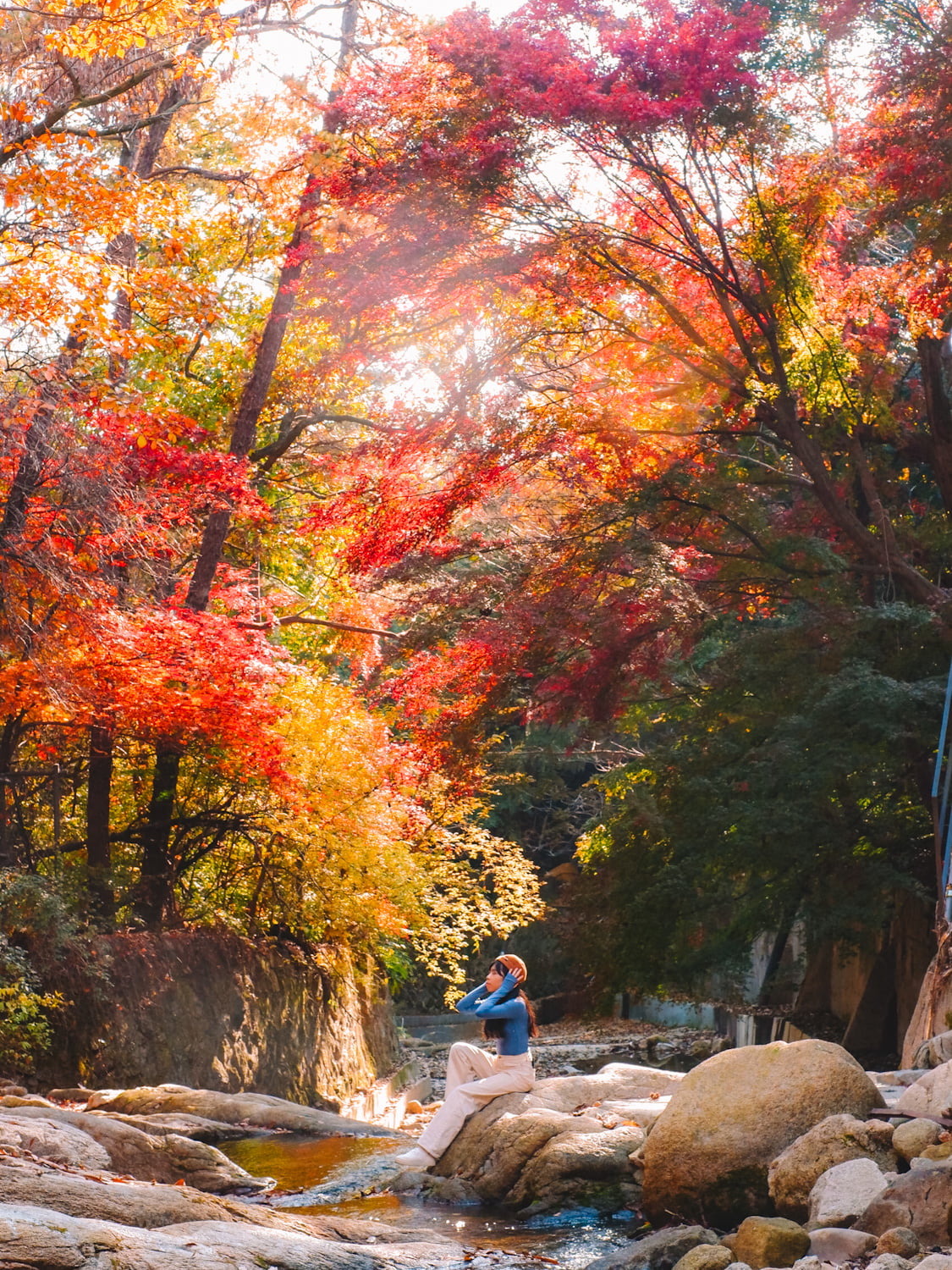 Nestled on the picturesque Samyang-ro 181-gil, Cafe Relax occupies a coveted spot along a winding road that leads uphill, near the renowned Bukhansan National Park of Bukhan Mountain—Seoul's highest peak within city limits. With its idyllic location, Cafe Relax is enveloped in a serene forest atmosphere that reflects the essence of its name. As autumn unfolds, prepare to witness a breathtaking transformation as the surroundings undergo a captivating metamorphosis. The landscape becomes a haven adorned with leaves painted in vibrant hues of crimson red and glowing yellow, creating a spectacle that is truly unforgettable.
8. Staff Picks Cafe
Hangul: 스태픽스
Peak Season: Mid November
Naver Map: Link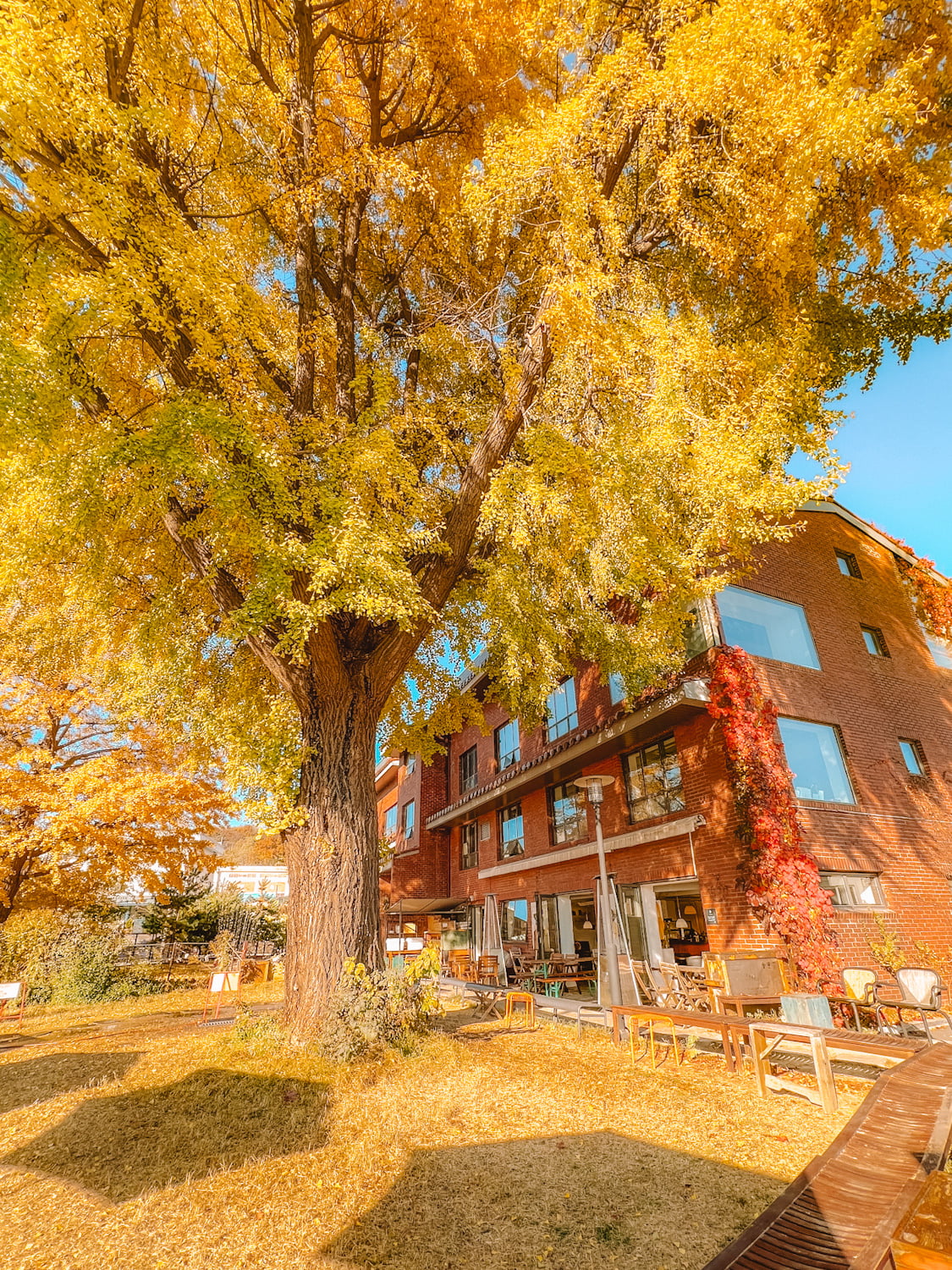 Staff Picks is a terrace cafe and designer shop tucked away on the first floor of the Pan Cinema building, nestled in the vibrant heart of Jongno-gu, Seoul's popular district known for its grand palaces. The place offers a delightful retreat from the bustling city. In the cafe's front yard, you'll find a majestic ginkgo tree that becomes an internet sensation during the autumn months. Picture yourself enjoying a steaming hot latte on a crisp autumn morning, basking underneath the golden canopy of this remarkable ginkgo tree. It's a moment that simply cannot be missed—a perfect blend of nature's beauty and warm indulgence.
9. Baekbeom Square Park
Hangul: 백범광장공원
Peak Season: Early November
Naver Map: Link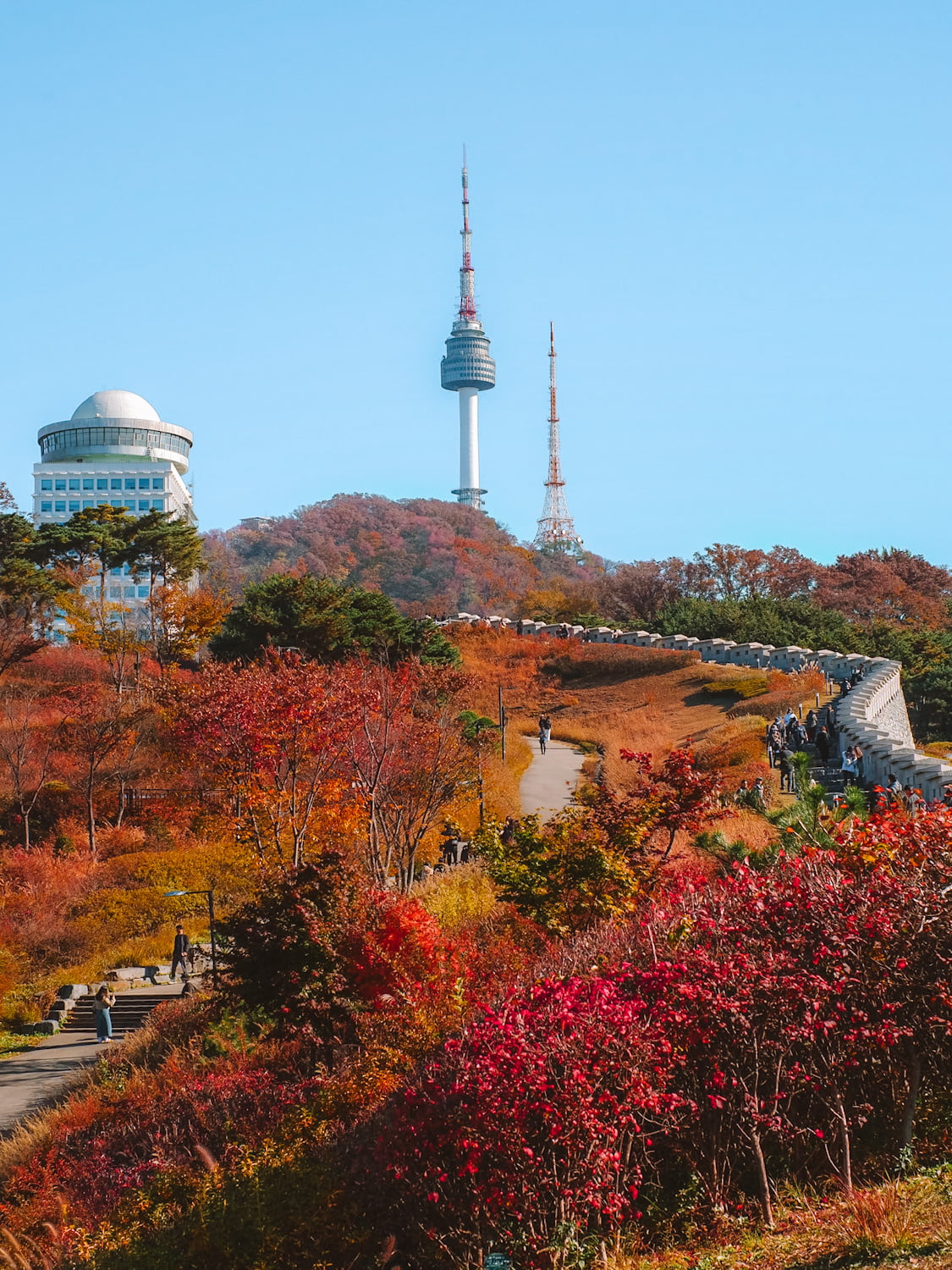 Baekbeom Square Park has earned a special place in the hearts of photographers, thanks to its captivating scenes that have become social media favorites. The park boasts the iconic Seoul Tower perched atop Namsan Mountain, with a picturesque segment of Seoul city's wall (서울 한양도성) adding to its allure. As autumn reaches its peak, the park transforms into a golden sea of splendor, with a stunning display of silver grass fields and the mesmerizing transformation of the park's red maple trees. These breathtaking vistas enhance the park's already iconic sceneries, leaving visitors in awe of nature's artistry. Be sure to visit Baekbeom Square Park in early November to witness these jaw-dropping sights firsthand.
10. Hyoja-ro
Hangul: 효자로
Peak Season: Early November
Naver Map: Link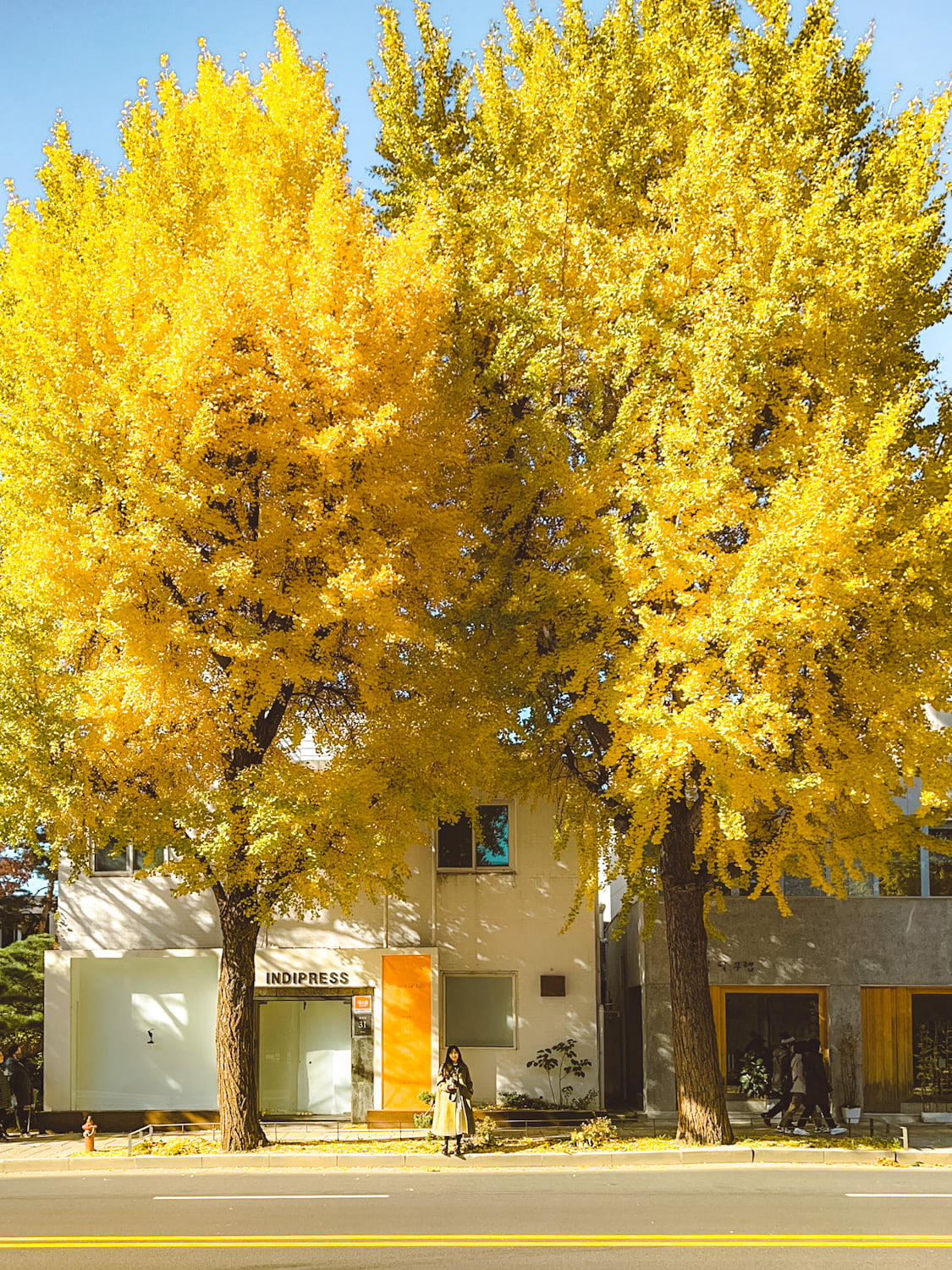 Spanning approximately 1.3 kilometers along the western walls of Gyeongbokgung Palace in the charming neighborhood of Tongui-dong, Hyoja-ro is an enchanting road adorned with mature ginkgo trees. This picturesque avenue is a magnet for both locals and tourists, drawing them in with its breathtaking autumnal beauty. So beloved is this street during the fall season that it has earned the endearing nickname "Gaeul Danpung Gil" on Naver Map, meaning "autumn leaves street" in Korean. As the leaves undergo their transformation, painting the landscape in shades of shimmering gold and fiery orange, Hyoja Street becomes a mesmerizing tapestry of colors, captivating all who stroll along its enchanting path.
11. Samcheongdong-gil
Hangul: 삼청동길
Peak Season: Early November
Naver Map: Link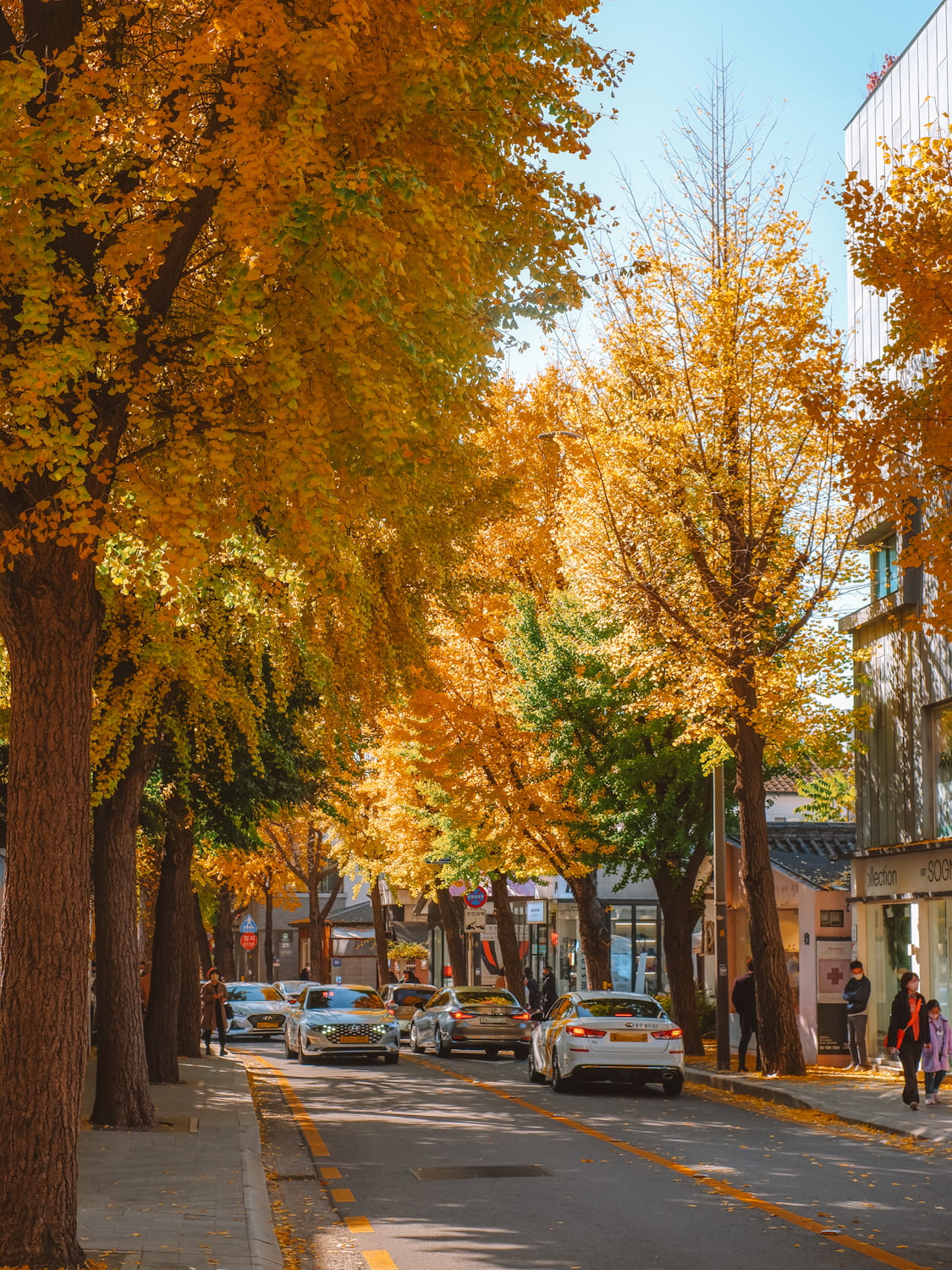 Samcheongdong-gil holds a well-deserved reputation as one of Seoul's premier spots for witnessing the splendor of autumn foliage. This enchanting road is lined with majestic, mature ginkgo trees, making it a must-visit destination during the peak of the fall season. As nature's masterpiece unfolds, the ginkgo trees proudly showcase their radiant hues of gold, painting a mesmerizing panorama that encapsulates the very essence of autumn. Exploring Samcheongdong-gil during this time is a true highlight, offering an unforgettable experience that celebrates the beauty of the season.
12. Hwadam Botanic Garden
Hangul: 화담숲
Peak Season: Early November
Naver Map: Link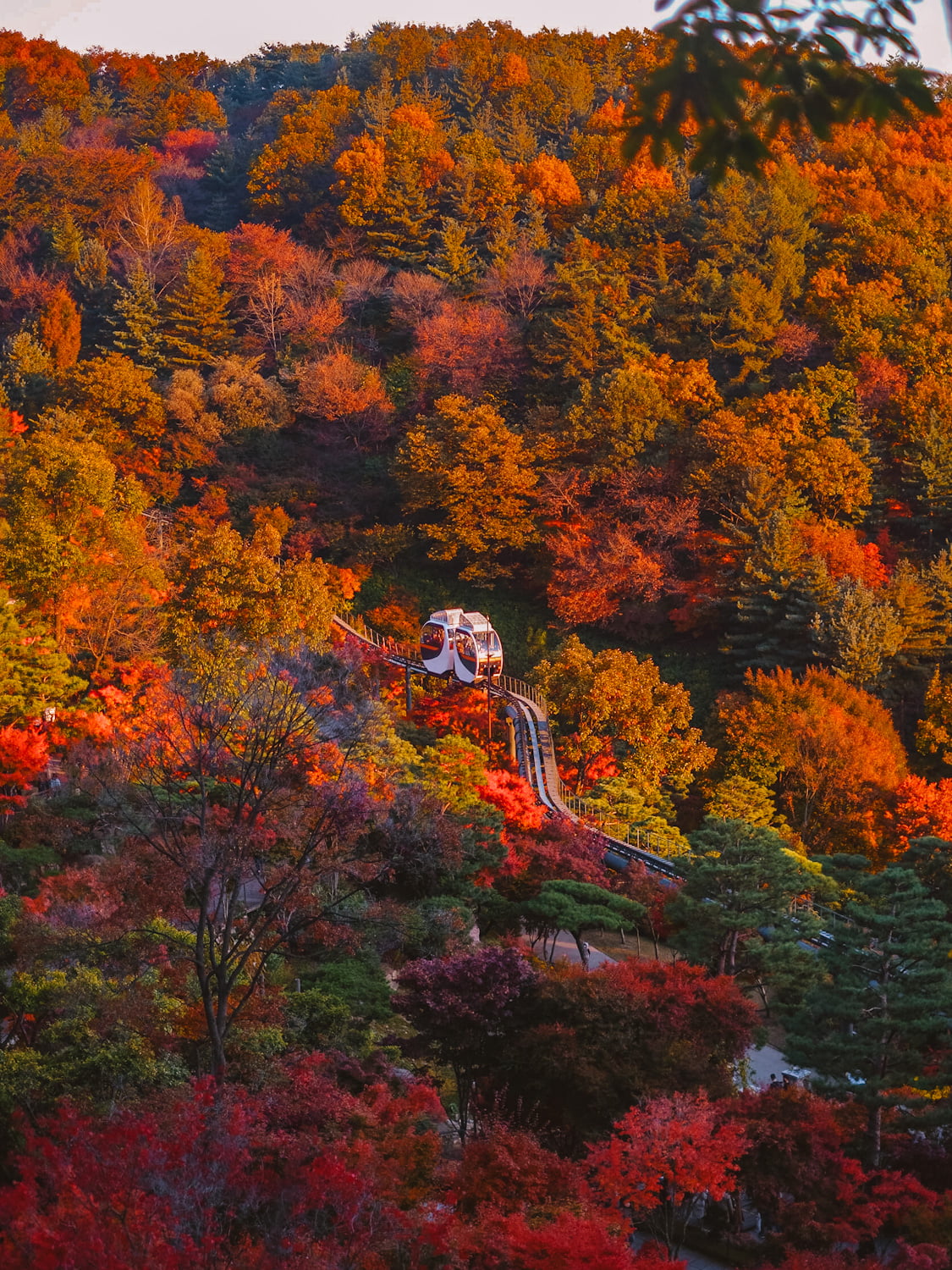 Situated within Gyeonggi-do's esteemed Konjiam Resort, a beloved ski destination near Seoul, Hwadam Botanic Garden awaits as a true treasure. This botanical paradise is home to an impressive collection of over 4,000 species of exotic and domestic flora. However, it is the majestic red and yellow maple trees, meticulously scattered throughout the garden's forest-like setting, that truly elevate it to the status of a "Korea autumn wonderland." From mid-October to late November, the forest undergoes a breathtaking transformation, unveiling a mesmerizing spectacle of fiery crimson and shimmering gold. To enhance your experience, be sure to secure a ticket for the monorail ride, which offers a unique perspective on the vibrant autumn foliage. Prepare to be captivated by the remarkable beauty of Hwadam Botanic Garden during this enchanting season.
13. Sudeoksa
Hangul: 수덕사
Peak Season: Mid-November
Naver Map: Link
Sudeoksa is a mountain temple designated as a UNESCO heritage site. It is located on the southern slopes of Deoksungsan in Yesan County, South Chungcheong Province. Beyond the brilliant sights of Korean traditional architecture and the sanctity of Buddhism, what truly makes Sudeoksa even more mesmerizing is the abundant presence of mature deciduous trees that densely surround the temple grounds, turning it into a haven for fall foliage lovers every autumn. The breathtaking sight of halls adorned in brilliant shades of crimson, orange, and golden yellow creates a remarkable spectacle, making it the perfect place to start your day in awe.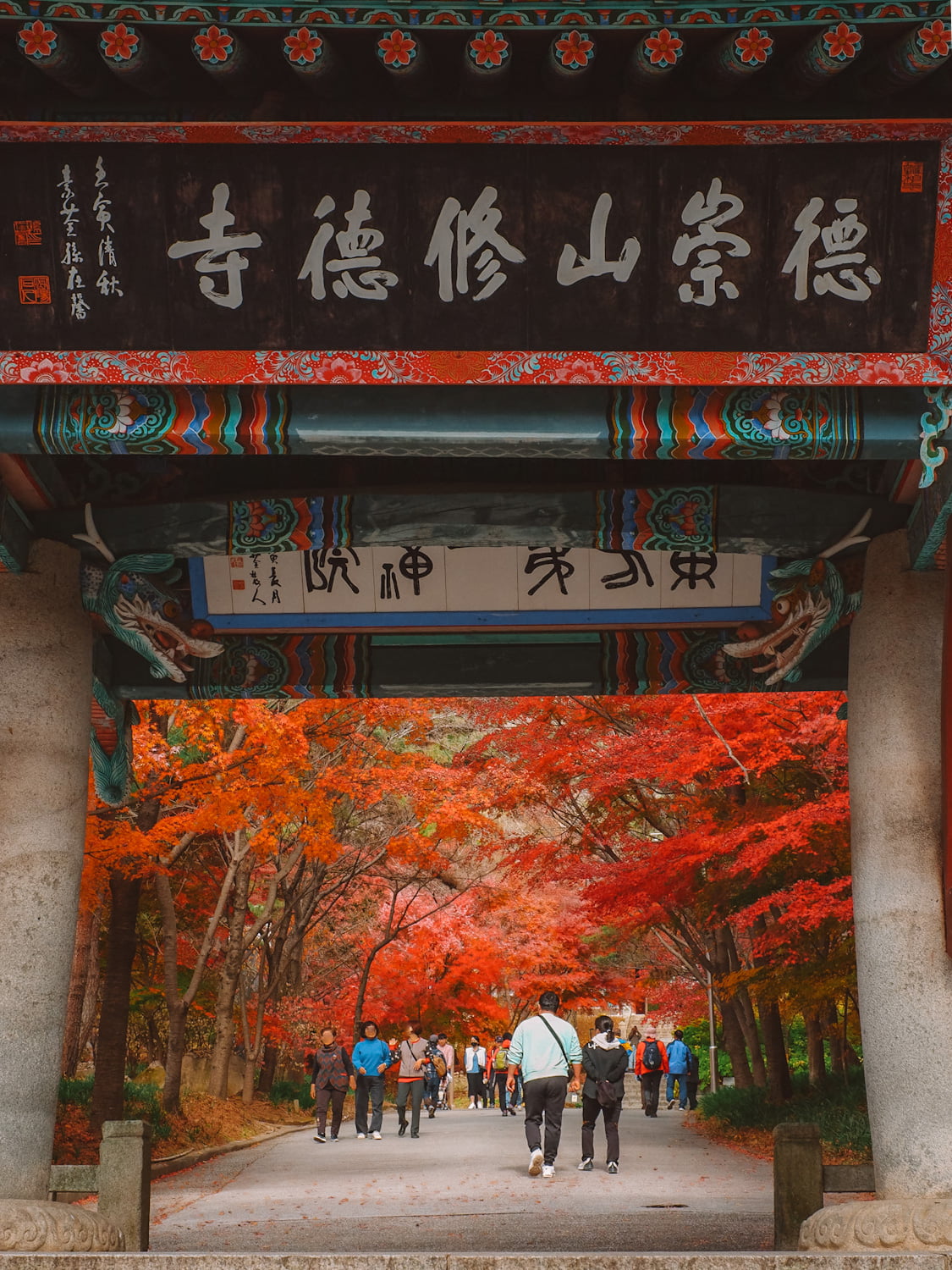 Due to the city's lower latitude, Sudeoksa offers the opportunity to witness the peak of fall foliage later in the season. If you happen to miss the autumn leaves in Seoul, a visit to Yesan City is highly recommended. During my last visit to the temple in the last week of November, the fall foliage still exhibited its captivating beauty.
14. Deoksan Metasequoia Road
Peak Season: Mid November
Naver Map: Link
If you're planning a fall trip to Yesan City, make sure to include Deoksan Metasequoia Road alongside Sudeoksa on your must-visit list. This captivating road starts from Deoksan Oncheon Road (덕산온천로), a mere fifteen-minute walk from the Splas Resom entrance. As you wander along the path, prepare to be enchanted by the majestic metasequoia trees. Their sharp, emerald green leaves undergo a stunning transformation, turning into a mesmerizing golden brown every November. The sight is truly a feast for the eyes and a testament to the remarkable beauty of the fall season.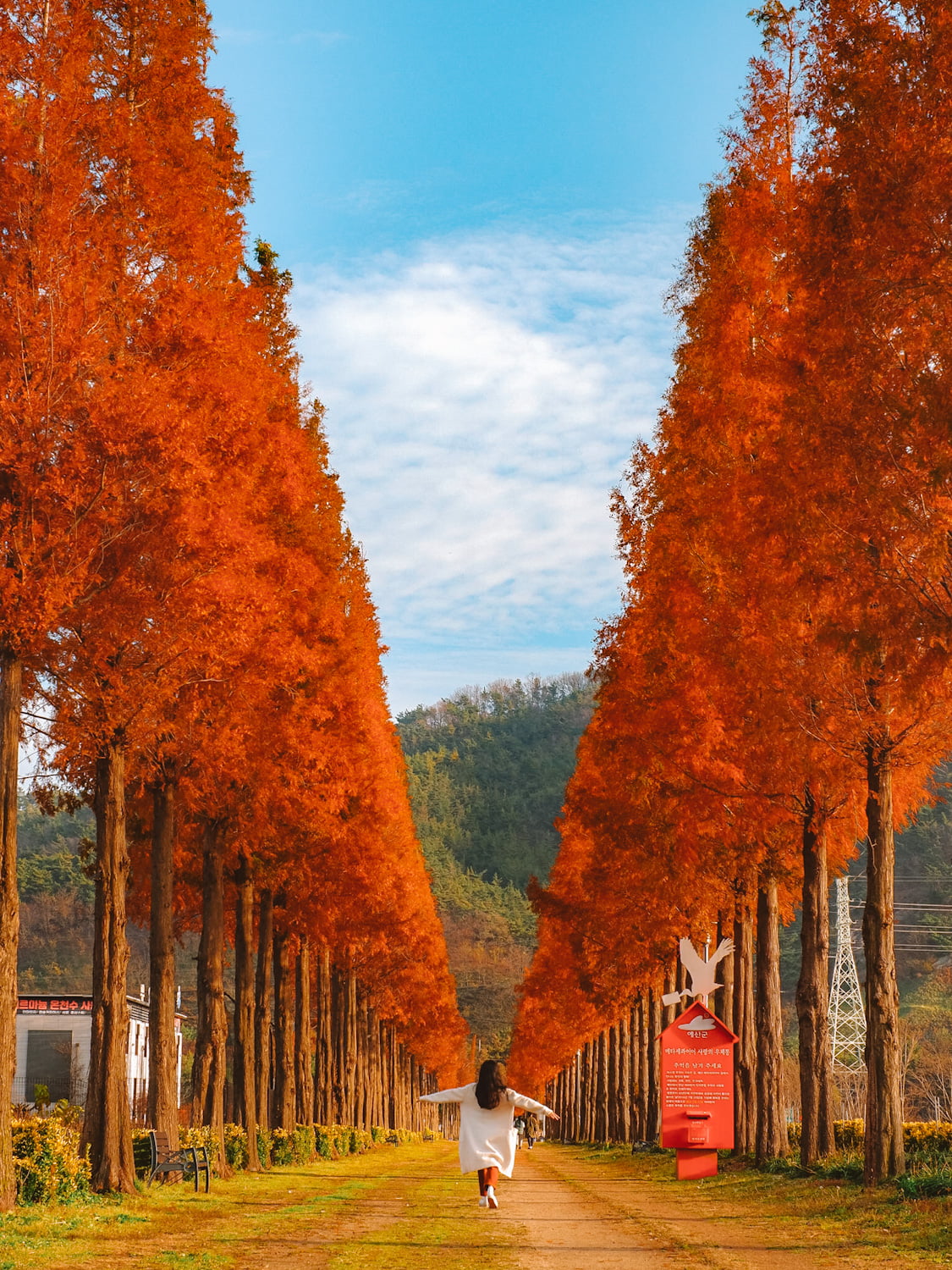 Adding to the charm of the road is a striking bright red post box installed midway, which enhances its appeal. Affectionately known as the '메타세콰이어 사랑의 우체통' or 'metasequoia mailbox of love,' this unique feature invites visitors to express their warm affection by leaving a heartfelt message on one of the free postcards provided. It's a clever and captivating way to capture the attention of passersby and spread love along this enchanting road.
If you've made it to this point of the article, congratulations! You are now well-equipped with a comprehensive list of stunning places to visit in and around Seoul during the autumn months. We hope you have an incredible time in Korea and capture breathtaking shots of the fall foliage at the aforementioned locations. Wishing you a memorable and joy-filled journey as you immerse yourself in the beauty of the season. Happy travels!
Map of Places Mentioned in This Post
Did this entry help you? Or Did you enjoy my photos? Help support my small blog by giving a little cup of joe. I am always grateful when readers reach out wanting to support 🙂
p.s. This post is independently created. However, when you book or purchase something through the retail links, I may earn an affiliate commission to help keep Ploy's Little Atlas running. Thank you very much for your support!
p.p.s All images used (unless specified) are owned by the author of the blog and permission is required for a repost. Please, reach out via social media channels to ask beforehand if you'd like to use them.
Last update: September 14, 2023