It's quite surprising that it took a full decade of living in Seoul for me to experience the Seoul International Fireworks Festival for the first time. I must say, it was a truly exhilarating experience. In this post, I'll revisit this new core memory and provide you with valuable tips to ensure that you too can thoroughly enjoy this enchanting event!
About the Event:
The Seoul International Fireworks Festival (Korean: 서울세계불꽃축제) stands as one of South Korea's grandest and most dazzling fireworks celebrations, alongside the Busan International Fireworks Festival and the Pohang International Lights Festival. What sets it apart from the other two is that it's organized by a private institution, the Hanwha Group. Since 2002, this annual festival has been lighting up the Seoul skies with a diverse array of themed fireworks displays crafted by talented pyrotechnician teams from across the globe!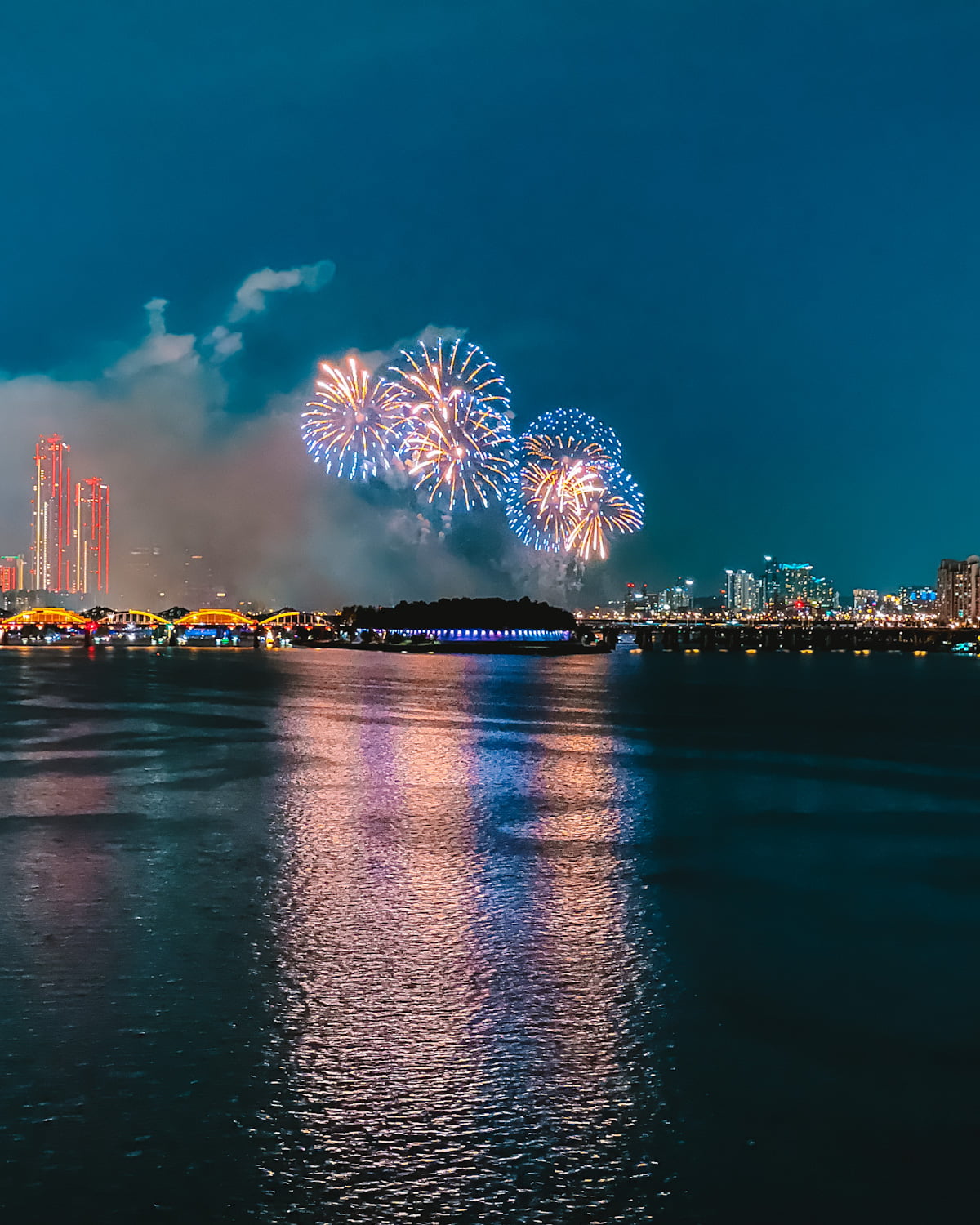 When does the Seoul International Fireworks Festival take place?
You can usually count on the festival happening in the first week of October, making it a highly anticipated event in Korea for that month. In 2023, the Seoul International Fireworks Festival was held on October 7th.
Finding the Festival Venue:
The Seoul International Fireworks Festival venue is situated along the riverfront, adjacent to the multi-plaza within Yeouido Hangang Park. It's conveniently positioned in front of the iconic 63 Building, a skyscraper under the ownership of the Hanwha Group. Accessing this prime event location is a breeze, with both Yeouinaru Station (Line 5) and Saetgang Station (Line 9) offering easy transportation options.
Access Map to the Main Stage Area:
Duration of the Fireworks Show:
The Seoul International Fireworks Festival features a minimum of three fireworks production teams each year. Typically, each team is allotted a spectacular display time ranging from 15 to 40 minutes. This means you can anticipate the city's sky lighting up for approximately 1 to 2 hours, depending on the number of production teams participating in any given year!
Event Schedule:
In addition to the main attraction, you can enjoy street performances, buskers, craft beer stalls, and a diverse array of food trucks to tantalize your taste buds within the event area. Here's an overview of when each program kicks off (based on the 2023 event):
1:00 PM – 6:00 PM: Participatory Programs for Citizens
7:00 PM – 7:20 PM: Opening Ceremony
7:20 PM – 8:40 PM: Fireworks Display by Participant Teams
8:40 PM – 9:30 PM: After-Party
8:40 PM – 11:00 PM: Clean Campaign
Best Spots for Viewing the Seoul International Fireworks Festival:
Aside from being at the heart of the action in Yeouido, there are numerous fantastic vantage points for enjoying the fireworks! I'll begin by sharing my personal pick for this year's event. Later on, I'll also highlight some other locations that you might want to explore for an awe-inspiring view of the fireworks!
Dongjak Bridge:
You can capture and savor the spectacular scenes of the Seoul International Fireworks Festival from various spots adjacent to the festival's main location, including the bridges that line up with the event area. With that in mind, I opted to experience the festival from Dongjak Bridge (동작대교) for the first time, and in the following sections, I am providing you with a brief list of its advantages and disadvantages, along with some helpful tips if you're thinking about choosing this vantage point for the next year's festival.
Pros:
Convenient Access: Dongjak Bridge is extremely accessible, as it's situated in close proximity to Dongjak Station, served by Seoul Subway Lines 4 and 9. Simply take a short walk from exit number 2. See Dongjak Bridge's Naver Map here.
Panoramic Scenery: Every section of the bridge offers breathtaking and expansive views. Staying on the bridge's west side ensures you'll have a complete view of the Han River and its western bank, where the Seoul International Fireworks Festival unfolds in all its glory.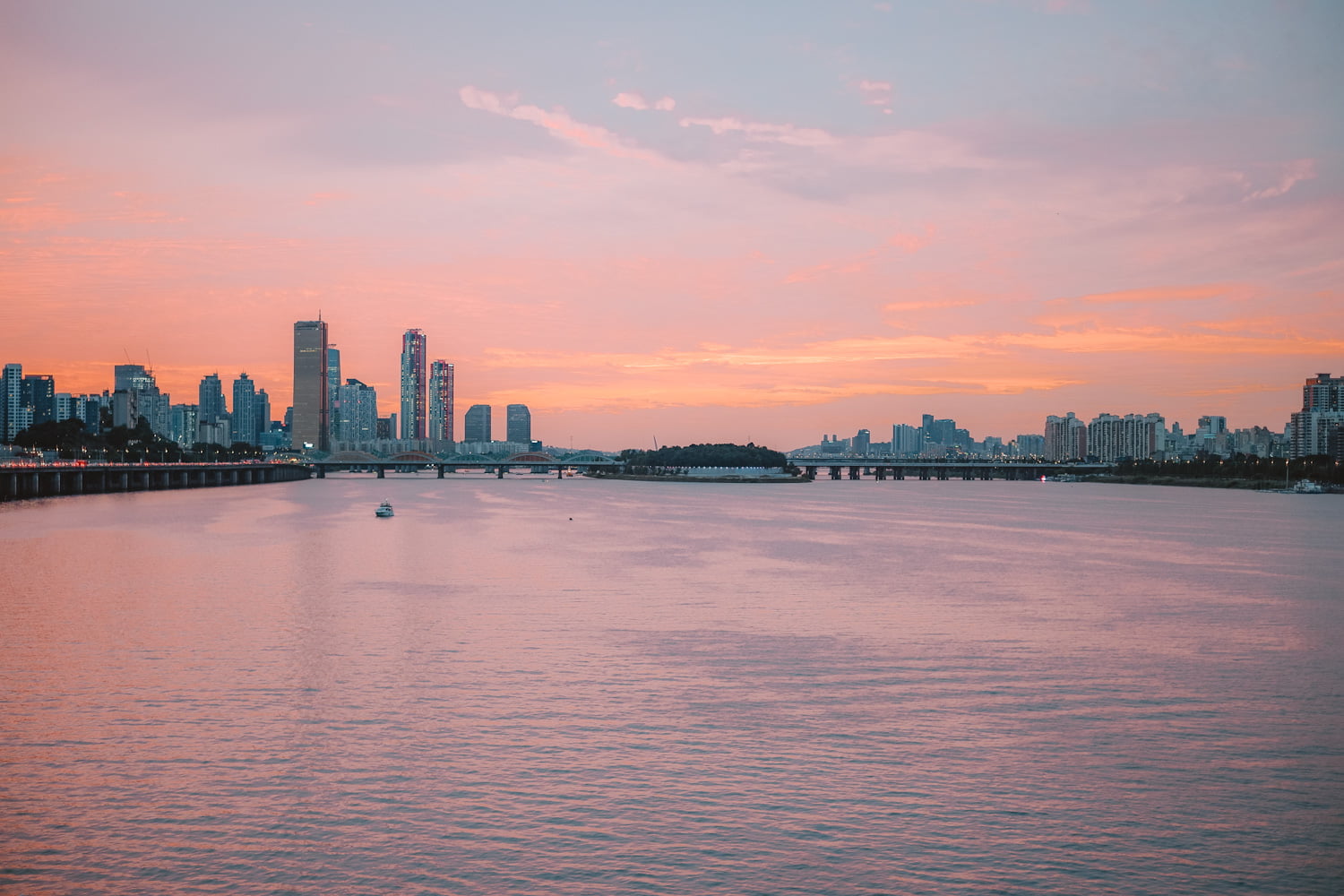 A Priceless Vista from Dongjak Bridge
Lower Crowds: In comparison to the festival's main location at Yeouido Han River Park, you won't have to sacrifice your comfort by arriving early to secure your spot. Dongjak Bridge's length provides ample space, even if you arrive in the late afternoon, ensuring you can set up your tripod without any hassle.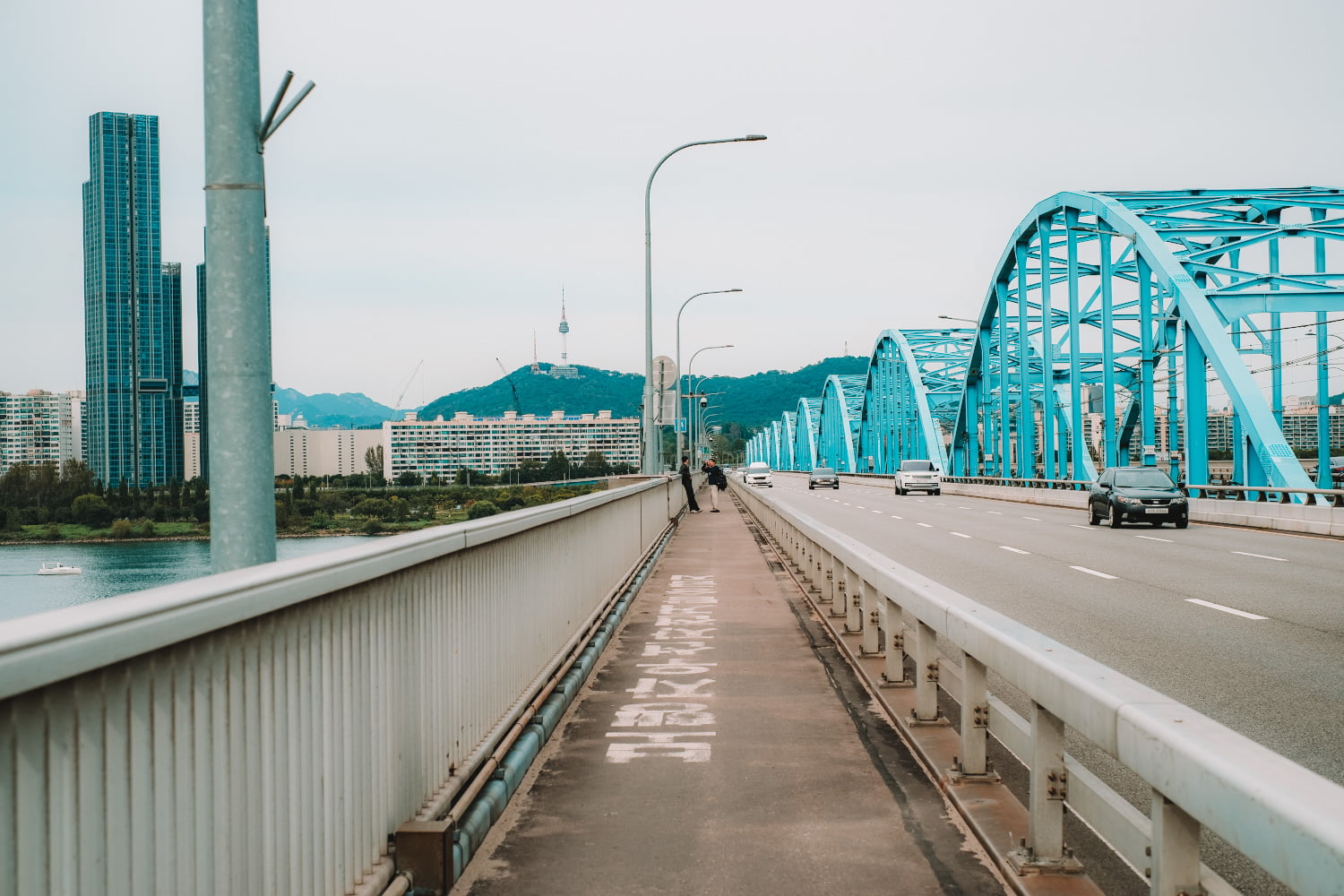 A Tranquil Afternoon at Dongjak Bridge on Fireworks Festival Day
Cons:
The only significant drawback I can think of is that the fireworks might appear somewhat small when viewed with the naked eye. While Dongjak Bridge offers panoramic vistas of the Han River and the Seoul cityscape, making it a prime location for photographers, it may be considered a bit distant for those who prefer a more immersive, eye-level fireworks viewing experience.
Helpful Tips and Recommendations:
Opt for Comfort at Noeul Cafe: For the utmost comfort, consider reserving a spot at Noeul Cafe, located at the southern end of the west sidewalk of Dongjak Bridge. They accept reservations for this event via phone, and their prime location is definitely worth considering.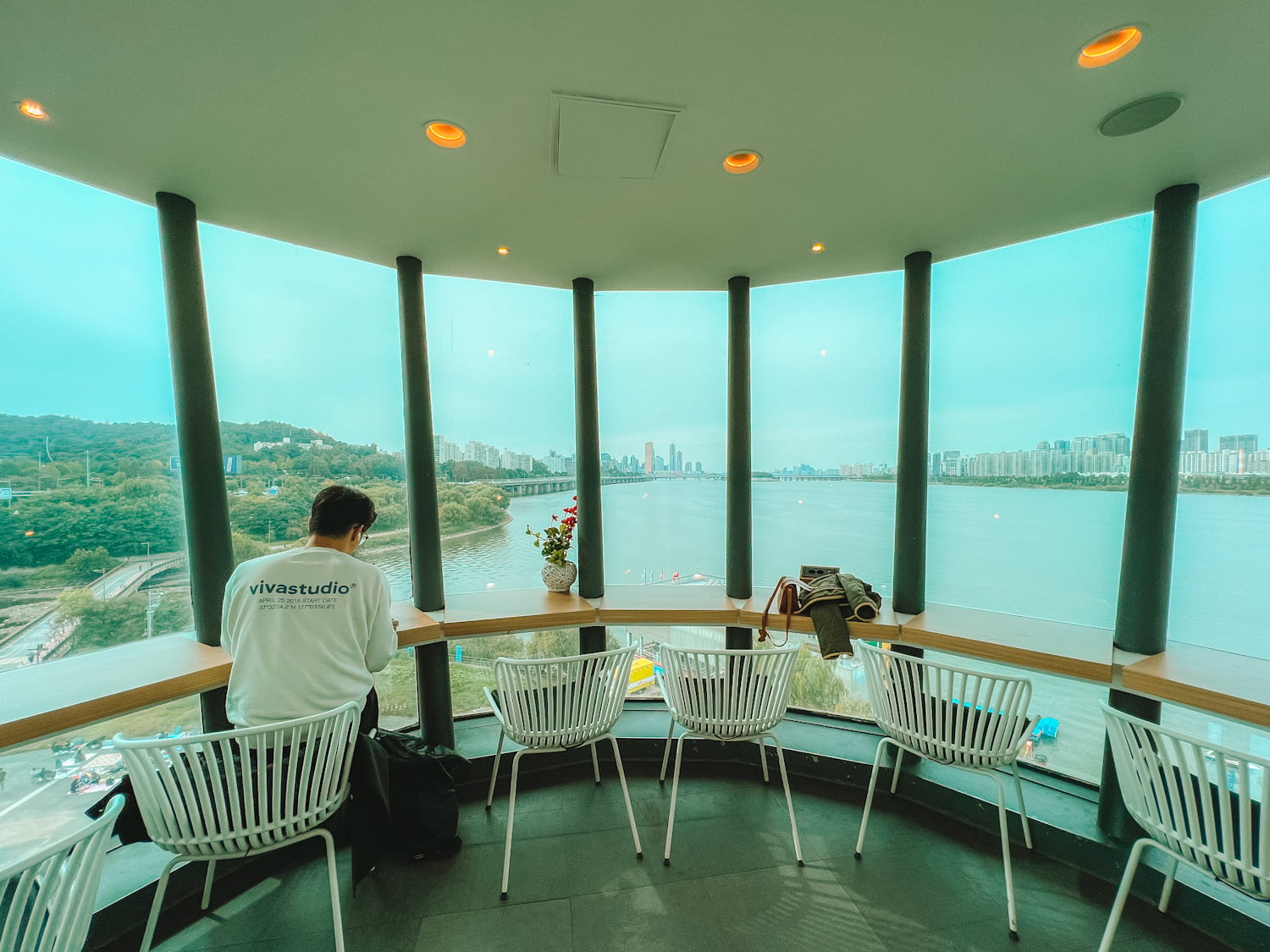 Epic Views Courtesy of Noeul Cafe
Secure Your Viewing Spot in Advance: While Dongjak Bridge is less crowded, it's still a good idea to arrive a few hours before the show begins to secure the best vantage point. As the showtime approaches, many spectators gather along the bridge, and navigating through the crowd can be challenging.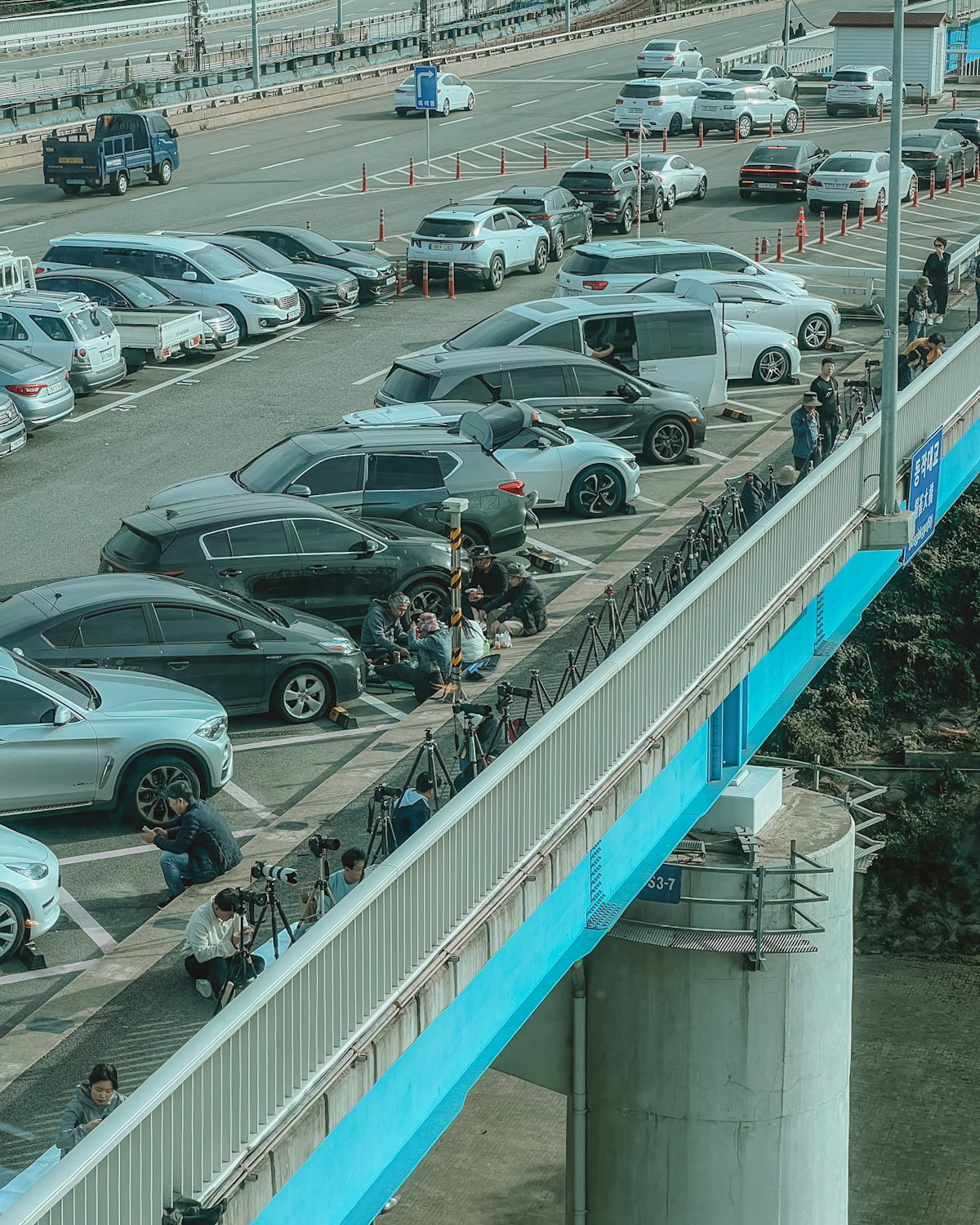 Photographers Prepare for Action: Dongjak Bridge, 3 PM on Festival Day
Come Prepared with a Mat and Blankets: Waiting for the event on the bridge can be a lengthy affair, so bringing a mat and blankets is highly recommended. The breeze can pick up, and October evenings in Korea can be quite chilly.
Convenient Restroom Access: If you need to use the restroom, there is a public facility located underneath the bridge.
So, that's the sum of my firsthand insights from my recent experience at the Seoul International Fireworks Festival, as seen from Dongjak Bridge. Now, let's delve into a list of other locations that are prime for enjoying the event or capturing some breathtaking photographs:
Optimal for Up-Close Viewing:
Be prepared for an early morning start when visiting the locations in this list to secure the best spots for your equipment. These spots are in high demand, but do keep in mind that they can get quite crowded, and you might contend with people's heads and tree silhouettes in your frame.
Ideal for Capturing Stunning Fireworks Photos:
These locations are highly regarded and frequented by night cityscape photography enthusiasts. If you're passionate about capturing breathtaking night views, you won't want to miss these spots:
Well, I've shared plenty of insights with you, and I trust that these stories from my experience and the tips I've offered will help you prepare and make the most of the Seoul International Fireworks Festival! As for me, I can't wait to choose another spot from my own list for next year's show!
Photo Gallery: Captured Moments from Dongjak Bridge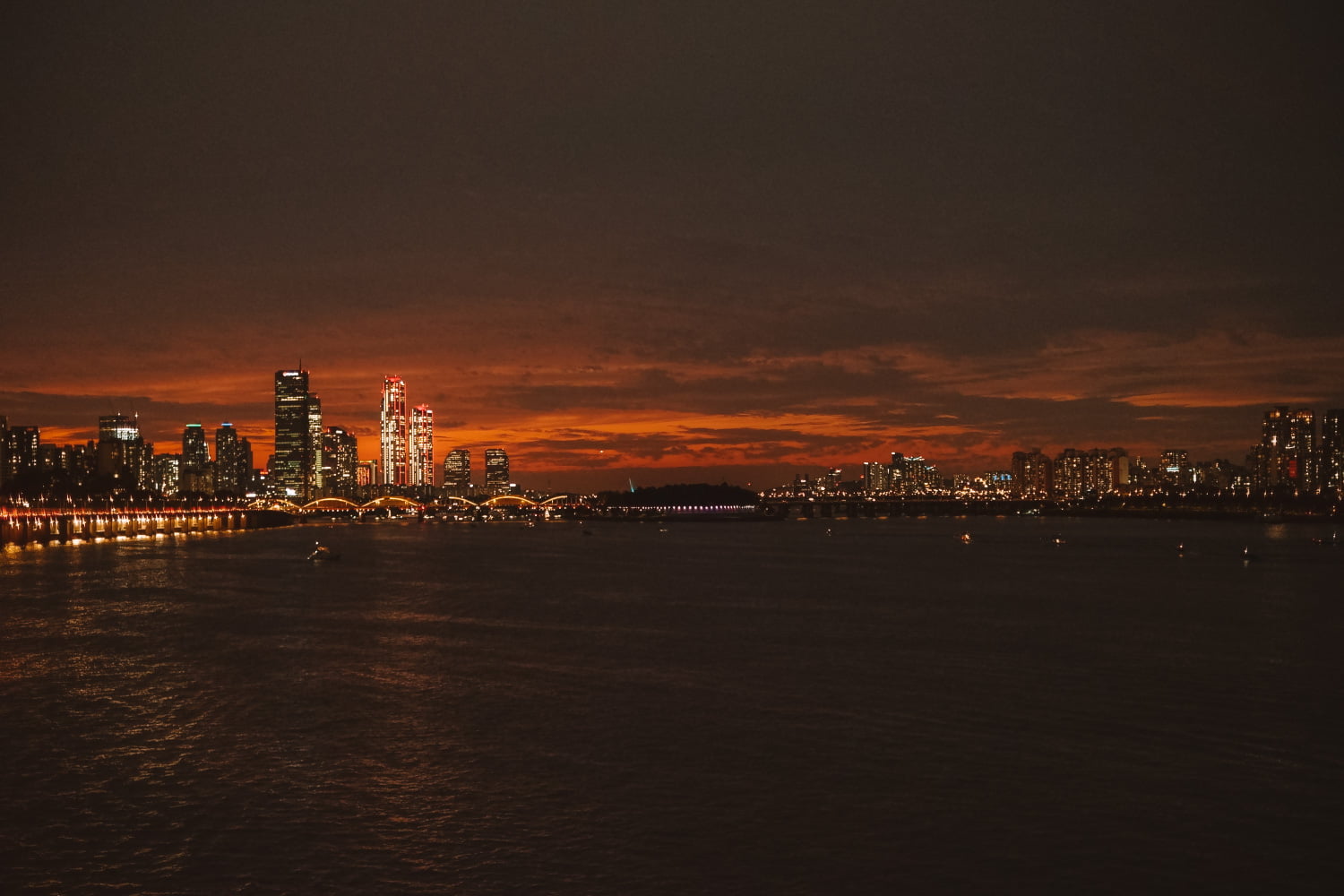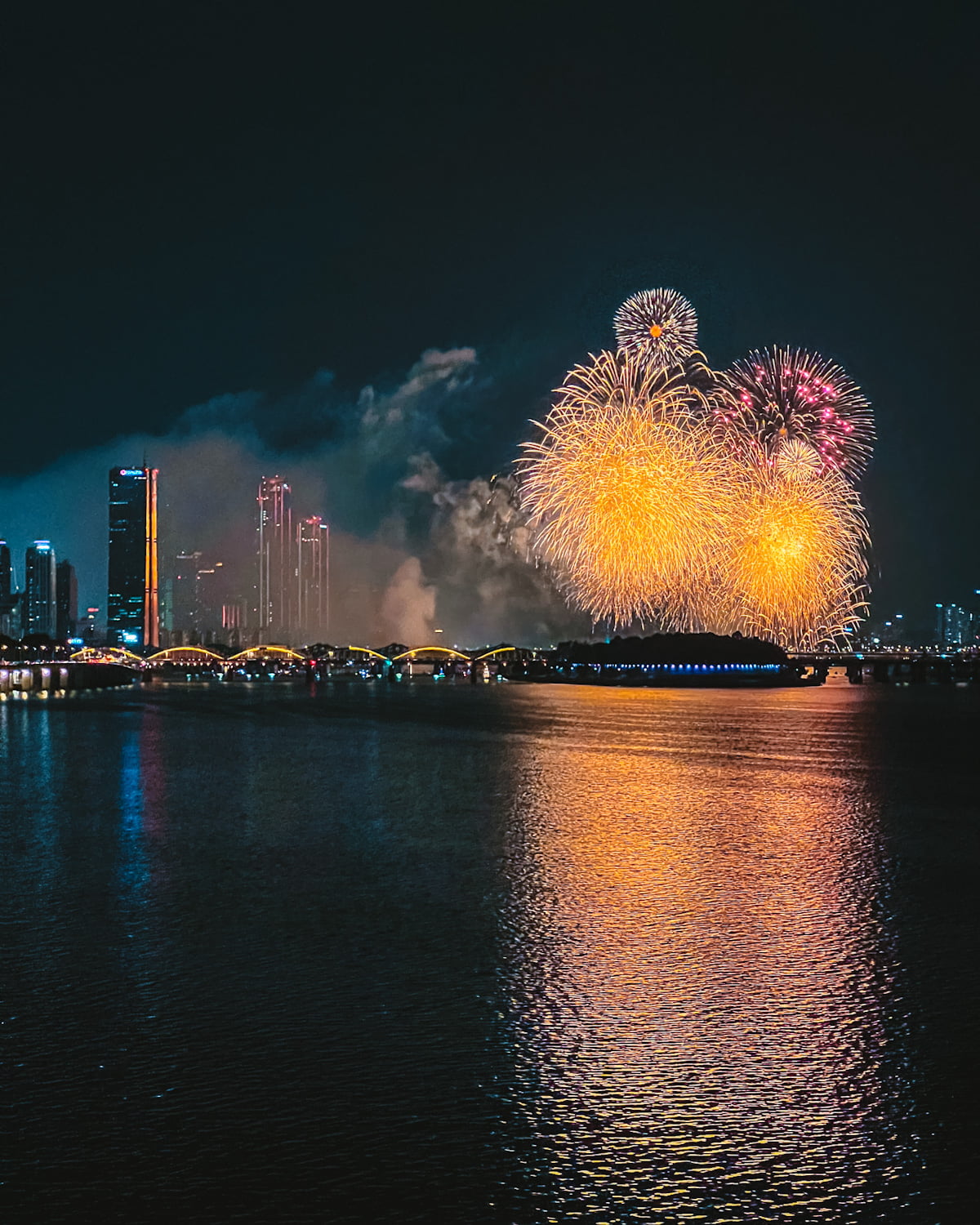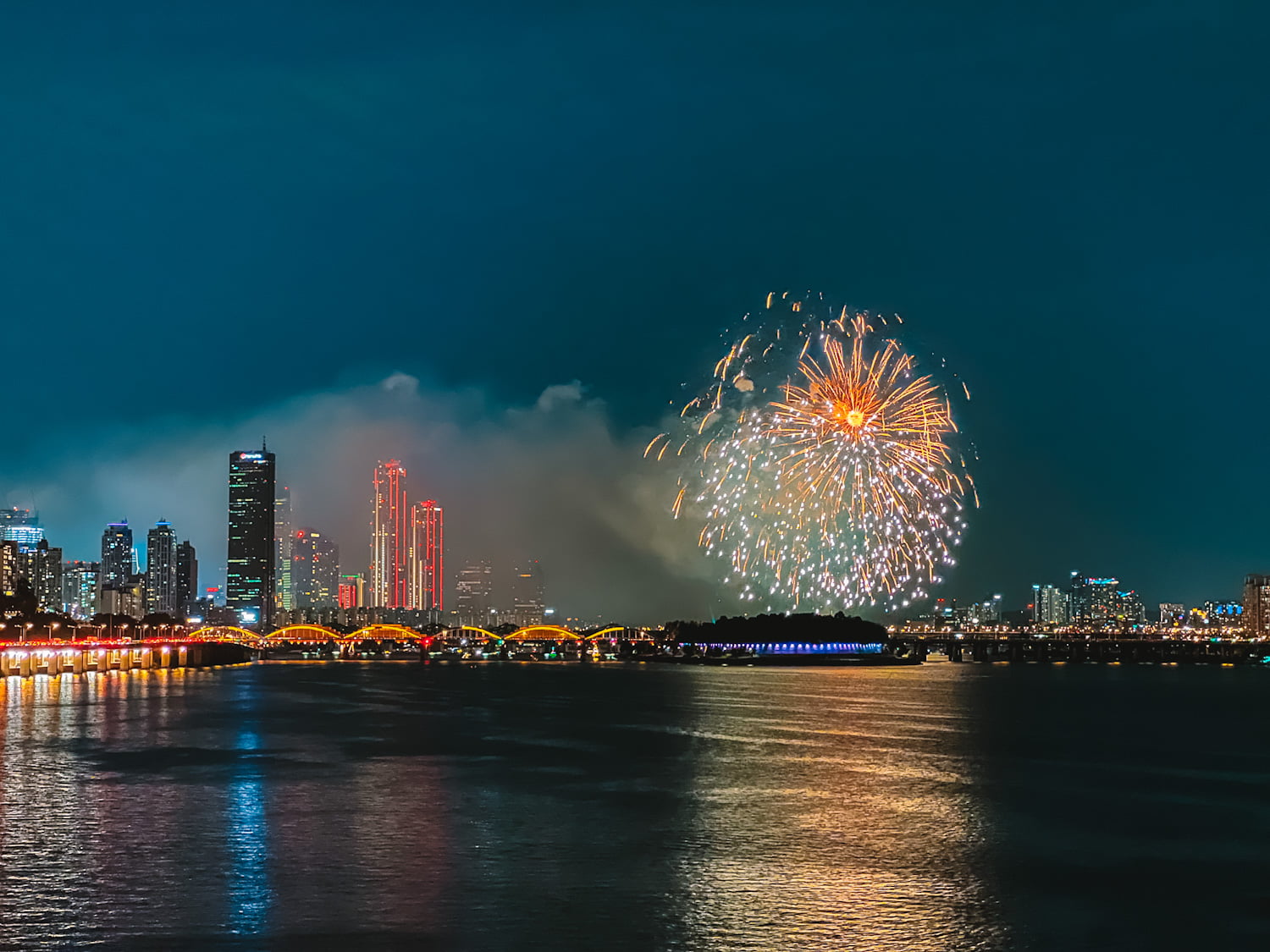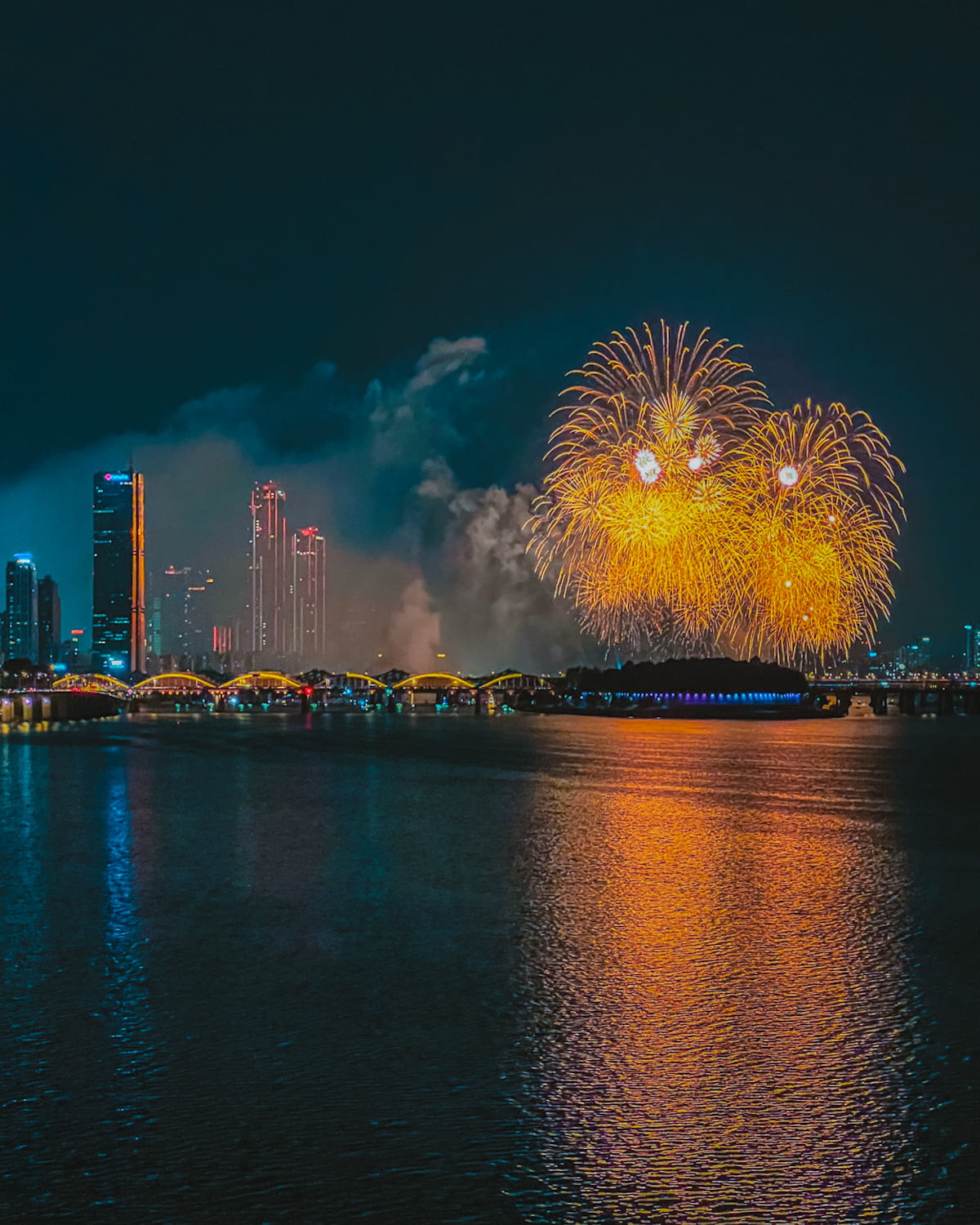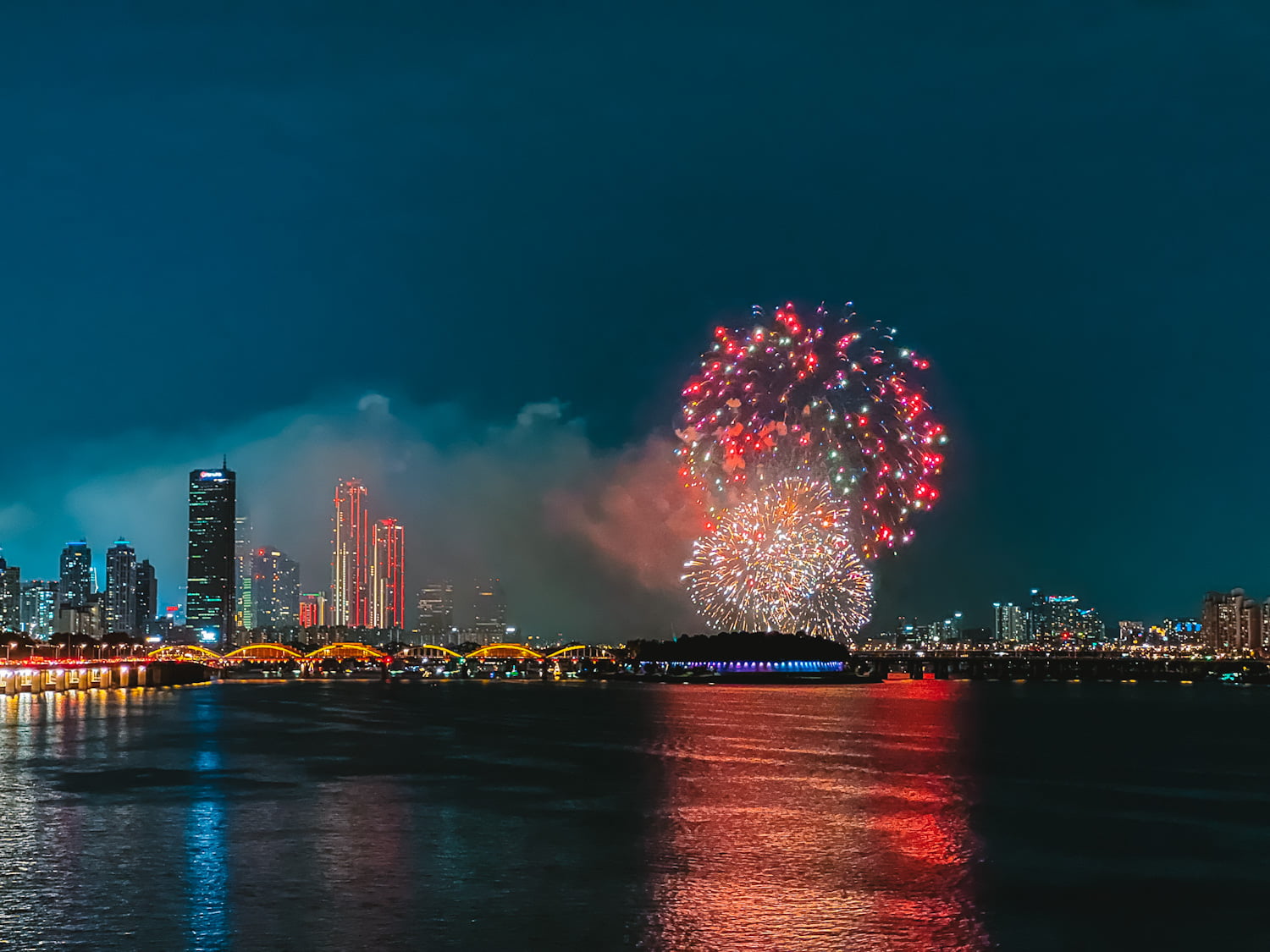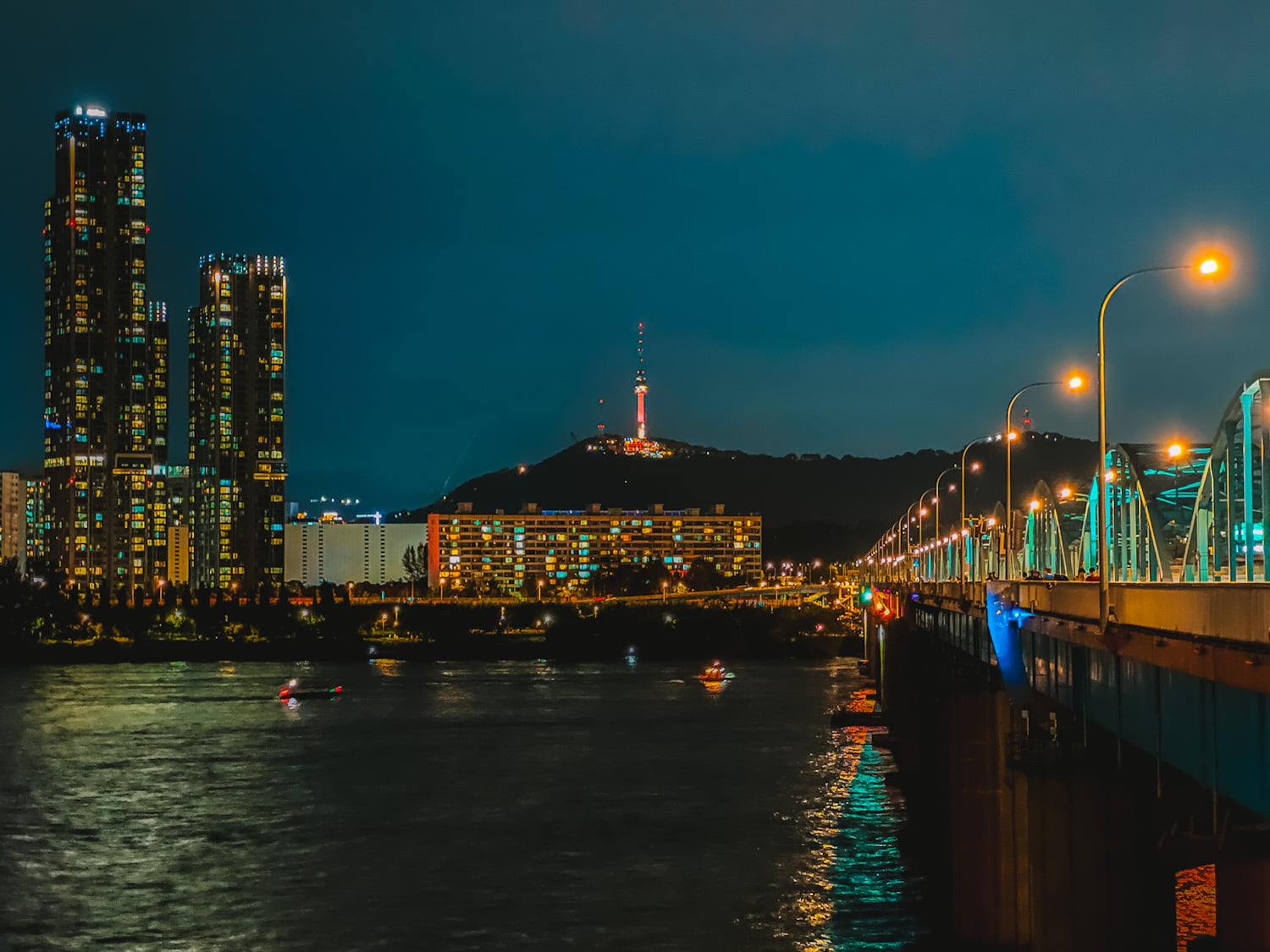 Map of Seoul International Fireworks Festival Viewing Spots:
Other Seoul Night Event Posts You Might Like:
Did this entry help you? Or Did you enjoy my photos? Help support my small blog by giving a little cup of joe. I am always grateful when readers reach out wanting to support 🙂
p.s. This post is independently created. However, when you book or purchase something through the retail links, I may earn an affiliate commission to help keep Ploy's Little Atlas running. Thank you very much for your support!
p.p.s All images used (unless specified) are owned by the author of the blog and permission is required for a repost. Please, reach out via social media channels to ask beforehand if you'd like to use them.