As winter descends upon Seoul, the city transforms into a captivating wonderland, adorned with shimmering lights, festive decorations, and an air of enchantment. From iconic landmarks to hidden corners, Seoul offers a plethora of Christmas-themed photo spots that are sure to ignite your creativity and capture the essence of the holiday season. Whether you're drawn to the towering majesty of Lotte World Tower, the whimsical charm of hidden alleyways, or the stylish elegance of upscale shopping centers, the diverse range of photo spots in Seoul promises to immerse you in a world of festive delight. Step into this enchanting realm and embark on a visual journey through the top Christmas-themed photo spots in Seoul, where each frame tells a story of magic, joy, and the timeless spirit of Christmas.
When to Experience the Christmas Lights/Decorations:
The magical Christmas lights and decorations in Seoul typically begin to illuminate the cityscape from November, casting a festive glow that lasts throughout December. However, it's essential to know that some spots offer extended opportunities to witness these dazzling displays. For instance, at places like Starfield Library, the installations might grace the venue as early as October and continue to spread holiday cheer until February on certain occasions. So, whether you visit in the heart of winter or during the earlier months, you'll still have a chance to immerse yourself in the enchanting world of Christmas in Seoul.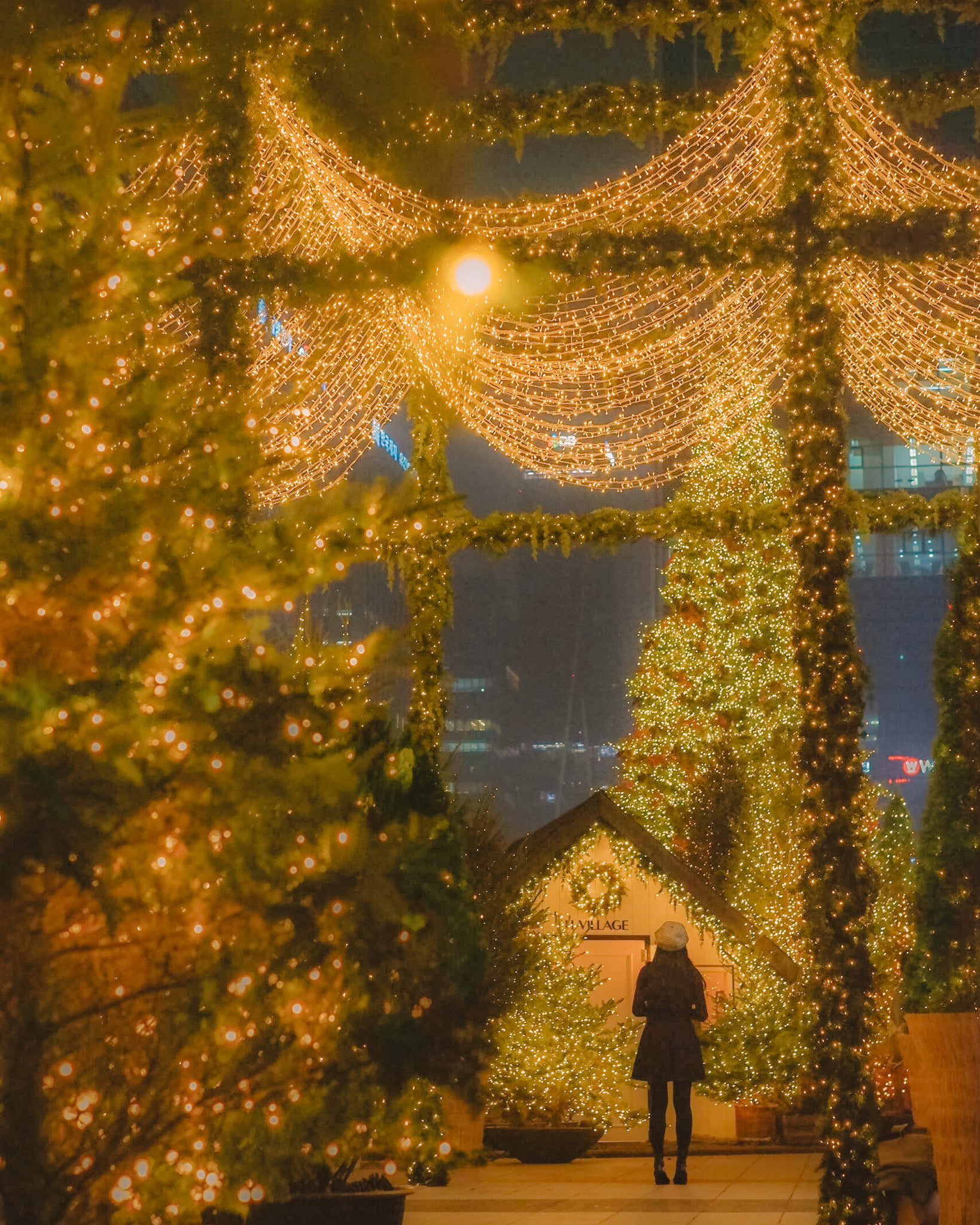 Where to See Christmas Themed Photo Spots in Seoul:
1. Lotte World Tower
Hangul: 롯데월드타워
Naver Map: Link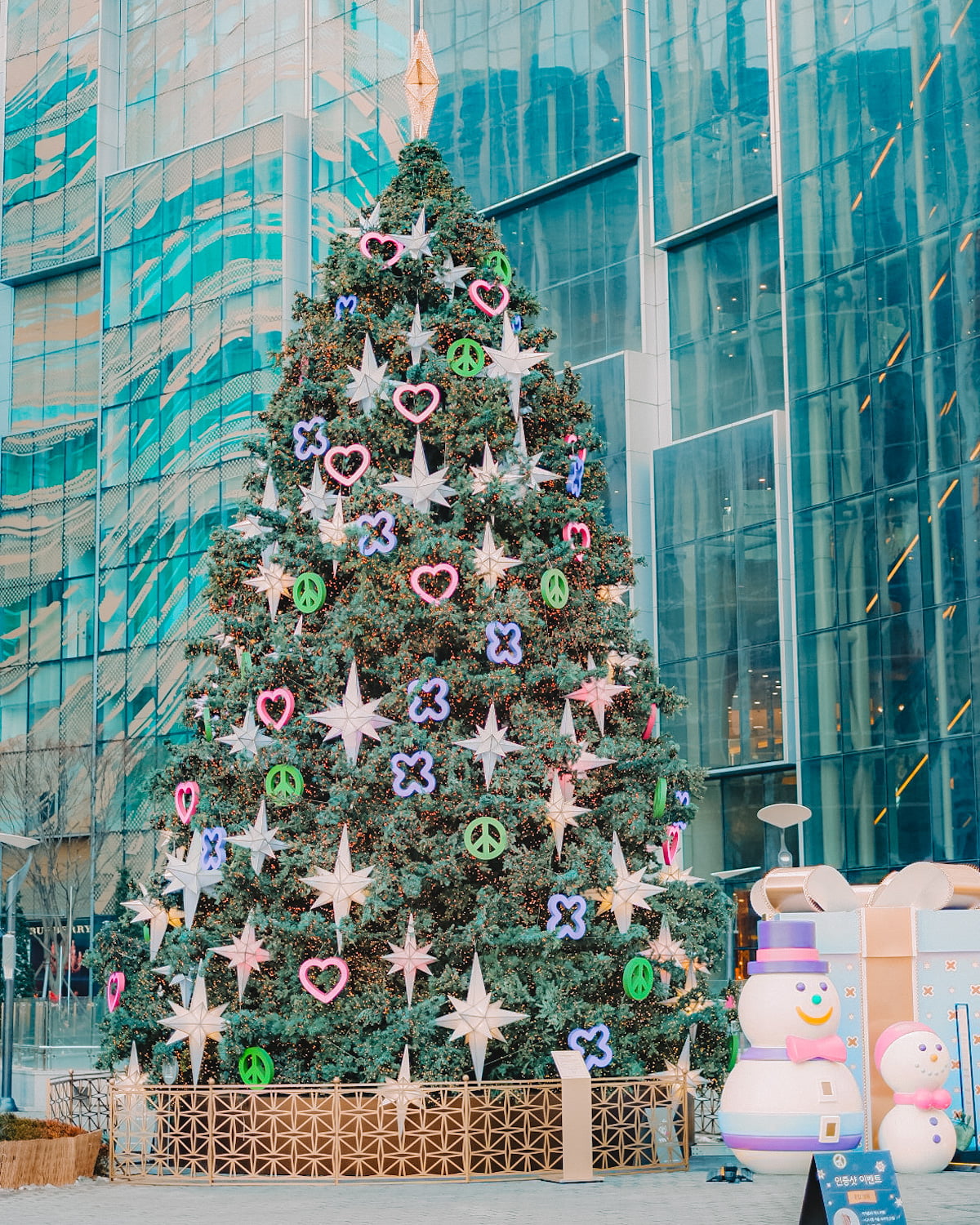 Lotte World Tower, standing tall in the heart of Seoul, is a must-visit destination, especially during the Christmas season. As one of the city's most iconic landmarks, the spacious ground at the foot of the tower is transformed into a festive delight. Adorned with an enormous Christmas tree, extra illuminations, and other Christmas-themed decorations, this area offers a magical setting for capturing memorable photos. Don't forget to explore inside Lotte World Mall, where the fifth floor features a popular staircase adorned with seasonal and holiday decorations.
2. Garden Five
Hangul: 가든파이브
Naver Map: Link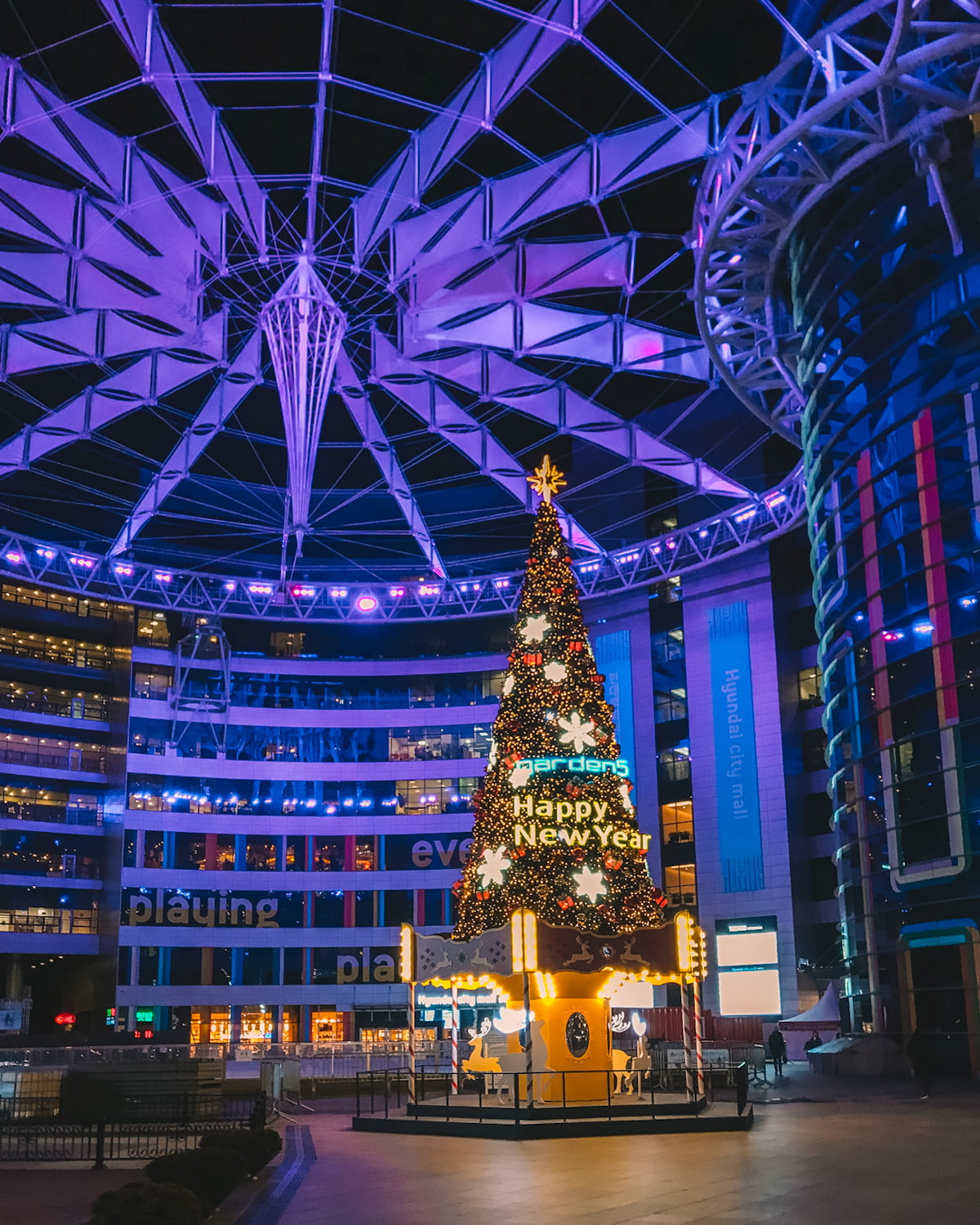 Located in Songpa-gu, Garden 5 is a gigantic shopping center and multicultural complex that becomes a whimsical Christmas wonderland during the holiday season. The central plaza of Garden Five Life is decorated with massive sparkling Christmas trees and intricate light displays underneath a large sky umbrella, creating a cheerful and magical ambiance. Whether you're looking for holiday shopping or simply want to immerse yourself in the festive atmosphere, Garden Five is a must-visit destination.
3. IFC Mall
Hangul: IFC몰
Naver Map: Link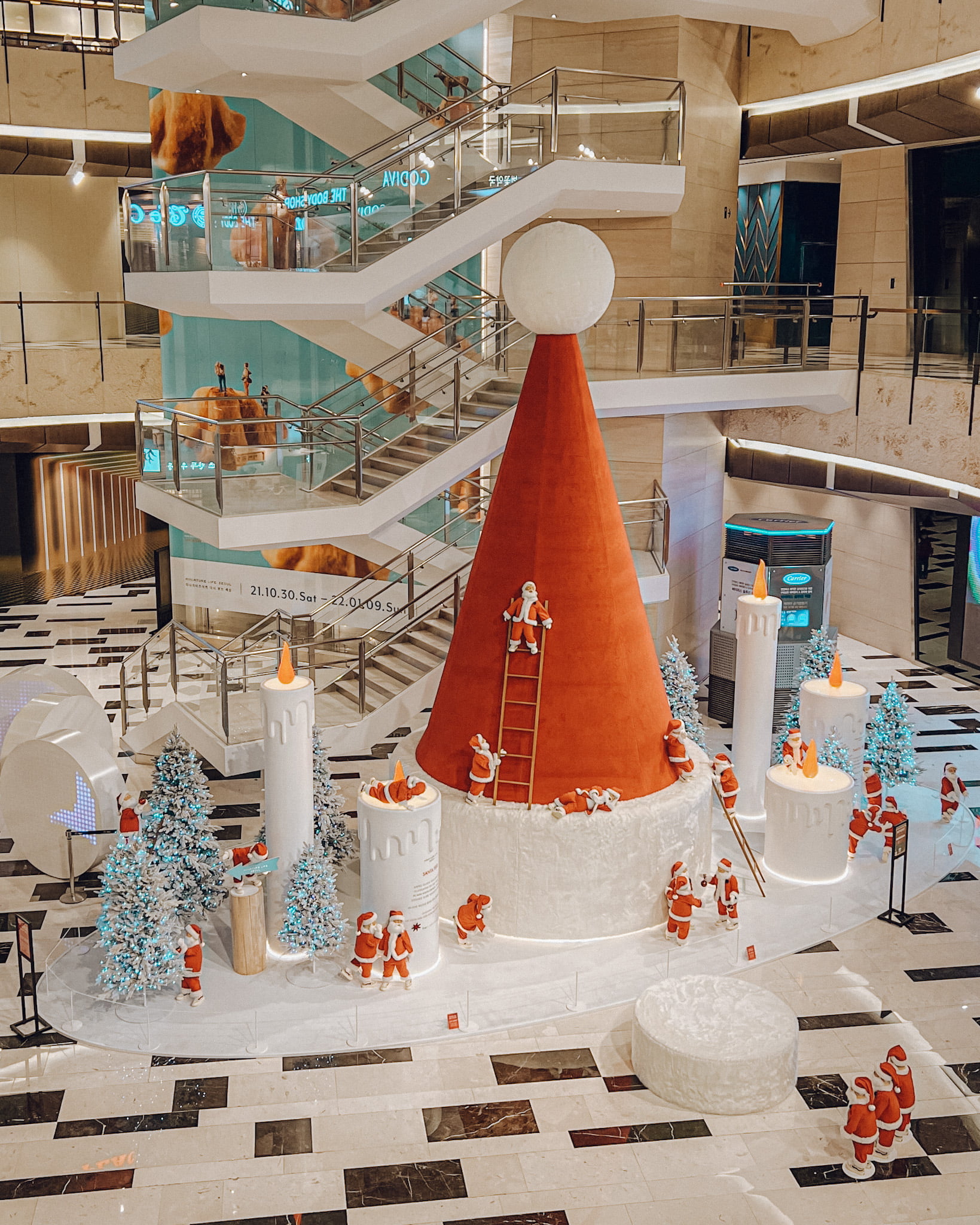 IFC Mall Indoor Plaza
Nestled in the bustling Yeouido district, IFC Mall is a popular shopping destination that goes all out with its festive decorations during the Christmas season. The mall's indoor plaza on the first level is adorned with a towering Christmas tree, featuring different impressive designs each year.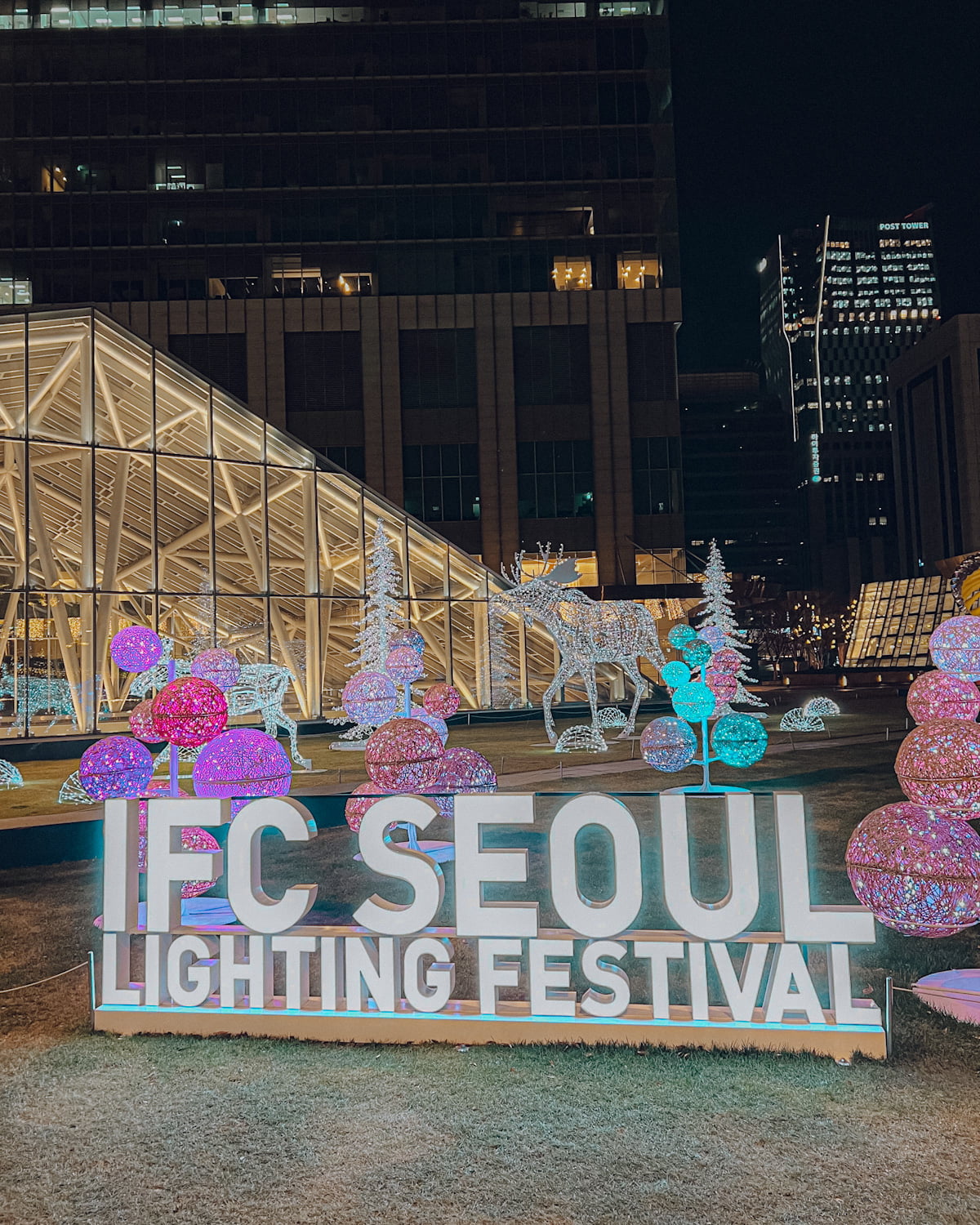 IFC Garden
Additionally, the nearby IFC Garden, located across from Yeouido Park, offers another set of charming holiday decorations. Both locations provide captivating backdrops for your holiday photos.
4. Hyundai Department Store Trade Center Branch
Hangul: 현대백화점 무역센터점
Naver Map: Link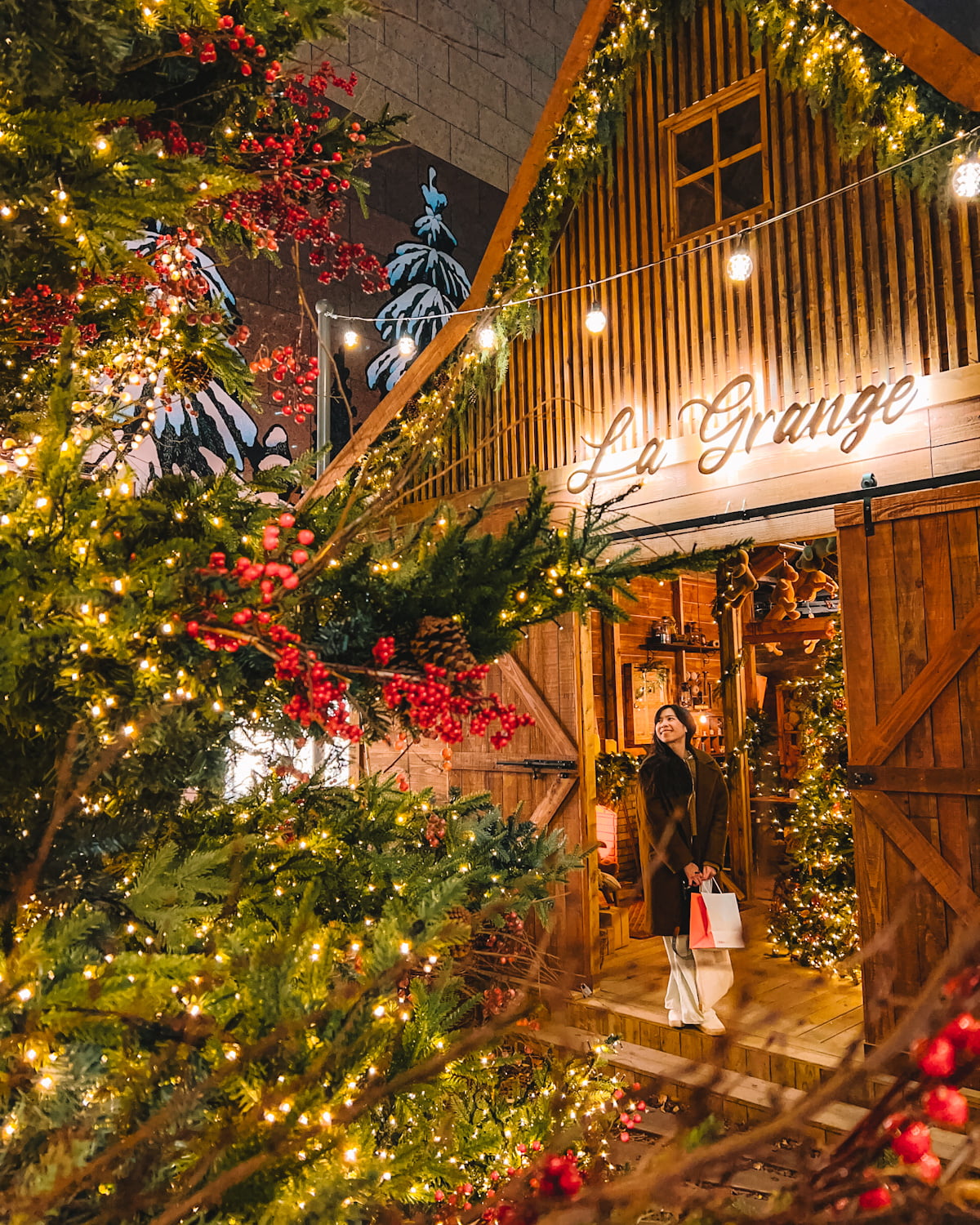 Among the Hyundai Department stores, the Trade Center Branch in Gangnam stands out for its extravagant and beautifully adorned Christmas decorations. At the store entrance, you'll find dazzling ornaments, carefully curated displays, and stunning Christmas trees. Last year, the theme featured a cute bunch of red stuffed teddy bears, including a big wooden La Grange cottage. This branch offers a magical and festive atmosphere that will enhance your holiday photos.
5. Starfield Library
Hangul: 별마당 도서관
Naver Map: Link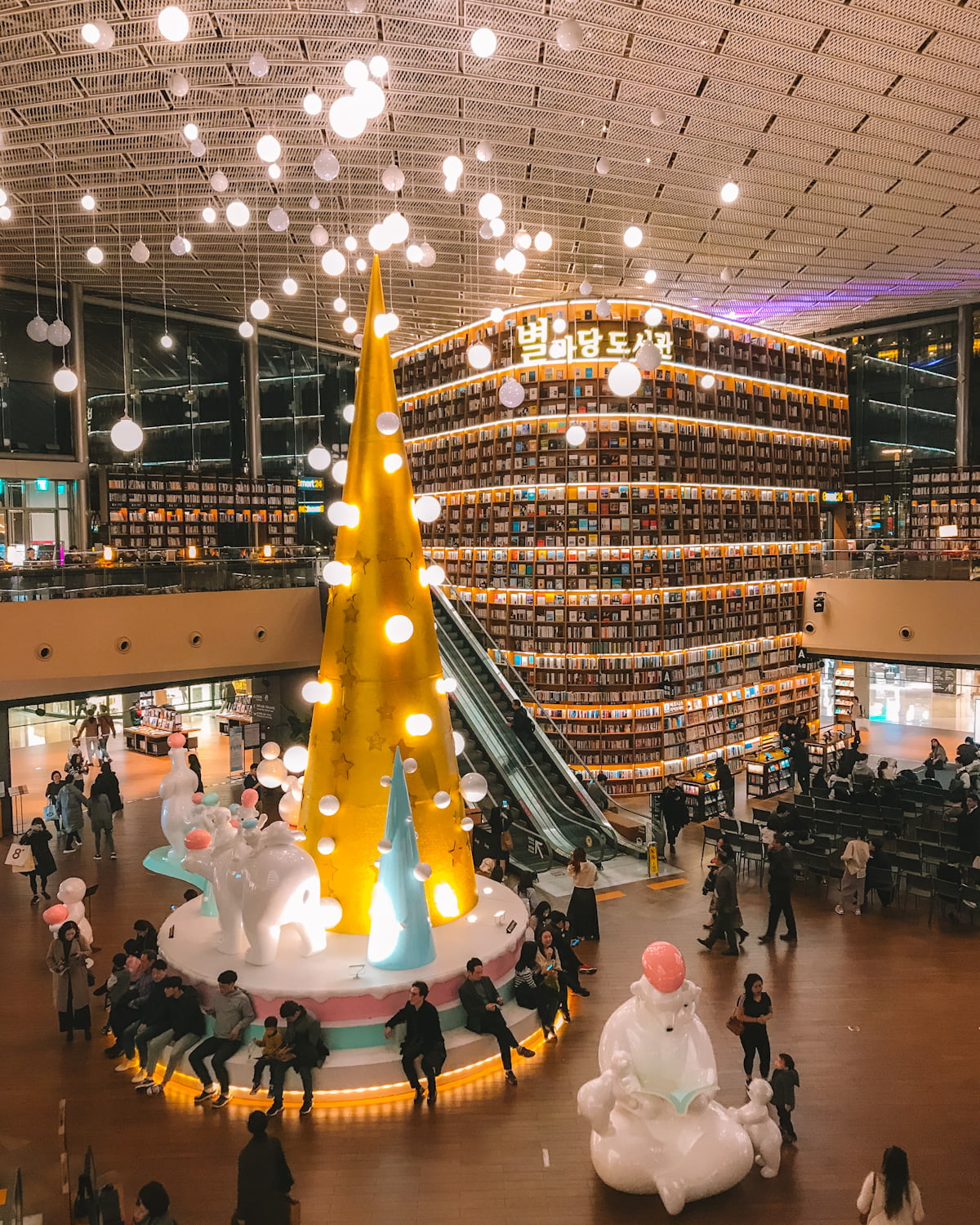 Tucked inside the bustling Coex Mall, the Starfield Library offers a charming and cozy spot for capturing Christmas-themed photos. Generally, from October onwards, the common space at the center of the library is adorned with warm lighting, elegant decorations, and a grand Christmas tree surrounded by festive ornaments. The library's cozy reading nooks and comfortable seating areas also provide ideal settings for capturing intimate and heartwarming moments. Additionally, a special light projection display was introduced last year offering even more enchantment to the spot during the Christmas holiday.
6. Galleria Department Store
Hangul: 갤러리아백화점
Naver Map: Link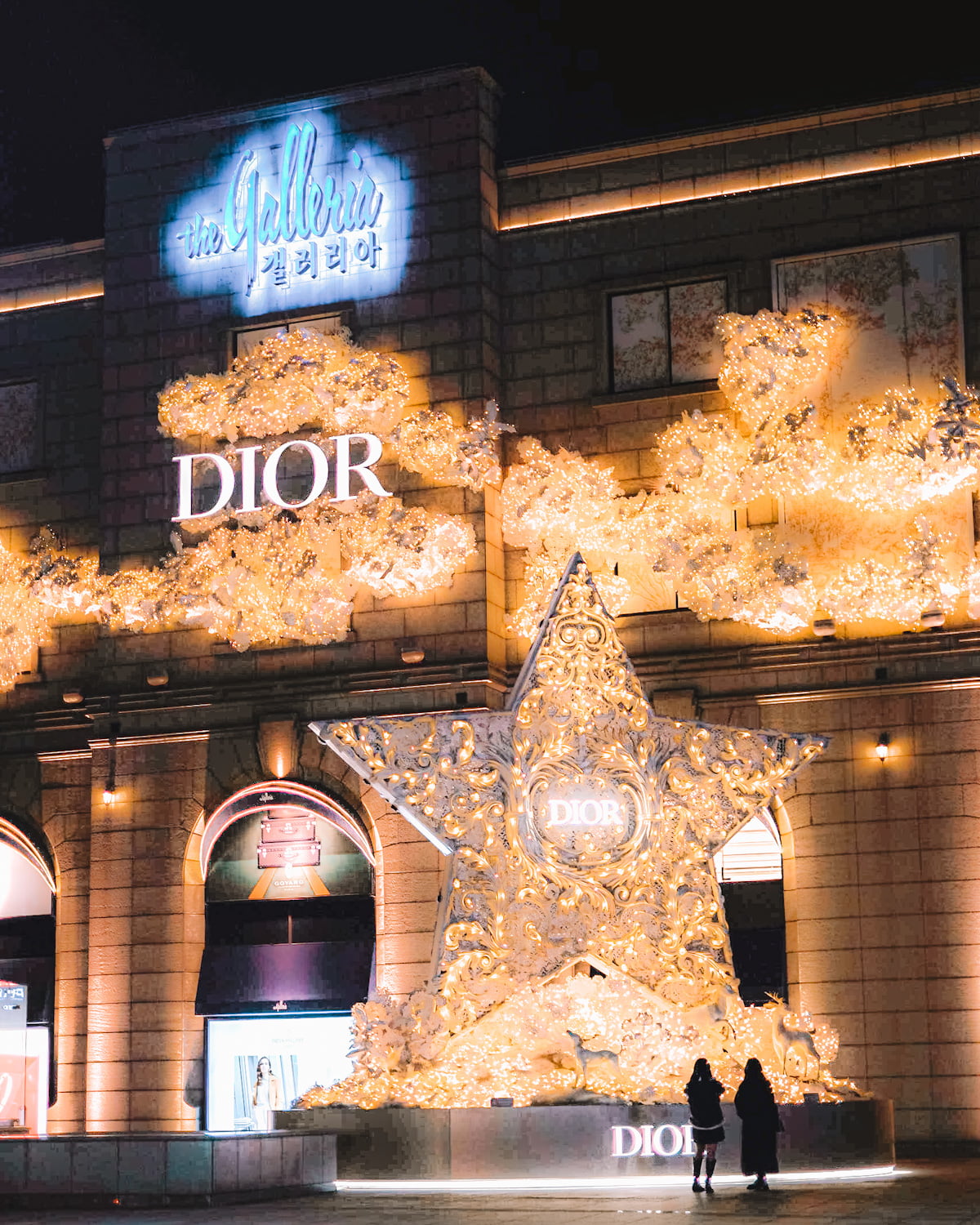 Galleria Department Store in Apgujeong offers a luxurious shopping experience and excellent photo opportunities during the Christmas season. The exterior of the eastern luxury hall is beautifully illuminated with enchanting lights, providing a glamorous backdrop for your photos. Each year, different luxurious brands showcase elegant Christmas installations featuring their respective logos, attracting both brand enthusiasts and photographers. Galleria's chic and stylish atmosphere sets the stage for capturing elegant and festive moments.
7. Lotte Department Store Main Branch
Hangul: 롯데백화점 본점
Naver Map: Link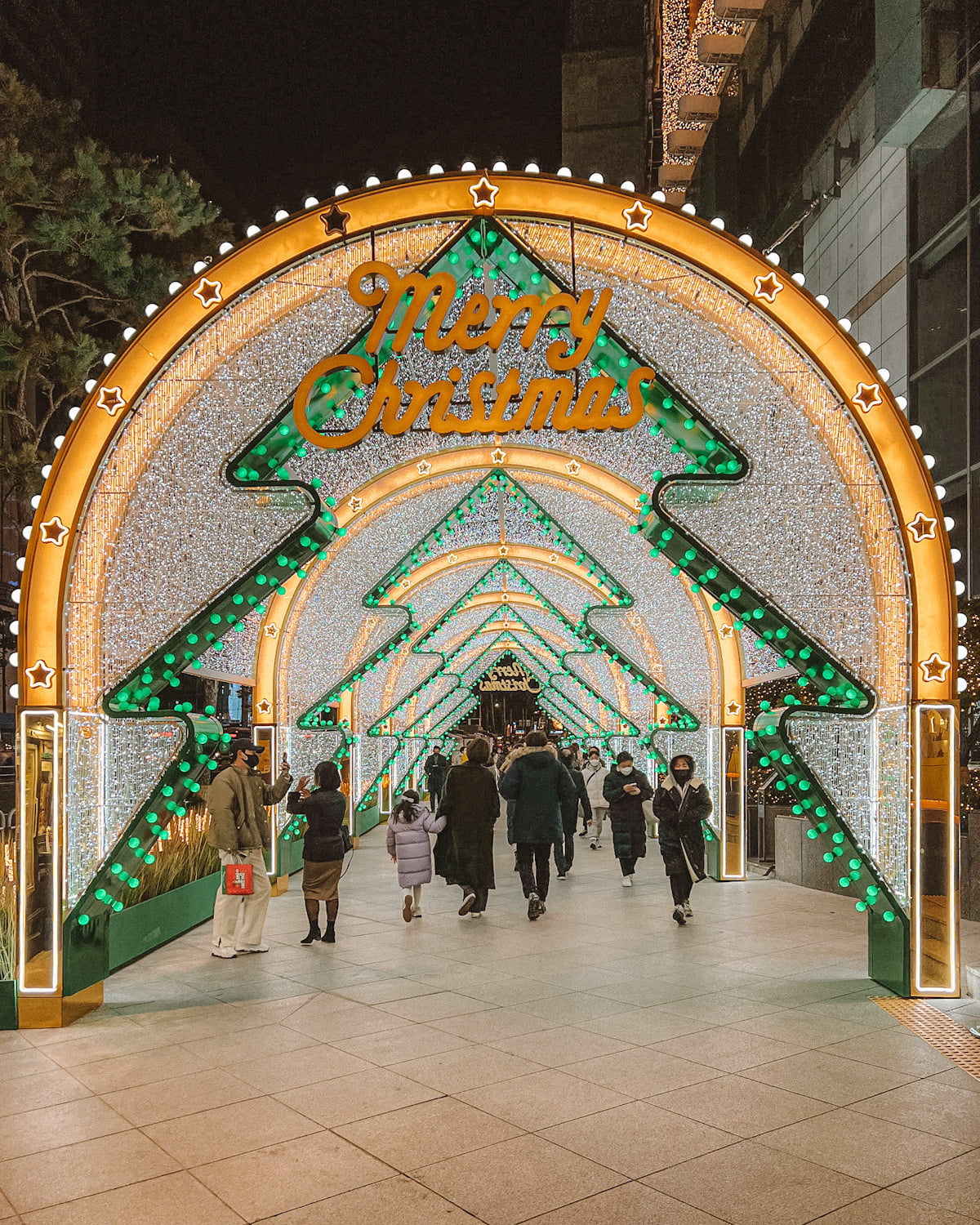 Lotte Department Store Main Branch in Myeongdong is a bustling hub of holiday cheer, offering numerous photo spots to capture the Christmas spirit. During the season, the outer portion of the building will be illuminated with stunning lights, including a beautifully decorated tree. Each year, Lotte Department Store features a different theme for its decorations. For example, in 2021, they presented "Christmas in Finland," celebrating the birthplace of Santa Claus. The front of the store building also features a huge LED screen showcasing motion pictures of cute star characters dancing in cherished holiday scenes, providing an extra treat for the eyes.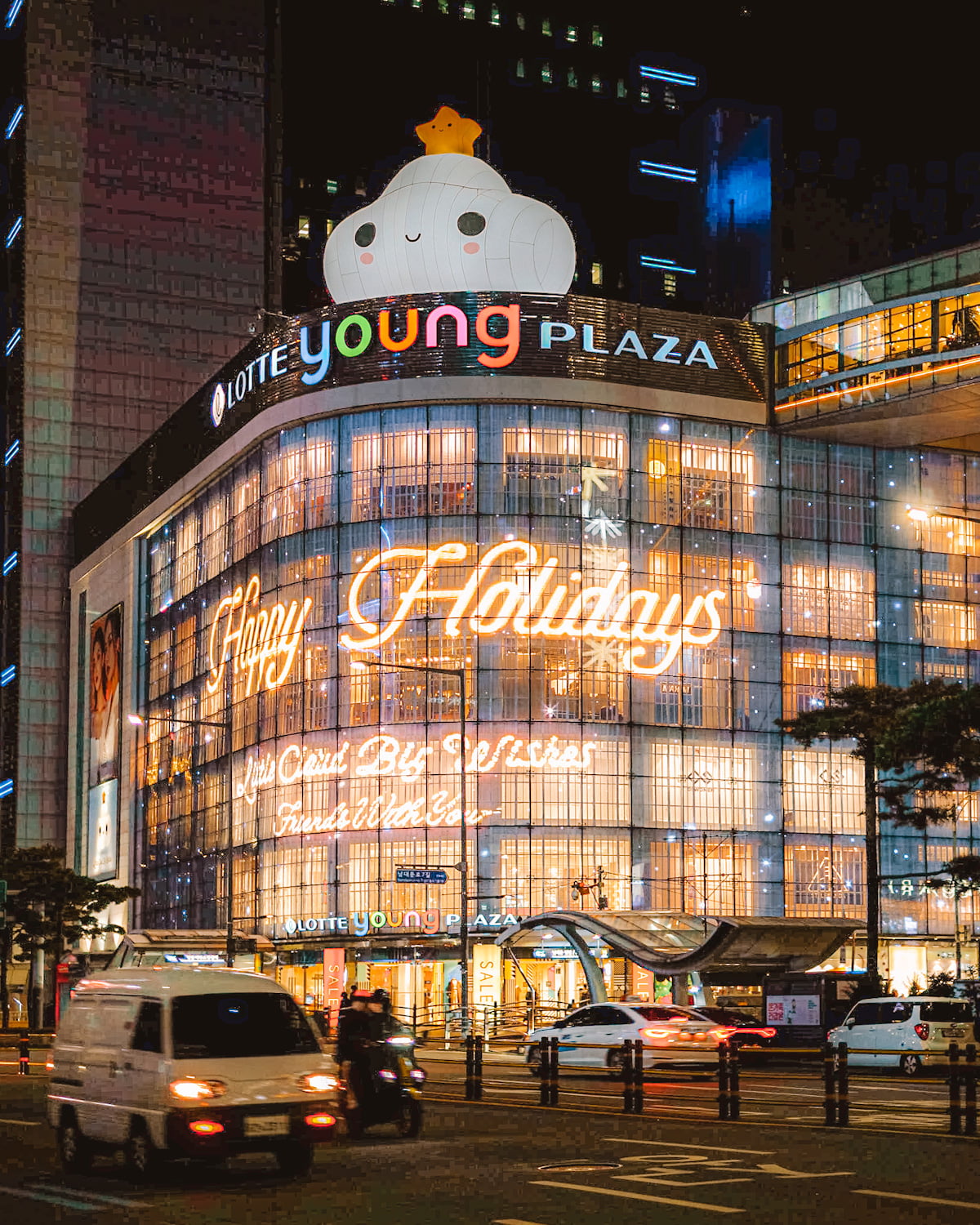 Holiday theme light show at LOTTE Young Plaza
8. Shinsegae Department Store Main Branch
Hangul: 신세계백화점 본점
Naver Map: Link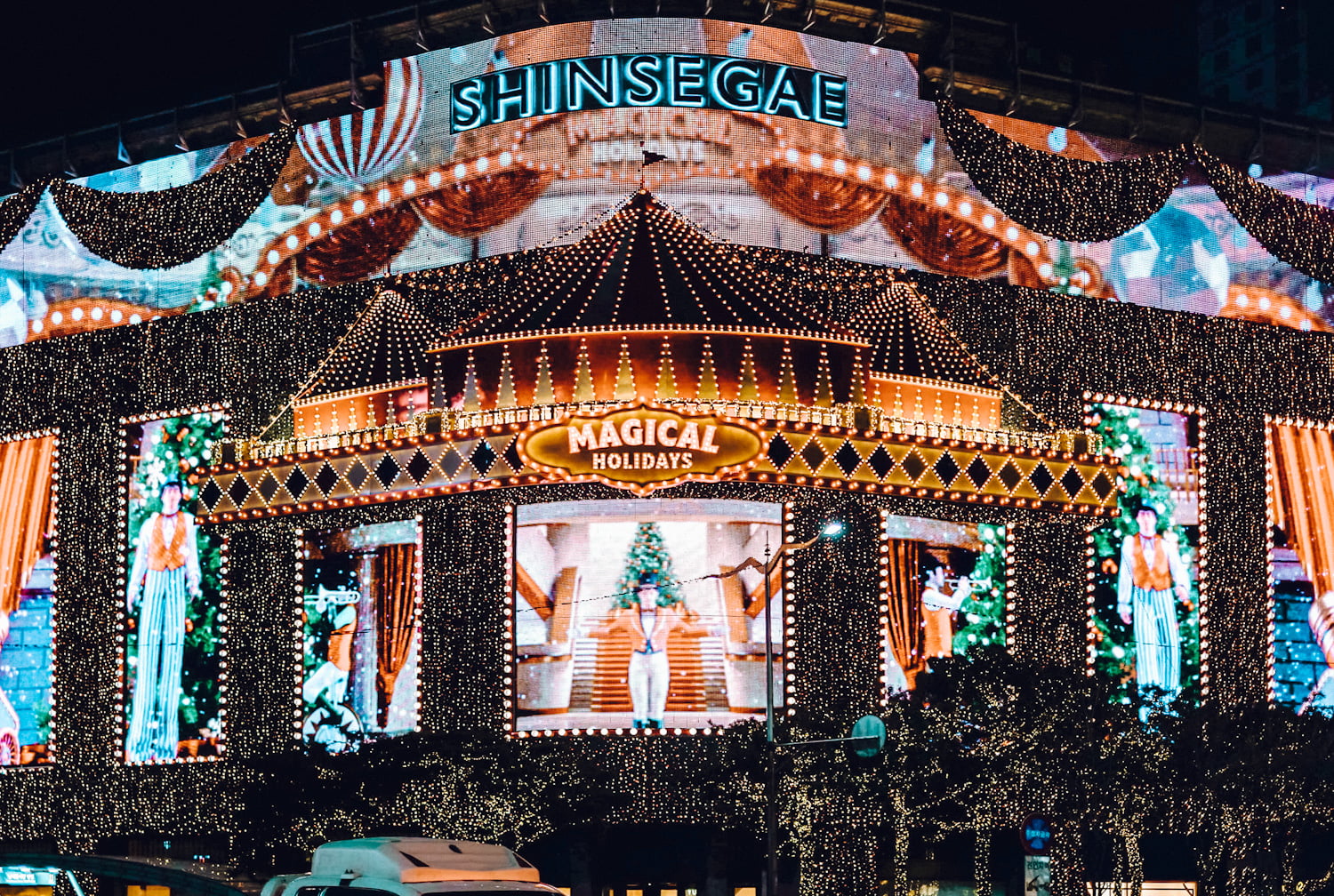 Just a short distance from the Lotte Department Store Main Branch is the main store of Shinsegae Department Store, where you'll find even more amazing holiday lights. The front of the store is adorned with extravagant decor and a breathtaking illumination display. Additionally, an LED light show takes place every 30 minutes, captivating the hearts and imaginations of onlookers. The display is truly incredible, and people are willing to defy the cold to witness and capture this splendor.
9. Valet Street in Jung-gu
Hangul: 회현역(남대문시장)7번출구
Naver Map: Link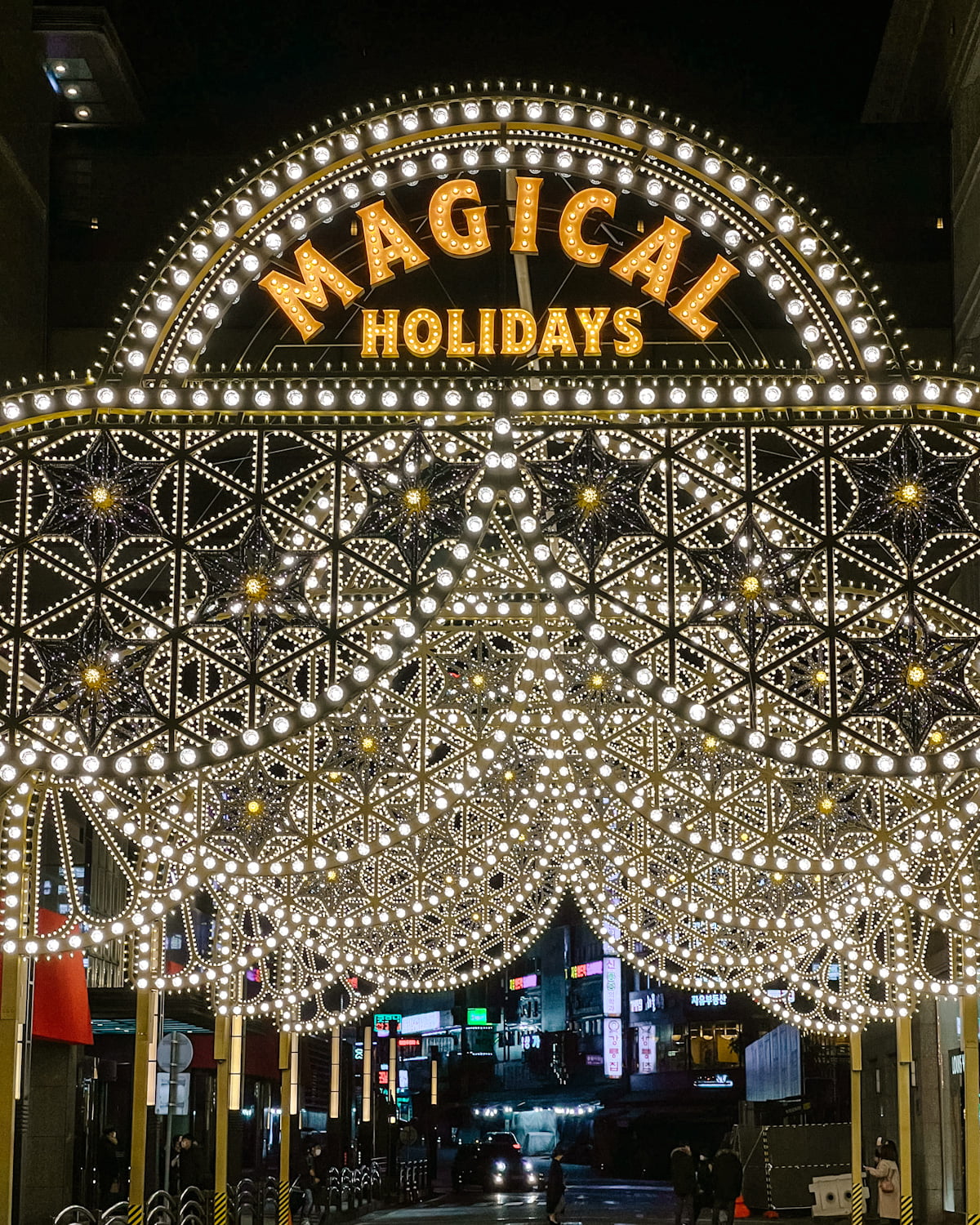 Next to the Shinsegae Department Store Main Branch, near Hoehyeon Station exit 7, lies Valet Street—a spot you don't want to miss if you're seeking holiday lighting. The street is adorned with arcs topped with magical light settings and glowing letters forming the words "MAGICAL HOLIDAY," spreading a sense of warmth and beauty. As you stroll through the narrow passage, capture the warm glow of the lights and take advantage of the unique angles and architectural elements that provide a charming backdrop for your holiday photos.
10. Seoul City Hall Plaza
Hangul: 서울광장
Naver Map: Link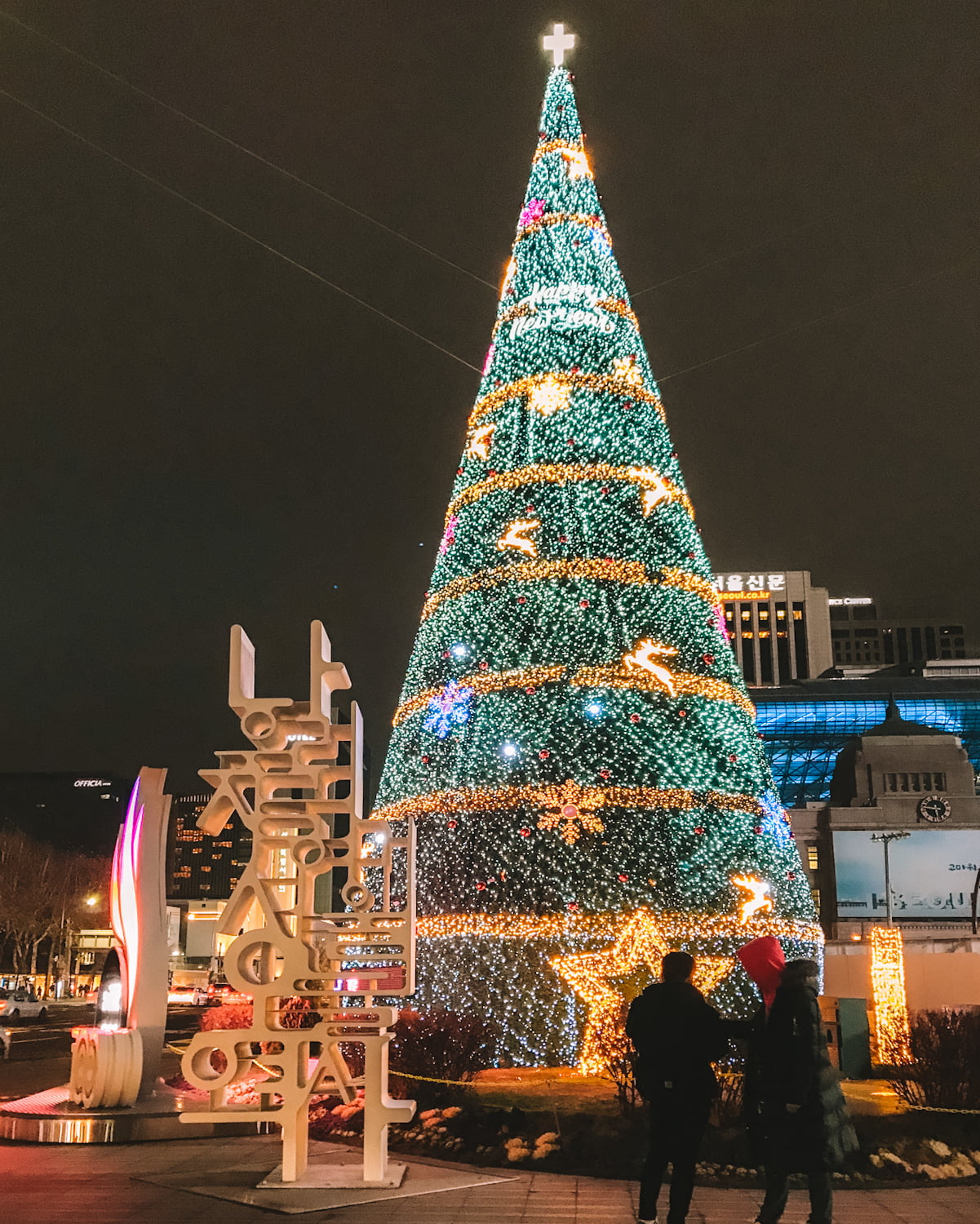 The green plaza right outside Seoul City Hall building in Jung-gu is not only a hub of festive activities but also a fantastic location for capturing Christmas-themed photos. Mesmerizing lights adorn the area, creating a dazzling display that sets the stage for your holiday snapshots. Pose in front of the plaza, framed by enchanting decorations and a majestic Christmas tree that comes in different designs and decors each year.
11. Church of Love by Seocho Station
Hangul: 사랑의교회
Naver Map: Link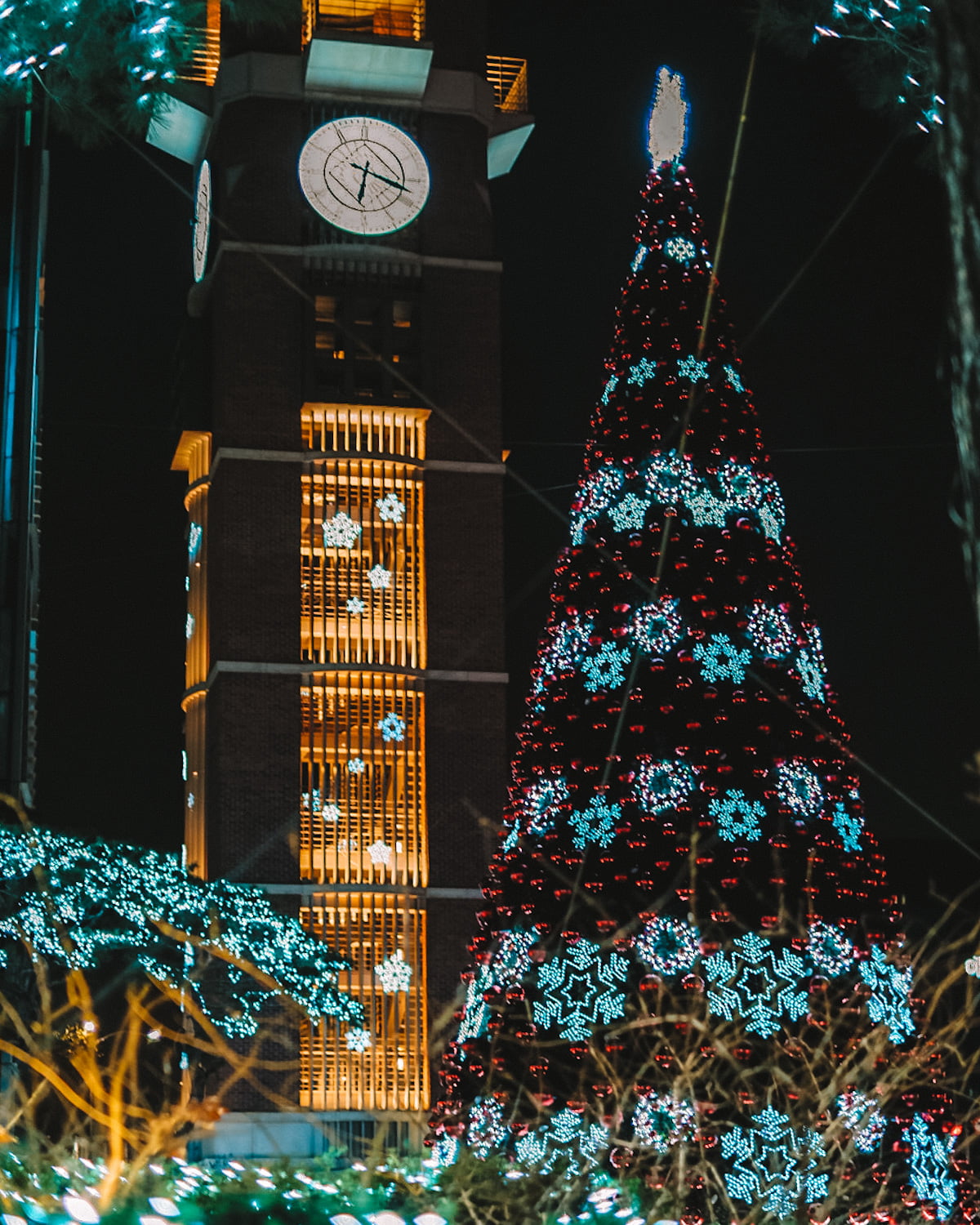 Located right outside exit 3 and 4 of Seocho Station, the Church of Love (Sarang-ui Kyohoe) offers a serene and visually captivating location for capturing Christmas-themed photos. The huge Christmas tree installed in front of the station is as tall as the adjacent clock tower. Capture the delicate details, the warm glow of the lights, and the tranquil atmosphere of the church, making it a perfect spot for capturing the essence of Christmas.
12. Gangnam Financial Center (GFC)
Hangul: 강남파이낸스센터
Naver Map: Link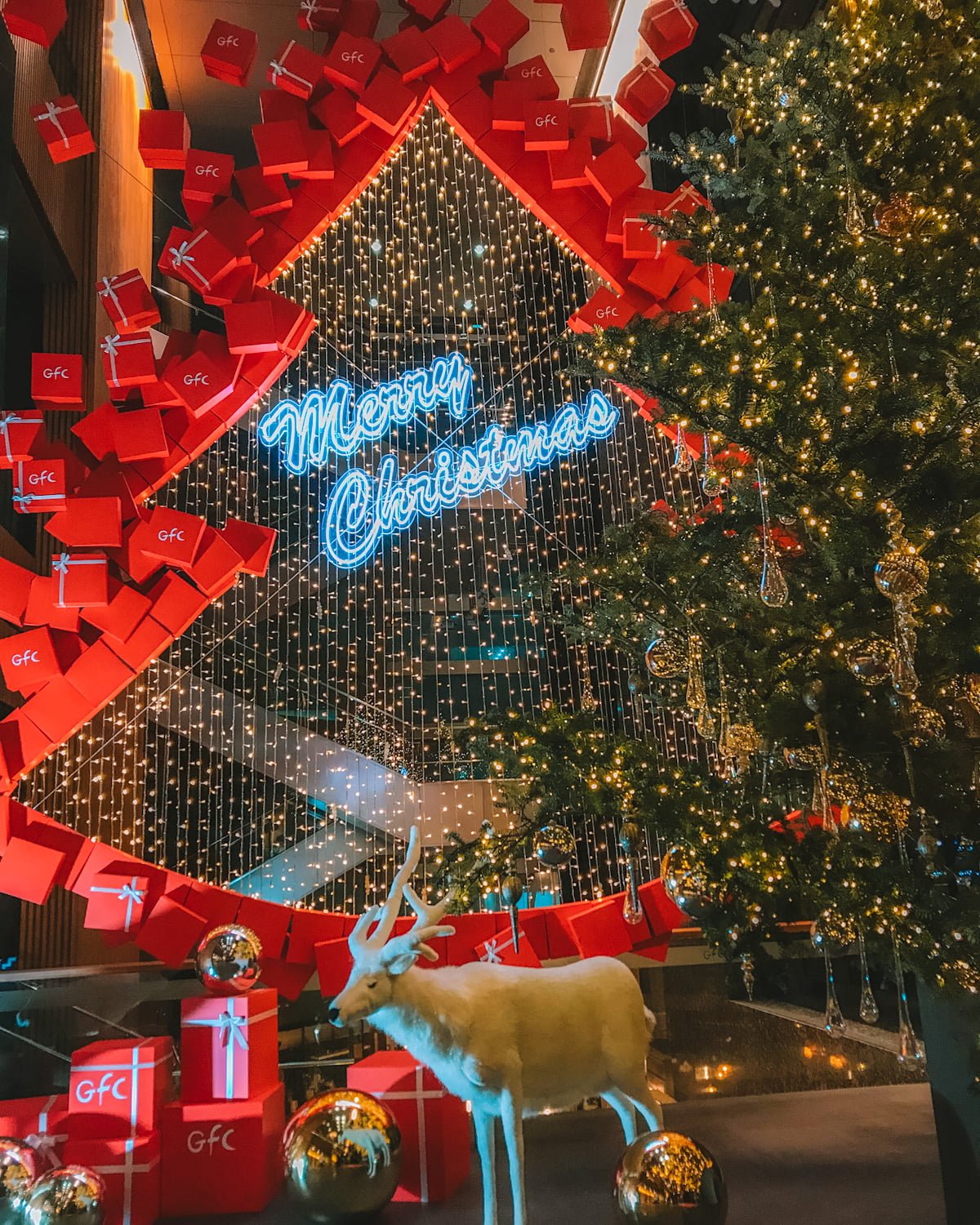 Gangnam Financial Center, formerly known as Star Tower or I-Tower, is a modern and sleek skyscraper in Gangnam. During the Christmas season, GFC provides photo opportunities with its impressive display of a massive Christmas tree and eye-catching decorations on the spacious first-floor reception area. The combination of the futuristic vibe and the festive ambiance creates an intriguing spot for capturing memorable and artistic Christmas-themed photos.
13. Centerfield
Hangul: 센터필드
Naver Map: Link
Completed in 2021, Centerfield is a prime office complex consisting of two buildings—Centerfield East and Centerfield West—located in the Yeoksam neighborhood. During the holiday season, elegant Christmas trees and lighting decorations are installed in the outdoor landscaping section and in both lobbies of the center's buildings. The decorations vary each year, offering unique photo opportunities.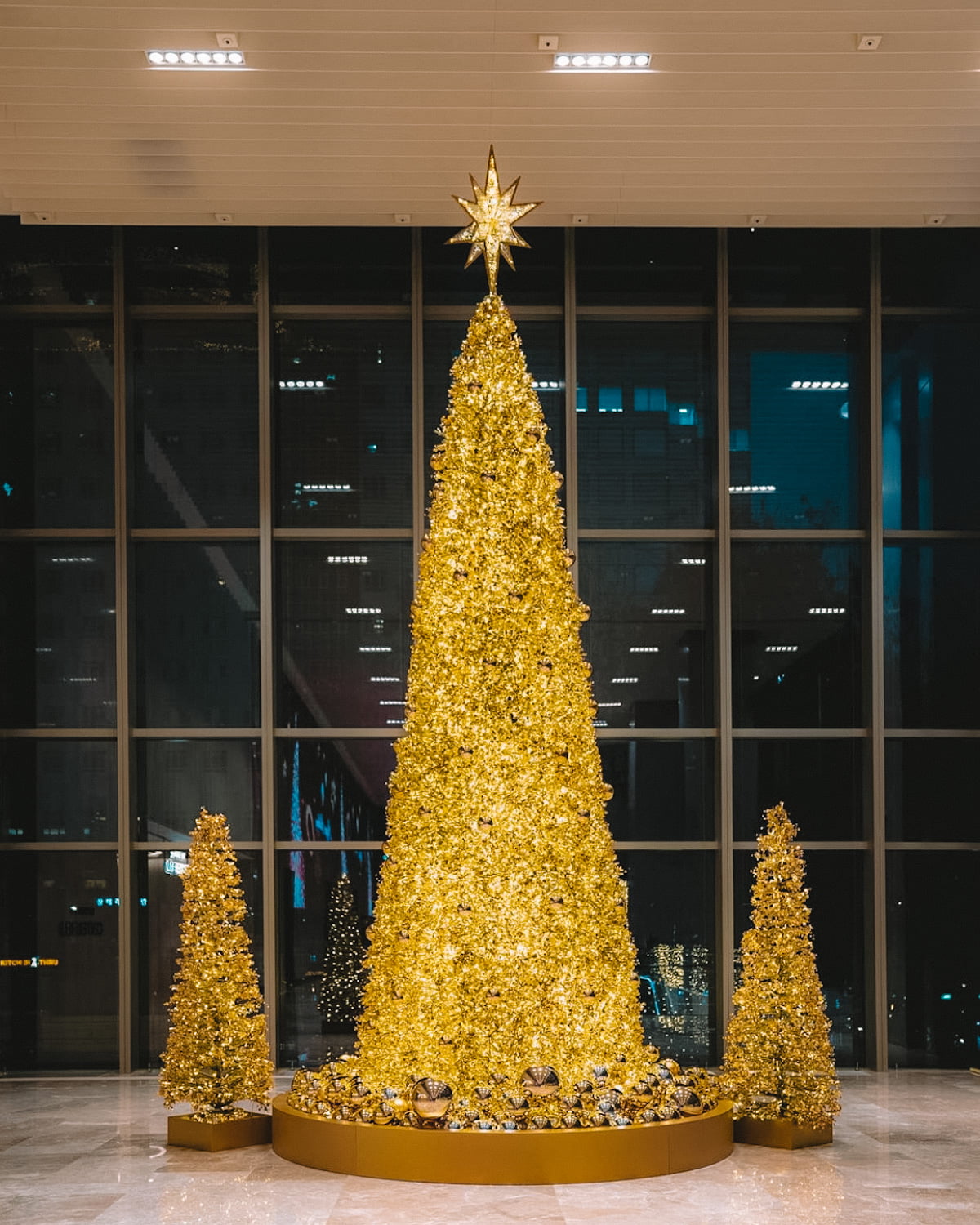 One notable installation featured a majestic 7.5-meter-tall golden tree and accompanying objects, crafted by Globall Concept, a renowned Swedish lighting decoration company. This stunning tree has graced famous locations worldwide, including the Lafayette department store in France and even the esteemed COEX Starfield Library in Korea. With its magnificent holiday displays, Centerfield is an essential stop for capturing memorable Christmas-themed photos during your next visit to Seoul.
14. Seoul Times Square
Hangul: 타임스퀘어
Naver Map: Link
Located in the bustling Yeongdeungpo District, Seoul Times Square stands as one of the city's most renowned destinations for dazzling lighting displays. Reminiscent of the iconic Times Square in New York City, this shopping mall boasts an impressive tradition of adorning an enormous Christmas tree that never fails to captivate visitors. Each year brings a unique and stunning transformation to the tree, ensuring a fresh and awe-inspiring spectacle. As the Christmas season unfolds, the area in front of the mall's main entrance comes alive with vibrant lights and festive decorations, providing an enchanting backdrop for your snapshots. Strike a pose in front of the monumental Christmas tree and let it immortalize the joy and excitement of the season in your photos.
15. The Hyundai Seoul
Hangul: 더현대
Naver Map: Link
Emerging as a new addition to the extravagant Christmas scenery, The Hyundai Seoul in Yeouido embraces a forward-thinking approach by combining nature and shopping within a massive eco-friendly department store. Much like its counterpart, the Trade Center Branch in Gangnam, this Hyundai Department store goes above and beyond to leave a lasting impression on shoppers and attract visitors with its exceptionally elegant Christmas installations. In the previous year, the renowned Sounds Forest on the 5th floor underwent a breathtaking transformation into a Christmas wonderland, featuring a towering 13-meter Christmas tree as the centerpiece, surrounded by 120 snow-covered pine trees, 11 wintry cottages, and an array of 6,000 interior lights illuminating the venue. Anticipation runs high as we eagerly await the equally stunning spectacle this upcoming holiday season will unveil. Prepare to be amazed by the sheer beauty of this extraordinary destination!
16. NC Shinguro Mall
Hangul: NC 신구로점
Naver Map: Link
Renowned for its unique holiday tradition, NC Shinguro Mall takes Christmas decorations to new heights with their mesmerizing floating trees. Inside the mall, you'll be captivated by the sight of numerous suspended trees, each adorned with traditional Christmas ornaments. The ingenious concept behind these floating trees can only be attributed to sheer brilliance.
While the seven floors of the mall offer an impressive experience on their own, it's the annual Christmas lighting displays that truly steal the show. Visitors of all ages are filled with wonder as they marvel at the intricate details and are enchanted by the enchanting presence of these suspended trees. Make sure not to miss out on this extraordinary spectacle during your visit.
17. Cheonggyecheon
Hangul: 청계광장
Naver Map: Link
Nestled in the heart of downtown Seoul, Cheonggyecheon Stream is a picturesque river that stretches across 11 kilometers (just under seven miles) and traverses the entire city. Each year, the Seoul Light Festival commences along this enchanting waterway, setting the stage for a truly magnificent celebration. From late November to early January, the festival comes to life, captivating visitors with its grandeur.
At the open plaza (청계광장) in front of the iconic spiral snail-shell-like statue, a stunning Christmas tree stands tall, reaching the same height as the statue itself. This captivating display serves as a beacon of holiday cheer, igniting the festive spirit in all who behold it. The presentation is meticulously crafted, featuring millions of twinkling lights and colossal dioramas that transport visitors into a world of wonder.
18. Dior Flagship Store in Seongsu-dong
Hangul: 디올성수
Naver Map: Link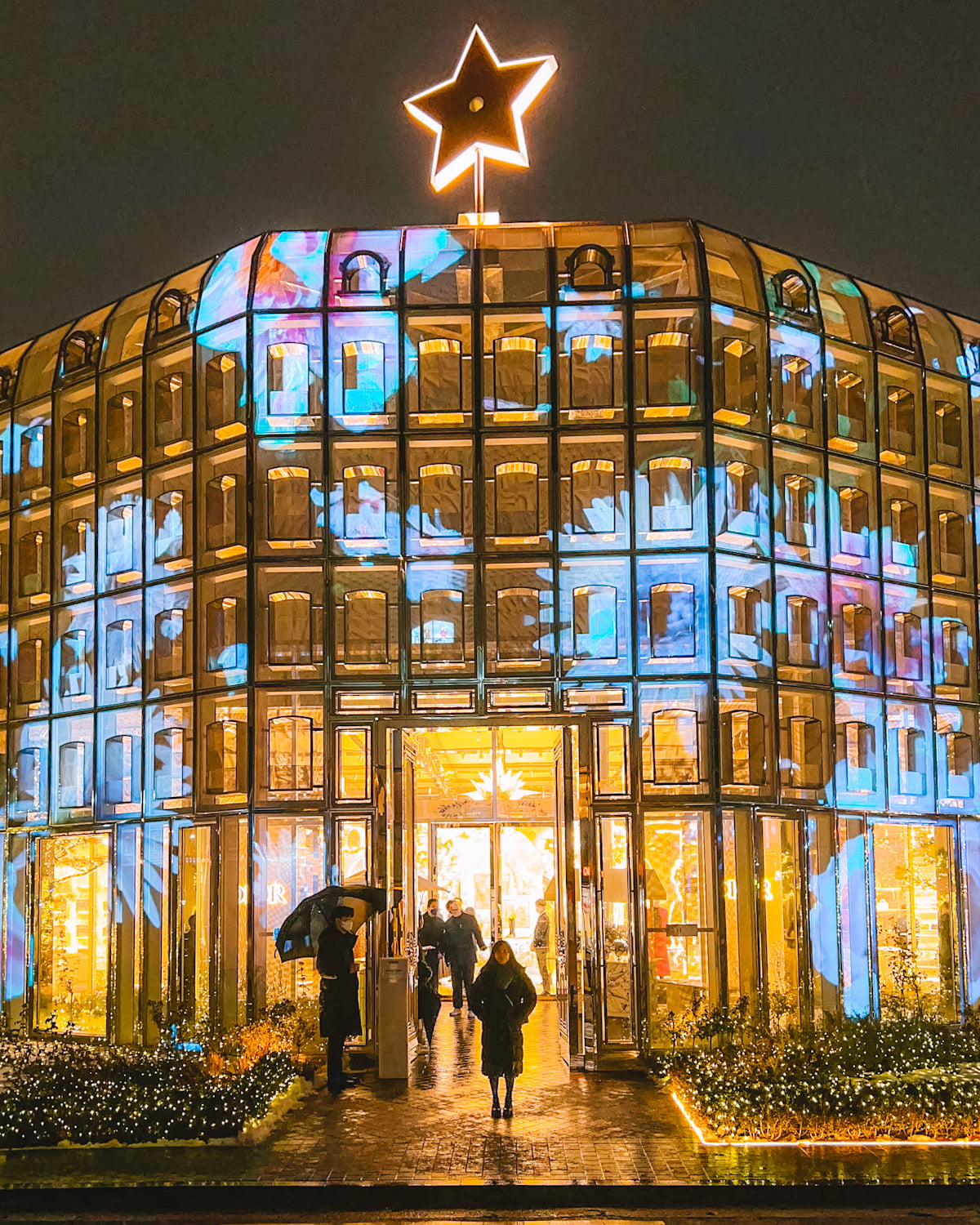 While you won't find a traditional Christmas tree display at the Dior Flagship Store in Seongsu-dong, prepare to be mesmerized by the enchanting illuminations and captivating light shows. Last year, to commemorate the festive season, the store projected a majestic Christmas media onto its façade, enhancing the allure of its already elegant design. This year's holiday spectacle at this glamorous boutique remains a mystery, but one thing is certain: it will be nothing short of captivating, leaving you in awe.
19. Inc Coffee Gasan Branch
Hangul: 인크커피 가산점
Naver Map: Link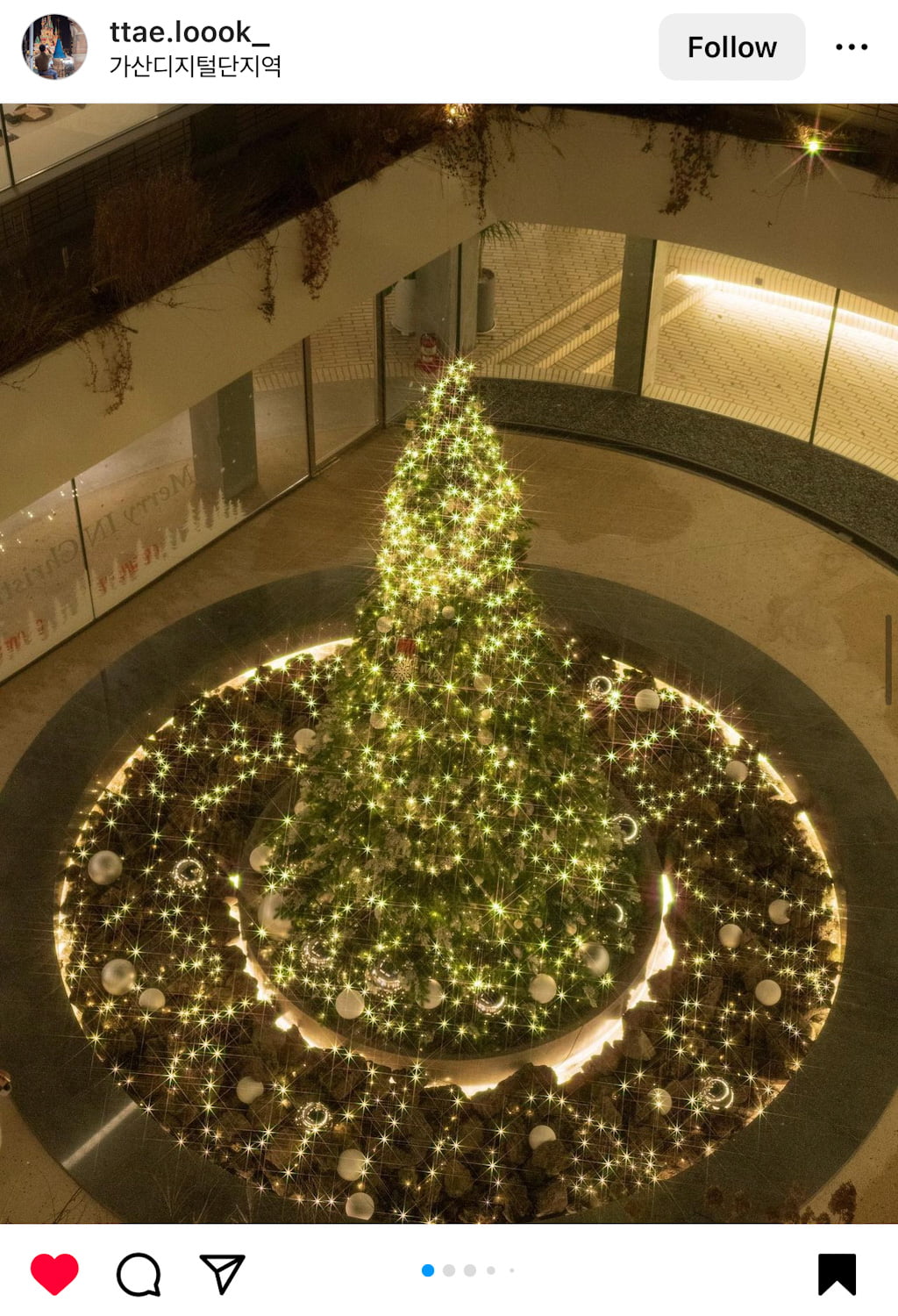 Image Source: @ttae.loook_
Just a short 5-minute stroll from exit 8 of Gasan Digital Complex Station, you'll find the delightful Inc Coffee Gasan Branch. Known for its mouthwatering coffee and trendy industrialized interior designs, this main store of the Inc Coffee brand is a real gem for architecture enthusiasts. But what truly earns Inc Coffee Gasan Branch a spot on this list is its spectacular Christmas display. Every holiday season, a magnificent Christmas tree takes center stage in the iconic courtyard on the first floor. With its glistening decorations, this dazzling tree catches the eye of visitors from all around the store. It's a sight that beautifully combines architectural allure with the festive spirit, making Inc Coffee Gasan Branch an absolute must-visit spot for capturing memorable photos during the Christmas season.
20. Siheung Premium Outlets Christmas Market
Hangul: 시흥프리미엄아울렛
Naver Map: Link
Although not directly located in Seoul, I couldn't resist including the Siheung Premium Outlets Christmas Market in this list, especially since it's easily accessible from the city. The wonderful holiday atmosphere that this place radiates every winter is simply too captivating to miss.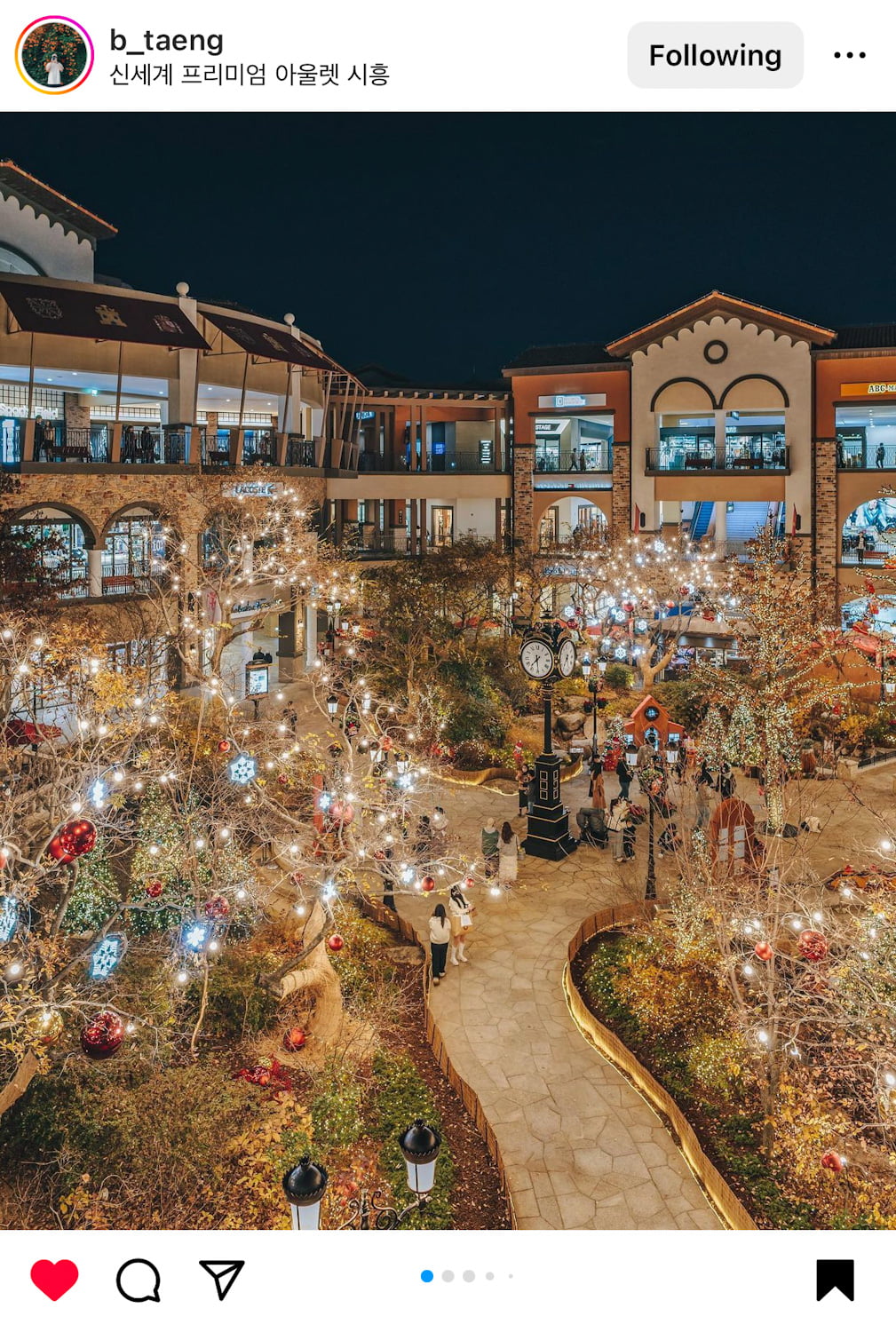 Image Source: @b_taeng
Nestled in Seoul's neighboring province of Gyeonggi, the Shinsegae Simon Siheung Premium Outlets is a shopping resort complex that boasts an exquisite exterior designed to resemble the charming town of Cadaqués, situated by the northeastern sea in Spain. While I'm not certain when it all began, over the past few years, Siheung Premium Outlets has truly captured the hearts of visitors with its breathtaking outdoor Christmas Market, nestled right in the center of its already splendid design.
Congratulations on making it to this point! Whew! You've now been fully immersed in my ultimate picks for the best holiday photography spots in Seoul. Now that you know where to head to this Christmas, I hope you're feeling excited and ready to capture wonderful memories! Wishing you a very happy holiday and joyful moments ahead!
Map of Places Mentioned in This Post:
Did this entry help you? Or Did you enjoy my photos? Help support my small blog by giving a little cup of joe. I am always grateful when readers reach out wanting to support 🙂
p.s. This post is independently created. However, when you book or purchase something through the retail links, I may earn an affiliate commission to help keep Ploy's Little Atlas running. Thank you very much for your support!
p.p.s All images used (unless specified) are owned by the author of the blog and permission is required for a repost. Please, reach out via social media channels to ask beforehand if you'd like to use them.